« Eco-Certification for Tourism: The Role of Green Globe, Part III | Home | Judging the Electronic Firms Revisited »
By Keith R | September 18, 2006
Topics: Energy & the Environment, Renewable Sources | 2 Comments »
In a recent discussion with a friend about whether Latin America and the Caribbean (LAC) should invest heavily in nuclear power as part of its contribution to minimizing global climate change (the subject for a Temas blog some other day), he rejected the option of renewable energy sources — solar, wind, geothermal, wave, etc. "Too many unknowns," he declared. "No one can say what the true power generation potential is for these technologies, they are all immature technologies and we can't afford to wait for them to prove themselves."
I believe he's wrong on both counts. I'll handle the maturity and appropriateness of the technologies for LAC nations in later blogs addressing each in turn. Today, though, I'll address the "unknown potential for power generation" contention, starting with the two types of renewables (other than hydroelectric) in which there is greatest interest worldwide and in the region: solar and wind.
Despite what my friend appears to believe, over the last ten years there has been an effort, originally spearheaded by technical experts associated with the US National Renewable Energy Laboratory (NREL) and since joined by several other national and international institutions, to "map" the power generation potential of solar and wind resources in the LAC nations considered mostly likely to offer good potential.
I'm not a scientist, engineer or statistician, so I don't pretend to fully grasp all the details and subtleties of the "empirical/analytical mapping methods, Mesoscale Model, and model corrected ground measurements" NREL developed to produce geo-referenced solar and wind power potential maps and now used in the Solar and Wind Energy Resource Assessment (SWERA) project sponsored by the United Nations Environment Programme (UNEP) and the Global Environment Facility (GEF). However, I've talked to some specialists in this field about the state of such projects, and although the science is still relatively young, there is a quite a bit of confidence in the techniques. Maybe a better tool will come along, but for now, this one will do.
As with so many other useful information resources on the environment in LAC nations, these maps are not all easy to find on the internet and tend to be spread around. Since Temas exists in large part to provide a one-stop portal for environment resources related and relevant to LAC environment law and policy, why not create one here on the blog for the solar and wind maps?
I have found a regional solar map for Central America, plus country solar maps for Brazil, the Dominican Republic, El Salvador, Guatemala, Honduras, Mexico, Nicaragua and Peru. I have also found national wind power maps for Brazil, the Dominican Republic, El Salvador, Honduras, Mexico and Nicaragua, and sub-national wind maps for Argentina, Chile and Mexico.
Cuba was one of the original countries selected for SWERA in the pilot project phase, but its solar and wind maps evidently are not yet ready for posting online. Older maps prepared by national scientific bodies evidently exist, but have never been published. I'll keep en eye open for the SWERA maps in the future and post the address when they become available.
I am a bit puzzled by the lack of solar and wind maps for Caribbean countries other than the DR, as I suspect that there is great potential still untapped on many of the islands, large and small.
As I find more such maps and/or updates of these, I'll post their information. Likewise I invite people to alert me to other such resources — I'll share the information here.
Central America:
Solar Potential Map (click thumbnail). I include this here not only because it offers a subregional overview, but also because it is the only solar map I have found so far that includes Belize.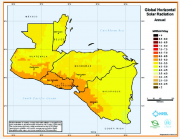 Argentina:
Wind Maps. Argentina's Planning Minister announced last month the launch of a national wind energy potential map (along with an invitation to bid on a major wind energy project in Patagonia), but I have yet to locate a copy of it posted on the internet. I am making inquiries of Argentine contacts to see if I can get a copy, but until I do, I can only point you dear readers to the online wind maps offered online already for the provinces of Chubut and La Pampa. Be forewarned, though, that neither or these are very user-friendly — at least not to the casual user. Although they are provided free, you have to register and provide personal information first. Then you have to download and install software on your computer, then download the files. Once loaded you get a dark topographic depiction of the region, with data on emissions, altitude, etc. shifting constantly, depending on where you (blindly, since there are no easily visible reference points such as towns or place names) move your cursor.
Both Solar & Wind Maps are available in interactive javascript format at SWERA.
While these are excellent for a national overview, Brazil is so vast that I believe additional focused state or regional breakdowns might be even more useful. Yes, you can zoom in on these maps, but just try to discern any useful details by zooming into, say, Bahia on the solar map or Rio Grande do Sul on the wind map…
Chile:
Wind Maps: NREL maps dated 2004 are available in PDF form for two (IX, X) of Chile's administrative regions (Chile divides itself into "regions" represented by roman numerals, plus the Metropolitan Region (RM) of greater Santiago):
http://www.nrel.gov/wind/pdfs/chile_regionix_pacific.pdf
http://www.nrel.gov/wind/pdfs/chile_regionx_pacific.pdf
http://www.nrel.gov/wind/pdfs/chile_regionx_chiloe.pdf
http://www.nrel.gov/wind/pdfs/chile_regionx_lagoranco.pdf
Solar Map: I have yet to see either NREL or the Dominican Government post this map online, so for the time being you'll have to view the version the Green Team has posted at this link, or by clicking on the thumbnail at right.
Wind Maps: NREL offers a huge (15 MB) PDF file for download containing both national and regional breakdowns at the following link.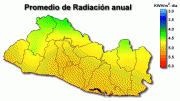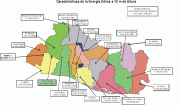 El Salvador:
Solar Map: A static version based on annual averages can be found on the Economics Ministry site at http://www.minec.gob.sv/default.asp?id=92&mnu=66 An interactive javascript version can be found at SWERA.
Wind Map: For at-a-glance, go to the wind potential map at the aforementioned SWERA site. However, the Economics Ministry site does provide a map plotting out different wind speed measures throughout the country taken at a height of 10 meters: http://www.minec.gob.sv/default.asp?id=94&mnu=66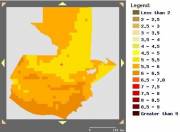 Guatemala:
Solar and Wind Maps in interactive javascript form can be found at SWERA.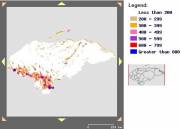 Honduras:
Solar and Wind Maps in interactive javascript form can be found at SWERA.
Mexico: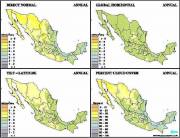 Solar Maps: NREL produced a series of maps on solar power for Mexico, but finding high-resolution copies of it online is not easy. NREL does not offer them, nor does any official Mexican government site, as far as I can determine. Instead, one has to deal with low-resolution PDFs from Sandia's website, some of them in black and white. These include:
http://www.re.sandia.gov/sp/in/mr/solarmap1.pdf
http://www.re.sandia.gov/sp/in/mr/solarmap2.pdf
http://www.re.sandia.gov/sp/in/mr/solarmap3.pdf
http://www.re.sandia.gov/sp/in/mr/solarmap4.pdf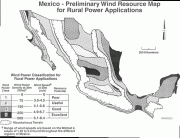 Wind Maps: It is far easier to find the wind potential maps for Mexico, especially for the border regions with the US (no big surprise there!), many of them high resolution. The following are available directly on the NREL site in either PDFs or JPEGs:
Northwestern Mexico Border Areas: JPEG; PDF
Baja California Norte Border Region: JPEG; PDF
Western Chihuahua Border Region JPEG; PDF
Oaxaca PDF
Eastern Sonora Border Region: JPEG; PDF
Western Sonora Border Region: JPEG; PDF
In addition, the following are available from the Sandia site:
Baja California Sur, central-West: http://www.re.sandia.gov/en/ti/mr/windclassap4-3.1.pdf
Baja California Sur, northeast: http://www.re.sandia.gov/en/ti/mr/windclassap3-4.1.pdf
Campeche/Quintana Roo/Yucatán: http://www.re.sandia.gov/en/ti/rm/windclassap1-2.1.pdf
Yucatán, northeast coast: http://www.re.sandia.gov/en/ti/rm/windclassap4-2.1.pdf
Yucatán, southeast coast: http://www.re.sandia.gov/en/ti/rm/windclassap3-2.1.pdf
Solar and Wind Maps in interactive javascript form can be found at SWERA.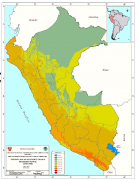 Peru:
I found no up-to-date maps for Peru, even though the government reputedly is working on some. I did manage to find an old one, based on 1990 data and older methodology, on an obscure Peruvian site (click on thumbnail to view).
So, yes, the mapping methodology is still evolving and important data gaps remain. But at least progress is being made!
— Keith R
Tags: América Central, Argentina, Baja California, Brazil, Campeche, Central America, Chihuahua, Chile, Chubut, Dominican Republic, El Salvador, energía eólica, energía solar, GEF, Green Team, Guatemala, Honduras, La Pampa, Mexico, Nicaragua, NREL, Oaxaca, Peru, PNUMA, Quintana Roo, República Dominicana, Sandia, solar energy, solar maps, solar power, Sonora, SWERA, UNEP, wind energy, wind maps, wind power, Yucatán
2 Responses to "Mapping LAC's Solar and Wind Power Potential"
India, Latin America Collaboration Says:
October 1st, 2008 at 19:32

[…] Related articles – High-Flying Windmills Blow Away Their Ground-Based CousinsMapping LAC's Solar and Wind Power Potential […]

Brett Says:
November 10th, 2009 at 18:39

Keith,

Do you have access to a solar map of Barbados?
Leave a Reply