« OAS Helping St. Kitts & Nevis on Renewable Energy | Home | Making the Millennium Goals Concrete at the Local Level »
By Keith R | January 23, 2009
Topics: Energy & the Environment, Renewable Sources | 1 Comment »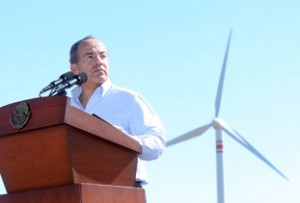 Mexico is making a strong foray into wind power, starting with yesterday's inauguration by President Felipe Calderón of the Spanish firm Iberdrola's 80 megawatt (MW) La Ventosa ("The Windy") wind farm the Oaxaca town of Juchitán de Zaragoza, on the Tehuantepec isthmus, where winds regularly blow as high as 75-120 kph (46-75 mph).  This is the second wind farm to be built in Mexico, but the first to be constructed, owned and operated by a purely private firm.
La Ventosa has 94 G52 wind turbines manufactured by the Spanish turbine manufacturer Gamesa, each with a 0.85 MW capacity.  The project has been registered as a clean development mechanism under the Kyoto Protocol that will generate 180,000 metric tons of carbon emission reduction credits (CERs) annually.
Much of La Ventosa's output will be used by Mexican companies looking to improve their carbon footprint, such as the brewer Cervecería Cuauhtémoc Moctezuma (CCM, a subsidiary of FEMSA that brews Carta Blanca, Dos Equis, Sol and Tecate brands) and the supermarket chain Soriana.
Calderón also celebrated the first phase of nearby Eurus wind park scheduled to come fully online by the end of 2009.  Eurus will also be a privately owned and operated park.  Under construction by the Spanish firm Acciona Energia, once finished Eurus will have 167 wind turbines with 1.5MW of capacity each, for 250.5 MW total capacity. [37.5 MW capacity is already installed.]  That will make it Latin America's largest single wind park (a title currently held by one in Brazil's Rio Grande do Sul state).
The entire electricity production of the Eurus park will be provided to Mexican cement giant Cemex, expected to supply one quarter of Cemex's energy needs in Mexico.  Eurus will also be registered as a CDM project, with an expected 600,000 metric tons of CERs annually.
The Energy Secretary, Dr. Georgina Kessel, took the occasion to point out that the state power firm Federal Electricity Commission (Comisión Federal de Electricidad – CFE) is proceeding with the La Venta III and Oaxaca I, II, III and IV wind farm projects, each bringing 100 MW new capacity for a total of 500 MW, slated to all be online by 2010-11.  These, together with wind projects in Rumorosa, Baja California, and in the city Zacatecas should bring wind power generation capacity in Mexico up to 2,500 MW by  2012.
____________________
Desde la Secretaria de Energía (SENER):
Con energías renovables reforzaremos nuestra seguridad energética: G. Kessel

En Juchitán, Oaxaca, la Titular de la SENER señaló que la energía eólica contribuye a que avancemos en la transición energética.

Con las energías renovables y en particular, la eólica, se refuerza nuestra seguridad energética, ya que diversificamos las fuentes primarias, y disminuimos la incertidumbre originada por la volatilidad de los precios de los combustibles, dijo la Secretaria de Energía, Georgina Kessel, durante la inauguración de la central eólica Parques Ecológicos de México, en Juchitán de Zaragoza, Oaxaca.

Durante la ceremonia encabezada por el Presidente Felipe Calderón, la Titular de la SENER señaló que las fuentes alternas de energía preservan el medio ambiente, al reducir las emisiones de gases de efecto invernadero, ya que se presenta una menor quema de combustibles fósiles en la producción de electricidad.

Agregó que con la puesta en operación de esta central se avanza en la transición energética, ya que generará 80 Mega-watts de capacidad instalada. Precisó que con las turbinas de esta planta se generarán al año cerca de 280 Giga-watts/hora, que representa dos veces la energía que consume el alumbrado público de todo el estado de Oaxaca.

Asimismo, destacó que ante las ventajas que ofrecen las energías renovables y las nuevas herramientas de regulación que otorga la Reforma recientemente aprobada en la materia, se impulsará la creación de centrales eólicas para aprovechar el potencial de regiones como la Rumorosa, en Baja California, o en la ciudad de Zacatecas.

En este sentido, la Titular de la SENER, indicó que además del proyecto Parques Ecológicos de México, en la región se ubica el Parque Eurus, el cual será el más grande de América Latina y el segundo más grande registrado ante el Mecanismo de Desarrollo Limpio de las Naciones Unidas, el cual estará funcionando al 100% a finales de año.

La doctora Kessel dijo que la Comisión Federal de Electricidad contribuirá a este esfuerzo con la construcción de la Venta III y los proyectos Oaxaca I, II, III y IV, los que generarán una capacidad total de 500 Mega-watts de energía. De esta manera se espera cumplir con la meta de contar, en el 2012, con 2 mil 500 Mega-watts de capacidad instalada en el Istmo de Tehuantepec.
Tags: Acciona Energia, Baja California, Cemex, central eólica, CERs, Cervecera Moctezuma, CFE, clean development mechanism, energía eólica, energía renovable, FEMSA, Gamesa, Iberdrola, Istmo de Tehuantepec, Juchitán de Zaragoza, Kyoto Protocol, mecanismo de desarrollo limpio, Mexico, Oaxaca, Parque Eurus, Parques Ecológicos de México, Protocolo de Kyoto, renewable energy, Rumorosa, SENER, Soriana, wind energy, wind power, Zacatecas
One Response to "Mexico Turns to Wind Power"
Business News Network Says:
June 24th, 2009 at 16:49

[…] H Zambrano is eager to get the EURUS wind farm online to implement CEMEX environment policy. "At CEMEX, we are committed to innovation and to becoming more sustainable by the use of alternative fue…, and the application of more efficient processes to save energy, to reduce carbon dioxide […]
Leave a Reply