« DR & Central America Agree on Common Health, Pharma Policies/Programs | Home | Making Argentine Mining Sustainable »
By Keith R | January 31, 2009
Topics: Biofuels, Energy & the Environment, Renewable Sources | No Comments »

The International Renewable Energy Agency (IRENA) was created at a founding conference in Bonn, Germany, this week, followed the next day by a short working session of the preparatory commission charged with getting it up-and-running.  The brainchild of renewable advocate Germany, with strong backing from Denmark and Spain, IRENA is intended to raise the profile and political weight of renewable sources of energy — solar, wind, geothermal, ocean [tidal, wave and ocean thermal (OTEC)], hydropower and bioenergy.  Several Latin American and Caribbean (LAC) nations are founding members, and several others are considering joining.
Why Create IRENA?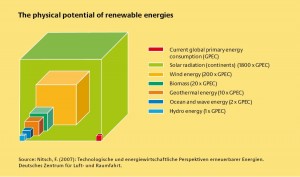 Many nations have long complained that the existing two existing international agencies dealing with energy questions — the Paris-based International Energy Agency (IEA) and the Vienna-based, UN-linked International Atomic Energy Agency (IAEA) — are biased in favor of fossil fuels and nuclear power, respectively.
Many also felt that other international agencies already with work in energy questions — such as the World Bank, UN Industrial Development Organization (UNIDO), the UN Environment Programme (UNEP), the UN Development Programme (UNDP) — do not give renewables the priority and profile that they deserve.
As for the two existing loosely organized global networks focusing on renewables, the Renewable Energy Network for the 21st Century (Ren21) and the Renewable Energy and Energy Efficiency Partnership (REEEP), some argued that they were too dominated by donor country wishes rather than recipient country needs.
Many states wanted IRENA to be created as a new United Nations agency focused just on renewables, but it was quickly recognized that given the politics of the UN system, trying to establish it from within the UN orbit would have taken years.  Instead, the idea is to get IRENA up-and-running now as an independent, score some successes, and then start the process of gaining UN affiliation.
IRENA makes the case for its creation as follows:
Many countries already foster the production and use of renewable energy through different approaches on a political and economic level as they recognize the urgent need to change the current energy path. The current use of renewable energy, however, is still limited in spite of its vast potential. The obstacles are manifold: lengthy permitting procedures, import tariffs and technical barriers, insecure financing of renewable energy projects and insufficient awareness of the opportunities of renewable energy.

This is where IRENA – the International Renewable Energy Agency – comes in. Mandated by governments worldwide, IRENA aims at becoming the main driving force in promoting a rapid transition towards the widespread and sustainable use of renewable energy on a global scale. Acting as the global voice for renewable energies, IRENA will provide practical advice and support for both industrialized and developing countries, help them improve their regulatory frameworks and build capacity. The agency will facilitate access to all relevant information including reliable data on the potential of renewable energy, best practices, effective financial mechanisms and state-of-the-art technological expertise.

IRENA will develop comprehensive solutions, such as fostering all types of renewable energy, and consider various renewable energy policies on the local, regional, and national level. Additionally, IRENA will consider the specific environmental, economic and socio-cultural conditions. Lastly, it will involve stakeholders from the energy industry, academia, institutions and civil society. IRENA will regularly consult and cooperate with organizations and networks already engaged in the field of renewable energy in order to complement and pool their work resources, hereby creating added value.
IRENA insists that it will coordinate closely with all of the aforementioned agencies and networks, but it is not clear how well that will work in practice. There is a danger, some observers suggest, of too many cooks in the kitchen, stepping on each others' toes and all trying to take the lead. And traditionally international organizations are reluctant to share or give away part of their portfolios, even if they gave it lower priority than other portions of their work, so it will be interesting to see how warmly IEA, the World Bank, UNEP, UNDP and others welcome IRENA participation. It will also be interesting to see if and how REN21 and REEEP prevent themselves from being absorbed by IRENA.
For my part, given the focus of The Temas Blog on LAC, I am trying to determine how the two regional bodies currently working on energy issues, the Organization of American States (OAS) and Latin American Energy Organization (OLADE), will greet IRENA. The OAS has worked closely with REEEP in the past, and OLADE in recent years has tried to carve a niche for itself on renewables.
Who's In, Who's Not
Among the LAC signatories of the Statute creating the new Agency were Argentina, Chile, Guatemala, Honduras, Nicaragua, Peru and Uruguay.  Cuba and Jamaica did not sign at the founding conference but may do so in the coming months.
Brazil, Costa Rica, Ecuador, El Salvador, Mexico and Panama only sent observer delegations, as did China, India, Japan, the US and Switzerland.  That's quite a few major players in renewable energy sources; if they all continue to sit on the fence, it could spell bad news for IRENA.
Tags: Alemania, Argentina, biocombustibles, biocombustiveis, bioenergía, bioenergy, Biofuels, Chile, Denmark, Dinamarca, energía eólica, energía geotérmica, energía renovable, energia renovável, energy, environment, geothermal energy, Germany, Guatemala, Honduras, hydropower, IAEA, IEA, IRENA, medio ambiente, Nicaragua, OTEC, Peru, renewable energy, solar energy, solar power, Spain, tidal energy, Uruguay, wave energy, wind energy, wind power
Subscribe to My Comments Feed
Leave a Reply