« Brazil Adopts New Battery Rules | Home | Buenos Aires Bans Non-Biodegradable Plastic Bags »
By Keith R | September 13, 2008
Topics: Energy & the Environment, Renewable Sources | 2 Comments »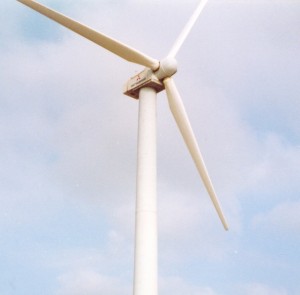 Over the last 3-4 months Peru has shown all the indicators of a major commitment to wind power.  First came the new decrees in May and June providing incentives (guaranteed 12% internal rate of return, guaranteed purchase price for the electricity, accelerated depreciation up to 20% per year) to investments in renewable energy sources intended to generate electricity.
This, in a country that already generates a majority (78% in 2005) of its electricity through hydropower!  Energy and Mines Ministry (MEM) officials stressed that these measures were not so much to promote more hydro (except perhaps small hydro projects), but rather to make investment in wind and solar more attractive (in 2005 only 1 gW of power — less than 1% of the national power total — was produced utilizing wind).  Why?  MEM officials don't say so expressly, but Peruvian officials are beginning to fret that their hydropower sources will be adversely affected by the disappearance of its glaciers because of global climate change.
At the end of August Energy Minister Juan Valdivia Romero announced the groundbreaking by the firm Iberoperuana Inversiones of a site for a 240 megawatt wind farm at San Andrés, La Puntilla, in the district of Paracas.  Paracas is well-known for its continuous winds.  Iberoperuana plans to mount some of the wind turbines by year-end.
At the groundbreaking the Minister emphasized the importance of altertnative sources of energy, noting that while Peru currently has considerable natural gas reserves, "one day that will end."
A couple of days later, the Minister announced that 37 concessions for wind parks have been awarded and are in the study phase, representing a potential 4,500 MW in generating power.  Installations are expected to be installed within the next 24 months in Malabrigo en La Libertad, Piura, Talara and Lambayeque.  Following that, said the Minister, the focus will be offshore installations on Peru's continental shelf.
MEM's stated goal is to reach 2011 with one third of the country's energy needs supplied by oil, one third by natural gas, and the last third by renewables (primarily hydro and wind).  Currently about half is supplied by oil, 11% by natural gas, and only 13% by hydro and wind.
Energy Vice Minister Gamio Aita also announced that by year-end Peru will publish the final version of its long anticipated wind map so that all municipalities and investors will know the best spots to locate wind turbines.  As soon as the final map becomes available, I'll add it to the Temas wind map collection.
_________________________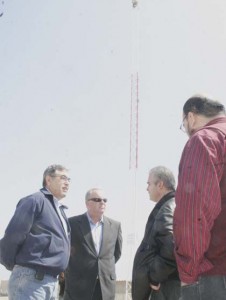 Desde el Ministerio de Energía y Minas (MEM):
HAY 4,500 MEGAVATIOS DE CONCESIONES EN ESTUDIO PARA GENERAR ELECTRICIDAD CON ENERGÍA DEL VIENTO

Destaca bondades y efectividad de decreto legislativo para atraer inversiones

En tres meses estará listo el Mapa Eólico del Perú, anunció hoy el Viceministro de Energía, doctor Gamio Aita. Será un instrumento técnico que permitirá a cualquier alcalde y cualquier inversionista conocer cuál es la fuerza sostenida del viento en el Perú, indicó.

Tras mencionar que tenemos 4,500 megavatios de concesiones en estudio, dijo que se ha dado una respuesta magnífica de los inversionistas, gracias al decreto legislativo que, por primera vez en nuestro país, garantiza un precio de compra y una tasa interna de retorno del 12%.

Asimismo, asegura que la energía limpia, que evita la emisión de gases contaminantes, sea un actor protagónico en la economía nacional, destacó el funcionario.

Al referirse al parque eólico de la empresa Iberoperuana Inversiones, que aspira a generar 240 megavatios, el doctor Gamio dijo que éste no es el único proyecto que está en ejecución, porque "tenemos a lo largo de la costa ya, como siete proyectos que cuentan con evaluación de fuerza y sostenimiento de vientos".

Se han adelantado los inversionistas privados a la aprobación del reglamento, cosa que es una excelente señal de confianza en el país, aseguró.

Acerca de las 37 concesiones otorgadas y que están en la etapa de estudios, el Viceministro Gamio dijo que esto quiere decir que, en aproximadamente 24 meses, vamos a ver ejecutar, es decir, ya pasar a la etapa de operación, a un importante número de parques eólicos.

Paracas en Ica, Malabrigo en La Libertad, Piura, Talara, Lambayeque, son los lugares elegidos y el zócalo continental será el siguiente paso, detalló el funcionario.

Es muy interesante, opinó, ver que el Perú está desarrollando este potencial, que sería una ventaja comparativa para lograr que la energía sea a costos competitivos en el país y de otro lado, reducir la dependencia y la vulnerabilidad en relación al petróleo.

La meta es llegar al 2011 con solamente un tercio de dependencia de la economía nacional al petróleo, el otro tercio al gas natural y el tercio faltante, energías renovables, fundamentalmente agua y viento, manifestó. Es importante que el país tenga una estrategia nacional de desarrollo de las energías renovables, aseveró.

Por otro lado, informó que en octubre se efectuará el Segundo Congreso Nacional de Energías Renovables. Esto es muy importante destacarlo porque conlleva un trabajo transversal con el Ministerio del Ambiente, de Agricultura y de la Producción, y con los gobiernos regionales. Vienen expertos de distintas partes del mundo difundir las nuevas tecnologías de punta, indicó.

Está probado en el mundo que con electricidad se avanza en la mejora de la calidad de vida, se reduce la extrema pobreza y se avanza en el camino de hacer que los beneficios de este desarrollo lleguen a más peruanos, declaró finalmente.
Tags: continental shelf, energía eólica, energía renovable, Iberoperuana Inversiones, Lambayeque, Malabrigo en La Libertad, mapa eólico, Paracas en Ica, parques eólicos, Peru, Piura, renewable energy, Talara, wind energy, wind farm, wind maps, wind power, zócalo continental
2 Responses to "Peru Opts for Wind Power"
K. Michael VerKamp Says:
April 29th, 2009 at 21:43

This is great progress. Peru is showing great leadership in south america by tapping into the huge wealth of wind resources in the region.

Christopher Kuntz Says:
May 16th, 2009 at 18:51

I spent most of the 90's working in the mining industry in Mexico, BC, Yukon…for the last decade I have been working in wind power and have attempted to go after the El Salvador, Dominican Republic, and Ecuadorian markets for wind power development – some success, more set backs than progress, as these are difficult markets to navigate at the best of time.

The news coming out of Peru is incredible. As a Canadian, I know we have great interests in hydro and mining in particular. Maybe a long term position doing JV's in wind power with Peruvian developers would serve well for entry into all of Latin American market. It is good to see Peru taking the lead!

Chris Kuntz, President of Canwind Power and SLG Renewable Energy Fund.
Leave a Reply