« Culmina armonización andina de requisitos para productos de higiene doméstica y absorbentes de higiene personal | Home | IFC Supports PET Recycling in Mexico / IFC respalda el reciclaje de PET en México »
By Keith R | April 20, 2009
Topics: Renewable Sources | No Comments »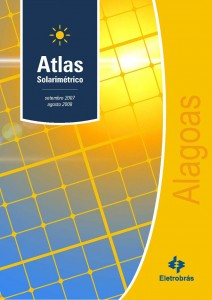 Just months after issuing an atlas of its wind power potential, the governor of the small northeastern Brazilian state of Alagoas just formally received an atlas of its solar power potential.  The new atlas is the product of a joint effort of the state government, Brazil's state-controlled utility Eletrobras, and the Federal University of Pernambuco (UFPE).  The state government's hope is to use the atlas to attract investors in solar power generation to Alagoas. Alagoas is seeking to diversify its energy sources, exploring wind, solar, hydro, biomass (sugarcane) and natural gas.
I will be adding this to the Temas Tools page listing solar atlases/maps available for all Latin America and the Caribbean (LAC).
______________
Desde a Secretaria de Estado do Desenvolvimento Econômico, Energia e Logística (SEDEC):
Atlas Solarimétrico é instrumento para atrair investidores

Governador recebeu o estudo, que apresenta dados sobre a potencialidade da energia solar em Alagoas

Os dados sobre a potencialidade da utilização da energia solar em Alagoas foram mapeados pela Eletrobrás e entregues ao governador Teotonio Vilela Filho, no dia 17 de abril, no Palácio República dos Palmares, durante reunião dos Conselhos Estaduais do Desenvolvimento Econômico e Social (Conedes) e de Política Energética (Cepe). A partir da criação do Atlas Solarimétrico, o governo do Estado irá desenvolver ações para atrair investidores.

Teotonio Vilela afirmou que o governo está empenhado na consolidação da política energética, pois Alagoas possui diversos atrativos: biomassa (cana), energia hidráulica, eólica e solar, gás natural, entre outros. O governador também destacou a iniciativa de transformar os conselhos estaduais em fóruns, onde a sociedade participa e discute assuntos que interferem diretamente no dia a dia do alagoano.

Segundo o representante da Eletrobrás, Djamil de Holanda, o Atlas é um instrumento importante para que o investidor tenha à disposição as informações sobre o setor e realize o investimento com segurança. O Atlas Solarimétrico foi possível com a parceria entre a Eletrobrás, o governo do Estado e a Universidade Federal de Pernambuco.

Djamil de Holanda citou outros projetos desenvolvidos em parceria com o governo, como o Atlas Eólico, entregue em dezembro de 2008; a assinatura do convênio entre a Eletrobrás e a Federação das Indústrias de Alagoas (Fiea) para o desenvolvimento de programa de eficiência energética nas indústrias — Procel Indústria; e também o fortalecimento de uma política de eficiência de energia a partir de lei que regulamenta a economia em prédios públicos, e nos municípios (escolas e iluminação pública).

Exemplo da parceria entre Eletrobrás e Estado é o investimento de R$ 24 milhões que será alocado num programa de eficiência na Companhia de Saneamento de Alagoas (Casal), no período de 2009 e 2010.

Djamil de Holanda explica que o Atlas Solarimétrico além de ser útil para os interessados na geração de energia, também funciona para identificar a incidência de luz solar para as áreas agrícolas, determinando uma maior ou menor produção. Ele esclarece que a informação sobre a incidência da luz solar é um instrumento importante para as edificações, que deve ser utilizado por profissionais de arquitetura e engenharia civil.

Para o secretário do Desenvolvimento Econômico, Energia e Logística, Luiz Otavio Gomes, Alagoas não tinha conhecimento da sua matriz energética e de seu grande potencial para as energias complementares. A questão foi solucionada com a elaboração do Balanço Energético e dos Atlas, entregues por meio da parceria com a Eletrobrás. O secretário explica que, com esses dois instrumentos (Atlas Eólico e Solarimétrico), "cabe a nós, do governo do Estado, correr atrás dos investidores".
Tags: Alagoas, atlas solarimétrico, Brasil, Brazil, Casal, Cepe, Conedes, Eletrobrás, energía renovable, energía solar, FIEA, renewable energy, solar atlas, solar energy, UFPE
Subscribe to My Comments Feed
Leave a Reply