« Eco-certification for Tourism: Blue Flag Comes to Brazil | Home | Cost-benefit of Iron Deficiency Interventions in Argentina »
By Keith R | February 15, 2009
Topics: Renewable Sources | No Comments »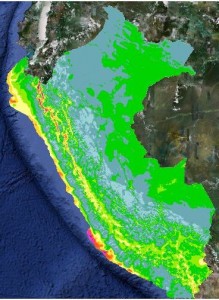 Back in September 2006 when I did my review of solar and wind maps available for Latin American and Caribbean (LAC) nations, I commented about Peru that "I found no up-to-date maps for Peru, even though the government reputedly is working on some."
Well, that has now changed. As part of its new push for developing wind power, the Energy and Mines Ministry (Minem) has unveiled a new web-based,  interactive wind atlas based on the Google Map platform. The project was funded with help from the World Bank and Global Environment Facility (GEF).
Minem also has converted its 2003 "solar atlas" into this online, interactive format. [Note: the underlying data for that atlas, though, is from over fifteen years ago.]
______________
Desde el Ministerio de Energía y Minas (Minem):
ATLAS EÓLICO IMPULSARÁ INSTALACIÓN DE CENTRALES EÓLICAS EN EL PAÍS

El Atlas Eólico del Perú, moderno sistema de información que permitirá conocer con precisión los lugares más apropiados en el territorio nacional para instalar centrales eólicas, fue entregado oficialmente en horas de la tarde de hoy al viceministro de Energía, Daniel Cámac Gutiérrez.

La presentación del Libro de Mapas y soporte magnético (DVD) con aplicativo ArcReader se realizó en el auditorio del Ministerio de Energía y Minas, y estuvo a cargo del Consultor Internacional Consorcio Meteosim Trweind S.L.- Latin Bridge Business S.A., que ha tenido a su cargo este importante trabajo.

Gracias a este Atlas Eólico, hoy se conoce todo el potencial eólico del país, al ofrecer información completa de la velocidad del viento y la densidad de potencia a tres alturas sobre el suelo (50,80 y 100 metros), a nivel nacional y regional; constituyendo de esta manera una herramienta muy útil para la ejecución de proyectos eólicos y para consultas diversas.

De este modo se dará un gran impulso a los proyectos orientados a la utilización de esta forma de energía renovable, que hoy despierta particular interés a nivel mundial.

Las consultorías para la elaboración del atlas se realizaron por encargo de la Dirección de Fondos Concursables de la Dirección General de Electrificación Rural. Se contó para este proyecto con el financiamiento del Banco Mundial.También se ha tenido una donación del Global Envinroment Facility (GEF).
Tags: atlas eólico, energía eólica, energía renovable, GEF, MINEM, Peru, renewable energy, wind atlas, wind power
Subscribe to My Comments Feed
Leave a Reply