« Directional Signals in Brazilian Federal Waste Policy | Home | Sam's Club to Sell Fair Trade Certified Coffee from Brazil »
By Keith R | August 18, 2009
Topics: Renewable Sources | No Comments »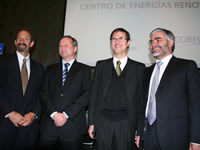 Chile has created a Renewable Energy Center (Centro de Energias Renovables – CER) to serve as a national focal point for research, development, information and promotion of investment and technology transfer in non-conventional renewable energy (known by its Spanish acronym, ERNC), such as solar, wind, geothermal and ocean.  CER was created jointly by the National Energy Commission (CNE) and Chile's economic development agency, the Corporation for Promotion of Production (CORFO).
Among its official functions:
Study the evolution and development of ERNC technologies and their applicability in Chile, in order to facilitate the removal of barriers to realizing such projects;
Promote and develop a network of agreements with national and international schools and institutions working to promote and innovate in ERNC;
Serve as a center of information and guidance to government bodies, investors, project developers and academic researchers;
Generate registries of natural resources for the development of ERNC;
Ensure proper accreditation and certification for products and services linked to ERNC projects (such as consulting, engineering, laboratories, technology providers, maintenance, etc.).
______________
Desde la Comisión Nacional de Energía (CNE):
Chile crea Centro de Energías Renovables

Se trata de un organismo especializado en la investigación, desarrollo y fomento de las energías renovables no convencionales, creado por la Comisión Nacional de Energía y CORFO.

Hoy hizo su estreno en sociedad el Centro de Energías Renovables, institución que complementa los esfuerzos del Gobierno de Chile para desarrollar las energías renovables no convencionales (ERNC) y que será un punto central de información y apoyo a la promoción de inversiones y transferencia tecnológica.

La creación del nuevo organismo es resultado del trabajo conjunto de la Comisión Nacional de Energía y CORFO y busca articular los esfuerzos públicos y privados por desarrollar el gran potencial de recursos energéticos renovables no convencionales que tiene el país tanto en energía geotérmica, solar y eólica, entre otros.

El anuncio lo dieron a conocer el ministro de Energía, Marcelo Tokman, y el vicepresidente ejecutivo de CORFO, Carlos Álvarez, quienes destacaron que el establecimiento de la nueva entidad viene a consolidar el trabajo de promoción de las energías renovables no convencionales y los desafíos que enfrentan para su pleno desarrollo.

El ministro de Energía señaló que "contamos como país con condiciones privilegiadas y existe un amplio consenso para avanzar en el desarrollo de las energías renovables. Debemos ser líderes en la materia. Me gustaría que en 10 años más este centro sea un producto de exportación. Que podamos mostrar cómo Chile generó una fórmula propia: una matriz energética segura, competitiva, sustentable y equitativa".

Según indicó el vicepresidente de CORFO, "el desarrollo de las energías renovables en Chile y el asentamiento de una industria de productos y servicios asociados representa una oportunidad para dotar a nuestro sistema productivo de una nueva fuente de dinamismo, que incorpore nuevas tecnologías y genere empleos calificados para técnicos y profesionales".

Chile duplicará su capacidad instalada de energías renovables no convencionales en el período 2006 a 2010. Para ello, el gobierno de la Presidenta Bachelet ha llevado adelante diversas acciones, entre las que están las modificaciones de leyes y regulaciones, se han destinado más de 500 millones de dólares para crear instrumentos de fomento al desarrollo de las ERNC y se han establecido incentivos tributarios, entre otros.

Tanto la Comisión Nacional de Energía como CORFO seguirán trabajando coordinadamente con el CER por el desarrollo de las energías limpias; la primera institución lo hará en materia de regulación e información, y la segunda, en lo que respecta a la promoción de inversiones.

Como organismo especializado en la investigación, desarrollo y fomento de las energías renovables, el CER contará con un equipo de alta calificación técnica, dirigido por el ingeniero civil Javier García Monge, master en Ingeniería de Gestión del Medio Ambiente de la Ecole des Mines de París, quien hasta ahora estuvo a cargo del programa de promoción de inversiones en energías renovables de CORFO.

Subrayó García que el nuevo centro servirá como ente promotor y facilitador de nuevos proyectos en ERNC, y como antena de seguimiento de las nuevas tecnologías en la materia, "que aporte en el proceso de generación de capacidades relacionadas con ERNC, contribuyendo así a la diversificación de la matriz energética".

Sobre el CER

Entre las funciones del Centro estarán:

Estudiar la evolución y el desarrollo de las tecnologías de ERNC y su aplicabilidad en Chile, para facilitar la eliminación de barreras en la materialización de proyectos;
Promover y desarrollar una red de convenios con centros e instituciones, a nivel nacional e internacional, que estén realizando promoción e innovación en ERNC;
Servir de centro de información y orientación para entes gubernamentales, inversionistas, desarrolladores de proyectos e investigadores académicos;
Generar catastros de recursos naturales para el desarrollo de las ERNC;
Velar porque exista acreditación en la competencia de recursos humanos, así como certificación de productos y servicios que sean conexos a proyectos de ERNC (tales como servicios de consultoría, ingeniería, laboratorios, proveedores de tecnología, mantención, entre otros).
Tags: Chile, CNE, Corfo, energía eólica, energía geotérmica, energía renovable, energía solar, engineering, ERNC, geothermal energy, ingeniería, investigación, investment, Marcelo Tokman, renewable energy, solar energy, solar power, technology transfer, transferencia tecnológica, wind energy, wind power
Subscribe to My Comments Feed
Leave a Reply