« Trinidad and Tobago Takes the Caribbean Lead in Tobacco Control | Home | Supreme Court: Comprehensive Clean Up of the River Plate, Not Piecemeal »
By Keith R | July 31, 2009
Topics: Renewable Sources | No Comments »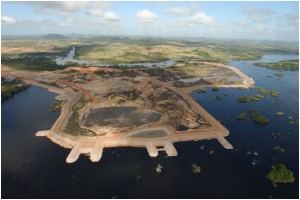 From the Inter-American Development Bank (IDB):
IDB approves financing for hydropower project in Venezuela

Credit will enable completion of facility that will supply up to eight percent of the country's electricity in a sustainable manner

The Inter-American Development Bank today approved an $800 million supplementary loan to Venezuela for the completion of the Manuel Pilar (also known as Tocoma) hydropower project in the Lower Caroní River Valley.

Construction on the plant, which will have an installed capacity of 2,160 megawatts, began with the initial diversion of the river in 2002. Its 10 generators are scheduled to begin operating on a staggered basis between 2012 and 2014. The plant is being built and will be operated and maintained by Electrificación del Caroní S.A. (EDELCA), a state company.

When completed, the project will be the fourth hydropower plant functioning in the Lower Caroní River Valley, which already provides 70 percent of Venezuela's electricity supply. The IDB participated in the development of this energy system with a $500 million loan approved in 1993 to help finance the construction of the Caruachi project, and a $350 million loan for an electric transmission system for the Guri hydroelectric plant.

The IDB approved a $750 million loan to help finance the Tocoma project in 2005. The $800 million in supplemental financing will be used for primary civil works and will also replace part of the original local counterpart financing and partly cover increased costs. The funds will contribute to the financial sustainability of the project and allow construction to proceed according to schedule.

The project will increase the supply of power to households and industry, improve economic competitiveness and contribute to economic growth through a power source that is more environmentally sustainable than existing alternatives. Among the benefits of the Tocoma project will be a reduction in the emission of greenhouse gases through the displacement of current thermal electricity generation.

The IDB loan is for a 20-year term, with a six-year grace period, at an adjustable interest rate.
________________
Desde el Banco Interamericano de Desarrollo (BID):
BID aprueba financiamiento para proyecto hidroeléctrico en Venezuela

Crédito permitirá completar planta que abastecerá hasta el ocho por ciento de la electricidad del país de una manera sostenible

El Banco Interamericano de Desarrollo aprobó hoy un préstamo de US$ 800 millones a Venezuela para completar el proyecto hidroeléctrico Manuel Piar (conocido como Tocoma) sobre el Río Caroní.

La construcción de la planta, que tendrá una capacidad instalada de 2.160 megavatios, comenzó con el primer desvío del río en 2002. Sus 10 generadores están previstos para comenzar a operar de una manera escalonada entre 2012 y 2014. La planta está siendo construida y será operada y mantenida por Electrificación del Caroní S.A. (EDELCA), una empresa estatal.

Cuando esté terminado, el proyecto se convertirá en el cuarto aprovechamiento de energía hidroeléctrica en el valle del Río Caroní. Actualmente las tres instalaciones existentes proveen el 70 por ciento del abastecimiento de electricidad de Venezuela. El BID participó en el desarrollo de este sistema energético a través de un préstamo de US$ 500 millones aprobado en 1993 para ayudar a financiar la construcción del proyecto Caruachi y un préstamo adicional de US$ 350 millones para el sistema de trasmisión eléctrica de la planta hidroeléctrica de Guri.

El BID aprobó en 2005 un préstamo de US $750 millones para ayudar a financiar el proyecto Tocoma. Los US$ 800 millones de financiamiento suplementario serán usados para cubrir obras civiles principales, para reemplazar parte del financiamiento original de contrapartida local y en parte para cubrir el incremento de costos. Los fondos fortalecerán la sostenibilidad financiera del proyecto y permitirán que la construcción continúe de acuerdo con el calendario establecido.

El proyecto contribuirá al abastecimiento de electricidad a los hogares y a la industria, mejorará la competitividad económica y contribuirá al crecimiento económico mediante la generación de una fuente energética que es más sostenible desde el punto de vista ambiental que otras alternativas. Uno de los beneficios del proyecto Tocoma consiste en la reducción de emisión de gases de efecto invernadero a través del desplazamiento de alternativas de generación térmica de electricidad.

El préstamo del BID ha sido concedido a un plazo de 20 años, con un período de gracia de seis años, y a una tasa de interés variable.
Tags: BID, EDELCA, hydropower, IDB, Manuel Pilar, renewable energy, Venezuela
Subscribe to My Comments Feed
Leave a Reply