« Brazil Bans DDT | Home | Espirito Santo Adopts Law on Products Containing Heavy Metals »
By Keith R | May 21, 2009
Topics: Renewable Sources | No Comments »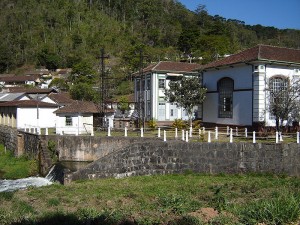 The southern Brazilian state of Santa Catarina (SC) has made a heavy commitment to small hydro. The SC State Secretary for Sustainable Economic Development (SDS), Onofre Santo Agostini, just signed 14 portarias authorizing the construction of 14 new small hydroelectric plants (known in Brazil as pequenas centrais hidrelétricas – PCHs). In Brazil any hydroelectric plant with a capacity under 30 MW is consider a PCH.
These 14 PCHs, each generating between 1 and 16 megawatts (MW), represent an investment of R$150 million. Once added to 38 similar concessions already awarded since Agostini took office in December 2007, 52 PCHs representing R$1 billion in total investment, will add nearly 13% to the state's power generation capacity, bringing PCH's share of total electricity generation to 18.4%. In all of Brazil PCHs represent only 2.5% of electricity production.
_________________
Desde a Secretaria de Estado do Desenvolvimento Econômico Sustentável (SDS):
52 PCHs geram 18,4 % das nossas necessidades energéticas e investimentos de R$ 1 bilhão no Estado

Onofre Santo Agostini, Secretário de Estado do Desenvolvimento Econômico Sustentável, assinou, na tarde de hoje (21), 14 portarias de Declaração de Reserva de Disponibilidade Hídrica (DRDHs) para o funcionamento de Pequenas Centrais Hidrelétricas (PCHs). Estas 14 PCHs vão gerar entre 1 e 16 MWatts cada uma, totalizando investimentos na ordem de 150 milhões de reais.

Somando com as outras 38 concessões, Onofre atinge a marca de 52 empreendimentos realizados, que somam investimentos de, aproximadamente, 1 bilhão de reais. Dados equivalentes ao período de dezembro de 2007 a maio de 2009, tempo em que Agostini está à frente da SDS. Nesse período, está sendo totalizada a liberação de capacidade adicional em torno de 341 MegaWatts de Geração de Energia, ou cerca de 13% da demanda de Pico do Estado, que somados aos outros 6% já existentes, chegam perto de 19% das nossas necessidades anuais de energia, provenientes apenas de PCHs. Em todo o Brasil, apenas 2,5% da energia é oriunda de PCHs.

Além do Secretário Onofre e dos empreendedores, estavam presentes no evento o Deputado Federal Gervásio Silva, o Diretor de Recursos Hídricos da SDS, Flávio Brea Victória, o Diretor de Licenciamento Ambiental da Fatma, Luiz Antônio Garcia, a Diretora Geral da Secretaria de Planejamento, Adeliana Dalpont e o Presidente da Associação dos Produtores de Energia de Santa Catarina, Norimar Fracasso.

Segundo Agostini, a ideia é que para o próximo dia 04 de junho sejam liberadas mais 15 licenças definitivas e outras 130 preventivas, para a construção de novas PCHS. "Somos um Estado privilegiado quanto aos recursos hídricos, o seu uso e seu suporte técnico", concluiu Onofre.

Nome das PCHs autorizadas hoje com seus respectivos municípios e potência:

PCH PORTÃO, São José do Cerrito / Campo Belo do Sul/SC (16 MWatts);
PCH RONDINHA, Passos Maia/SC (9 MWatts);
PCH DAS PEDRAS, Água Doce/SC (5,6 MWatts)
PCH ALTO FARIAS, Antônio Carlos/SC, (3 MWatts);
PCH FOZ DO BONITO, Ituporanga/SC (2,0 MWatts);
PCH ALTO FORTUNA, Angelina/SC (2,5 MWatts);
PCH POVOAMENTO, Anitópolis/SC (1,05 MWatts)
PCH CALDAS DO NORTE, Águas Mornas/SC (1,55 MWatts);
PCH SACRAMENTO, Águas Mornas/SC (1,22 MWatts);
PCH ANTONIO MUNHOZ BONILHA, Águas Mornas/SC (4,75 MWatts);
PCH SANTO AMARO, Santo Amaro da Imperatriz/SC (4,05 MWatts);
PCH JOÃO ELÓI, Águas Mornas, Sto. Amaro da Imperatriz/SC (1,61 MWatts);
CGH CONGONHAS, Angelina/SC (1,0 MWatts);
CGH CONGONHAS II, Angelina/SC (1,0 MWatts).

O Estado de Santa Catarina avança rapidamente no cadastro, análise e concessão de Outorgas de Direito de Uso de Água e é reconhecido por entidades nacionais como a Agência Nacional de Água (ANA) e outros estados brasileiros.

Preservar e Garantir o Uso de Água para todos os Usuários

Para a análise das Reservas de Disponibilidade Hídrica, foram estabelecidos procedimentos técnicos rigorosos, com análises dos projetos e vistorias a campo, priorizando-se a análise dos múltiplos usos existentes e estimando-se os futuros usos, garantindo a água necessária ao desenvolvimento das demais atividades humanas e econômicas, além da criteriosa viabilização dos empreendimentos.

Encontra-se aberto o Cadastro de Usuários de água em todo o Estado, para que sejam conhecidos os tipos de uso e suas especificidades. Assim, se tem as informações básicas ao processo de outorga de direito de uso da água, com análises dos diversos usuários, para que não falte água para os usos prioritários em cada bacia, através do estabelecimento de regras de alocação e re-alocação em bacias com conflitos.

Meses promissores para a dinamização descentralizada da economia no Estado

Nos próximos 18 meses, Santa Catarina terá um verdadeiro parque de obras nesse segmento, com a geração de empregos locais, aquisição e uso de equipamentos desenvolvidos no próprio Estado, com significativo giro de recursos, geração de ICMS e dinamização da economia.

Energia

A energia gerada por cada PCH pode ser utilizada pelo próprio investidor na sua atividade, ou poderá entrar no Sistema Nacional de Energia, passando a constituir reforço significativo e estratégico para o Estado e País, com obras de relativo baixo impacto ambiental, que proporcionam incrementando estratégico na matriz energética limpa associada à geração por hidroeletricidade, distribuídas nas bacias hidrográficas do Estado.

O que é uma PCH

PCHs são estruturas hidráulicas construídas nos rios, que proporcionam o aproveitamento dos desníveis para a geração de energia, com potências variando de 1 a 30 MegaWatts e áreas de alagamento de até 3,0 km2. Utilizam-se dos desníveis proporcionados pela fisiografia, ao longo dos rios, para movimentar turbinas que transformam a energia gravitacional em Energia elétrica.
Tags: Água Doce, Águas Mornas, ANA, Angelina, Anitópolis, Antônio Carlos, Brasil, Brazil, energia renovável, FATMA, Ituporanga, Passos Maia, PCH, pequenas centrais hidroelétricas, recursos hídricos, renewable energy, Santa Catarina, Santo Amaro da Imperatriz, São José do Cerrito, SDS, small hydro, water resources
Subscribe to My Comments Feed
Leave a Reply