« Mesoamerica Shows the Way to DDT-Free Malaria Control | Home | What the Other Guy Blogs About: Renewable Energy in Chile »
By Keith R | May 7, 2009
Topics: Renewable Sources | No Comments »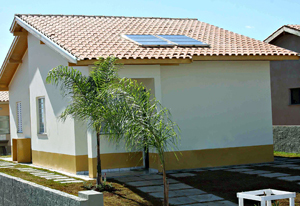 The Housing and Urban Development Company (Companhia de Desenvolvimento Habitacional e Urbano – CDHU), São Paulo state's public entity that build public housing, just signed a contract with six manufacturers of solar water heater kits to have such units installed in 15,000 houses that the CDHU is building or will build for low-income families in the regions of: Presidente Prudente (2,631 units); Campinas (2.423); Araraquara and Ribeirão Preto (2,191); Baixada Santista, Vale do Paraíba and Sorocaba (2,494);  Bauru e Marília (2,979), Araçatuba and São José do Rio Preto (2,312 unidades).
This step comes on top of an agreement reached late last year between CDHU and energy distributors Bandeirante Energia and CPFL Energia for them to donate 10,800 solar water heaters to be installed in houses already built by CDHU.
CDHU emphasizes that the solar water heaters will help families living in the homes save 30% on their power bill compared to house equipped with traditional electric shower heads.  It also helps cut electricity demand and potentially help reduce SP's carbon footprint.
________________
Desde a Companhia de Desenvolvimento Habitacional e Urbano (CDHU):
CDHU assina acordo para instalar 15 mil aquecedores solares

Moradores podem economizar até 30% na conta de luz com novos equipamentos

A Companhia de Desenvolvimento Habitacional e Urbano (CDHU) assinou nesta quinta, 7, acordo com seis empresas fabricantes de aquecedores solares para fornecimento de 15 mil kits do equipamento. Eles serão instalados em casas que estão sendo construídas em diversos municípios do Estado.

O kit gerador de energia solar para aquecimento da água do chuveiro possui dois componentes: o coletor, instalado sobre o telhado para absorver o calor e o reservatório térmico, onde a água é armazenada.

Desde 2007, a CDHU incluiu o item nos projetos de moradias de interesse social com o objetivo de reduzir as despesas dos mutuários com a conta de luz – em cerca de 30%, economizar energia e contribuir com a sustentabilidade ambiental.

Em março, a Companhia realizou processo de licitação, que selecionou seis empresas para fornecer os equipamentos para as regiões de Presidente Prudente (2.631 unidades), Campinas (2.423), Araraquara e Ribeirão Preto (2.191), Baixada Santista, Vale do Paraíba e Sorocaba (2.494), Bauru e Marília (2.979), Araçatuba e São José do Rio Preto (2.312 unidades).

A concorrência originou uma "Ata de Registro de Preço" que poderá ser utilizada pelas prefeituras conveniadas com a CDHU para a construção de moradias pelo Programa Parceria com Municípios.

As empresas têm agora um prazo de 15 dias para apresentar um Plano de Medição e Verificação (PMV), no qual deverão detalhar como essa economia será obtida. A CDHU, por sua vez, vai verificar, durante um ano, se os equipamentos atendem às especificações.

Quanto à necessidade de manutenção dos aquecedores, as empresas fornecedoras dão garantia de 5 anos e asseguram que a vida útil dos equipamentos é de 20 anos.

Além da compra dos novos kits de aquecimento solar, em 2008 a CDHU assinou protocolos de cooperação com as distribuidoras Bandeirante Energia e CPFL Energia. Pelos acordos, serão doados de 10.800 aquecedores solares a serem instalados em conjuntos já entregues pela Companhia.

Ações sustentáveis na habitação de interesse social

A Secretaria da Habitação vem adotando uma série de medidas para que seus conjuntos habitacionais sejam ecologicamente sustentáveis. A exigência de certificação para a madeira utilizada na construção e sua substituição por metal nas estruturas de cobertura são exemplos dessas medidas.

No ano passado, o Governo Estadual, por meio das Secretarias da Habitação e do Meio Ambiente, assinou protocolo de cooperação com as principais entidades da indústria da construção civil e do ramo imobiliário para promover o desenvolvimento sustentável do setor.

Em 2007, também foram assinados dois documentos nos quais a CDHU se comprometeu a minimizar os resíduos de matéria-prima durante a obra, comprar insumos de empresas que respeitem protocolos de sustentabilidade da Secretaria do Meio Ambiente, utilizar madeira com certificado de origem, cobrar regulagem dos veículos das transportadoras; promover a destinação adequada de resíduos de obras ou demolições, contribuir com a arborização do entorno dos conjuntos e reflorestar áreas de margens de cursos d'água existentes nos empreendimentos.

A companhia também firmou termo de cooperação com o Instituto de Pesquisas Tecnológicas (IPT). O objetivo é unir conhecimento técnico, recursos materiais e financeiros para promover estudos tecnológicos voltados ao uso racional de recursos naturais e ao emprego adequado de materiais nas construção da CDHU.
Tags: aquecedores solares, Araçatuba, Araraquara, arborização, Baixada Santista, Bandeirante Energia, Bauru, Brasil, Brazil, C&D wastes, Campinas, CDHU, chuveiro, construção civil, CPFL Energia, Marília, Presidente Prudente, resíduo da construção e demolição, Ribeirão Preto, São José do Rio Preto, São Paulo, Secretaria da Habitação, solar water heater, Sorocaba, Vale do Paraíba
Subscribe to My Comments Feed
Leave a Reply