« Reforming Rio's Environmental Governing Machinery | Home | Dealing with the Threat of Drug-Resistant Tuberculosis »
By Keith R | June 22, 2007
Topics: Energy & the Environment, Energy Efficiency, Renewable Sources | No Comments »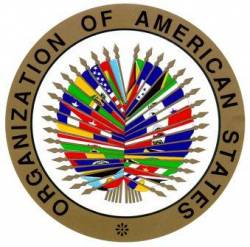 Let's Keep It in Perspective
If you read about it in Biopact, you could be forgiven for coming away with the impression that the Organization of American States' (OAS) Panama Declaration on Energy for Sustainable Development (English, Spanish, Portuguese) focussed mostly on biofuels. (It didn't.) If you read some of the region's traditional media reports, or Planeta Azul's or G3nergy's accounts, of the Declaration, you could be forgiven for thinking that the OAS agreed on some momentous energy policy statement and initiative. It was not quite as revolutionary or breakthrough as all that — the Organization of Petroleum Exporting countries (OPEC), the International Energy Agency (IEA), or even the Latin American Energy Organization (Organización Latinoamericana de Energía – OLADE), have nothing to fear.
The truth is, the Declaration adopted at the OAS General Assembly in Panama earlier this month, like most (but not all) OAS proclamations, is 90% oration and 10% action. And it covered far more than biofuels — nearly any and every sustainable development issue associated with energy development and use that you can imagine (and perhaps a few you can't).
Don't get me wrong and label me an OAS hater. Nothing of the kind! I believe that the OAS does some valuable work on energy issues, unfortunately much of it unheralded. I personally believe that the OAS has the potential to do far more than it does — if they show the courage to grasp the nettle.
But so far their forays into environment and energy have been modest — presumably because most member states (for whatever their reasons) want it that way. As far as I can discern, this General Assembly did not change that fundamentally. For all its six pages and 24 articles of bluster, the Panama Declaration only devotes two articles and slightly less than a half-page to marching orders, and most of this can best be summed up is "continue as before."
The OAS and Energy Issues
Since the OAS first ventured into energy, its role has largely been restricted to (1) clearinghouse; (2) event co-sponsorship and "fostering dialog"; (3) some technical assistance; (4) regional secretariat services for initiatives started by other groups; (5) (occasional) designation as administrator of an energy-related project funded by another entity.
That's the Temas in-a-nutshell summary of of their role to-date. The more official version is that they provide
Sustainable Energy Policy Assistance: they provide training in sustainable energy policy formation and implementation; helped draft Guatemala's renewable energy incentive law and Mexico's renewable energy regulations; they helped drafting of national sustainable energy plans for Dominica, Grenada, St. Lucia and St. Kitts and Nevis.
Renewable Energy Technical/Resource Assistance: helped in the drafting of the Caribbean Bioenergy Initiative; helped in a bioenergy feasibility study for St. Kitts and Nevis; assisted the UN Environment Programme (UNEP) in its Central American wind and solar energy resource assessment; co-hosted the geothermal energy workshop for Andean countries; assisting Dominica, St. Lucia and St. Kitts and Nevis in their pursuit of geothermal energy projects
Information/knowledge management & hemispheric energy partnerships: the OAS provides the regional technical secretariat for the Renewable Energy and Energy Efficiency Partnership (REEEP), and organized the hemispheric conference for the Global Village Energy Partnership (GVEP).
Increased Access to Sources of Financing: the OAS helps LAC sustainable energy projects get loans from the IDB, World Bank and Global Environment Facility (GEF), and has advised some countries in "tools" that help their projects gain "clean development mechanism" status under the Kyoto Protocol.
What Follow-up the Declaration Really Calls For
When you strip away all the rhetoric the Declaration essentially calls for:
The OAS Secretariat to continue

providing relevant training programs;
updating the experts roster for technical assistance;
fostering regional dialog, although with a sharper focus on (1) creating and strengthening markets; (2) promoting energy efficiency and conservation.

the OAS Permanent Council, in cooperation with an OAS subsidiary body, the Inter-American Council for Integral Development (CIDI), to convene a regional meeting before next year's OAS General Assembly on "experiences, best practices, and other information relating to the subject of this Declaration" (whatever that really means!).
The Panama Declaration did not add a substantially new and different role for the OAS.
I am not in any way belittling the OAS initiatives and or what they may contribute to the member states in dealing with the energy-environment interface. They are gaps that need to be filled.
I just wish that the OAS could fill in the many other gaps and/or complement OLADE's work. OLADE does some useful work, but it is hampered by its limited membership and budget. The OAS has broader membership (35 compared to OLADE's 26 — the difference being the absence of Canada, the US and several small Caribbean states), and as a project manager with a longer track record and closer ties to other multilateral institutions, may have access to a broader pool of funds.
— Keith R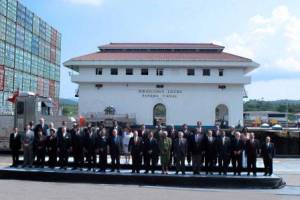 From the Organization of American States (OAS):
THE OAS APROVES BY ACCLAMATION THE DECLARATION OF PANAMA ON ENERGY FOR SUSTAINABLE DEVELOPMENT

The highest political body of the Organization of American States (OAS), which brings together the region's Ministers of Foreign Affairs, reaffirmed this evening the fundamental importance of energy resources for the future of the countries of the Americas in adopting, by acclamation, the Declaration of Panama: Energy for Sustainable Development.

Following two days of debate on the issue, the 37th OAS General Assembly underscored that "democratic governance, strong democratic institutions, the rule of law, and respect for human rights and fundamental freedoms are essential elements in advancing the energy and sustainable development goals of member states and the region, combating social exclusion, and advancing the public good."

The region's 34 foreign ministers expressed the need to reduce countries' vulnerability in light of fluctuating costs and demand of energy; increase cooperation and energy integration; and, considering the challenges presented by climate change, promote clean and efficient energy.

The states also stressed their commitment to developing and investing in energy infrastructures to facilitate the availability of and access to energy, as well as to protect them and move forward toward regional energy integration. "To these ends, we emphasize the advisability, in accordance with national law of public-private partnerships and/or agreements, giving priority to those favoring our sustainable development," the Declaration states.

In closing the meeting of Latin American and Caribbean governments, the Chair of the Assembly, Foreign Minister Samuel Lewis Navarro, said the "fruitful" talks of the last few days had produced different resolutions on matters and issues that go "directly to the heart of our peoples."

"The problems derived from poverty and extreme poverty, the concerns about disabilities and the need for everyone to understand them, have been studied seriously and with serenity, leading to the development of proposals, mechanisms and solutions," Foreign Minister Lewis said. The Panamanian diplomat added that the result of these high-level talks "has been the renewal of the esprit de corps that identifies and inspires us."

"The Declaration of Panama paves the way to successfully confront the problem of energy" and "constitutes an expression of higher will that does not separate us but joins us," he concluded.

The final document calls on the OAS Permanent Council and the Inter-American Council for Integral Development (CIDI) to convene an inter-American meeting of national authorities and experts, before the next General Assembly—which will be held in Colombia in 2008—to discuss experiences, best practices and other information relating to the subject of this Declaration that will contribute to the sustainable development of all countries in the hemisphere.
Desde la Organización de Estados Americanos (OEA):
LA OEA APRUEBA POR ACLAMACION LA DECLARACION DE PANAMA SOBRE ENERGIA PARA EL DESARROLLO SOSTENIBLE

La máxima instancia política de la Organización de los Estados Americanos (OEA) que reúne a los Ministros de Relaciones Exteriores de la región, reafirmó esta noche la importancia fundamental de los recursos energéticos para el futuro de los países del continente al aprobar por aclamación la Declaración de Panamá sobre "Energía Para el Desarrollo Sostenible".

Después de dos días de debate sobre este tema la XXXVII Asamblea General de la OEA subrayó que "la gobernabilidad democrática, las instituciones democráticas sólidas, el estado de derecho y el respeto de los derechos humanos y libertades fundamentales son elementos esenciales para alcanzar las metas de los Estados miembros y de la región en materia de energía y desarrollo sostenible, el combate a la exclusión social y el avance del bien publico".

Los 34 cancilleres de las Américas expresaron la necesidad de reducir la vulnerabilidad de los países ante las fluctuaciones en los precios y la oferta de la energia; incrementar la cooperación e integración energéticas; y, tomando en cuenta los desafíos presentados por el cambio climático, promover energía limpia y eficiente.

Los Estados también afirmaron su determinación de desarrollar e invertir en las infraestructuras energéticas con el fin de facilitar la disponibilidad y el acceso a la energía, así como protegerlas y avanzar en la integración energética regional. "Con estos propósitos destacamos la conveniencia, de acuerdo con las legislaciones nacionales, de impulsar alianzas y/o acuerdos entre los sectores públicos y privados, priorizando aquéllos donde el esfuerzo favorezca nuestro desarrollo sostenible", dice la Declaracion.

Al clausurar el encuentro de los gobiernos de América Latina y del Caribe, el Presidente de la Asamblea, el Canciller de Panamá Samuel Lewis Navarro dijo que durante las "fructíferas" jornadas de los últimos días, se logro llegar a diferentes resoluciones que abarcan materias y asuntos que van "directamente al corazón de nuestros pueblos".

"Los problemas derivados de la pobreza y la pobreza extrema, las preocupaciones de la discapacidad y la necesidad de entenderla entre todos, han sido estudiados con seriedad, con serenidad, de lo cual han surgido propuestas mecanismos y soluciones", afirmó el Ministro panameno de Relaciones Exteriores. El diplomático agregó que el resultado de estas conversaciones de alto nivel "ha sido la renovación del espíritu de trabajo que nos identifica y que nos inspira".

"La Declaración de Panamá abre el camino para enfrentar con éxito el problema de la energía", y "constituye una expresión de voluntad superior que no nos separa sino que nos une", puntualizó.

El documento final insta al Consejo Permanente de la OEA y al Consejo Interamericano para el Desarrollo Integral (CIDI) a convocar una reunión interamericana de autoridades nacionales y expertos, antes de la próxima Asamblea General, la cual se realizará en Colombia en el 2008, con el objeto de intercambiar experiencias, mejores practicas y otras informaciones relacionadas con la materia de la Declaración que contribuyan al desarrollo sostenible de todos los países del hemisferio.
Tags: América Latina, Banco Mundial, BID, Caribbean Bioenergy Initiative, CIDI, Declaración de Panamá, desarrollo sostenible, desenvolvimento sostentável, Dominica, eficiencia energética, energía, energía eólica, energía geotérmica, energía renovable, energia renovável, energy, Energy Efficiency, GEF, geothermal energy, Grenada, Guatemala, GVEP, IDB, Latin America, Mexico, OAS, OEA, OLADE, Panama Declaration, PNUMA, REEEP, renewable energy, solar energy, St. Kitts and Nevis, St. Lucia, sustainable development, technical assistance, UNEP, wind energy, World Bank
Subscribe to My Comments Feed
Leave a Reply