« 30 Million Pesos to Clean Up the Matanza-Riachuelo / 30 millones de pesos para sanear la Cuenca Matanza-Riachuelo | Home | Expertos dicen que la calidad de las grasas importa más que la cantidad »
By Keith R | March 3, 2009
Topics: Energy & the Environment, Renewable Sources | 1 Comment »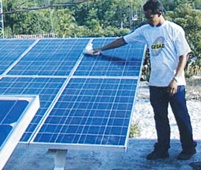 In his blog Henrique Cortez asks a question that has long bothered me too: why is a country blessed with so much intense sunshine such as Brazil not a world leader in tapping solar power?
He points out that even small Portugal now has a 93 MW solar power generation installation — so why not Brazil?  It has the sun and the technological know-how, and it is cheaper and faster to construct such installations than hydroelectric plants, he argues.
But the only solar application Brazil is investing in at the moment is solar water heating — it has largely steered clear of photovoltaics, except in limited, small-scale application in remote areas.  Why?
Cortez concludes that there can only be one explanation: the government and local power generators are not interested.
Is he right?  I have wondered the same thing, particularly as I scrutinize Brazil's energy development plans (here and here).  A huge push for biofuels and hydropower, interest in wind power and increasing use of nuclear power, but solar power is almost ignored.
I figure that there must be a reason (or reasons) behind the lack of official interest in solar power generation, but I have yet to hear a satisfactory explanation from Brazilian officials.
Tags: Brasil, Brazil, energía solar, Henrique Cortez, photovoltaics, sistemas fotovoltaicos, solar energy, solar power
One Response to "What the Other Guy Blogs About: Why Isn't Brazil a Solar Power?"
caetano Says:
July 4th, 2009 at 12:52

here goes an opinion: the main reason is because the water; there´s so many rivers and dams around here, generating massive hydroelectricity at low costs. then, for ethanol, in a continental contry as brazil, suggar cane plantations has plenty of space to grow, and cheap too. so the brazilian oficials don´t need to care.
about the nuclear plants, well, unfortunally, there is allways a secondary reason to have uranium around….
regards, caetano.
Leave a Reply