« A Sustainable Biofuels Policy for Chile? | Home | IDB President: Renewable Energy Critical to LAC's Development »
By Keith R | March 19, 2007
Topics: Energy & the Environment, Waste & Recycling | No Comments »

Recently a notice was forwarded to me about public hearings in Brazil on giving special breaks to projects that tap landfills for biogas to generate electricity. Well, if you've read this blog long you probably realized by now that anything having to do with waste interests me, so no surprise that I looked into it.
I was a bit perturbed by what I found. The proposal, by the National Electrical Energy Agency (Agênica Nacional de Energia Elétrica – ANEEL), is to "zero out" (essentially exempt) electricity sourced from landfill biogas projects from the use of transmission systems (TUST) and use of distribution systems (TUSD) tariffs controlled by ANEEL. A law passed in 2002 (Law 10.438) already permits ANEEL to apply a 50% discount to such energy generation systems, but ANEEL's Director-General wants to take it further and exempt biogas projects altogether.
So far sounds good, right?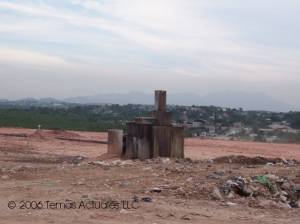 Then I decided to read the ANEEL proposal serving as the basis for the hearings. It turns out that, while all the announcements and press reports on this initiative report it as an incentive to biogas projects, the proposal actually would zero out both biogas and "waste to energy" (WTE) (read: incineration, at least in the Brazilian context) involving household trash at landfills. And the proposal's biggest proponents appear be — surprise, surprise — "waste treatment" and "green energy" firms and start-ups [including "Usina Verde" (Green Plant) at the Federal University of Rio de Janeiro (UFRJ)] that want to incinerate trash.
Incineration's proponents usually argue that their "treatment" for household trash is economically viable on its own. Why then, does it need a subsidy?
And why is this proposal primarily promoted as an assist to biogas? Yes, it may indeed help electricity generation from landfill gas, but I'm betting that the "real money" to be had is in securing that tariff exemption for incineration. So why the near "stealth mode" on that aspect of the proposal?
Draw your own conclusions.
Tags: ANEEL, aterros, biogas, Brasil, Brazil, incineração, incineración, incineration, landfill, landfill gas, metano, methane, rellenos, subsidies, UFRJ, Usina Verde, WTE
Subscribe to My Comments Feed
Leave a Reply