« World No-Tobacco Day in LAC: RIACT Launched | Home | Imposing EPR for End-of-Life Medicines and Batteries »
By Keith R | May 31, 2007
Topics: Biofuels, Energy & the Environment | No Comments »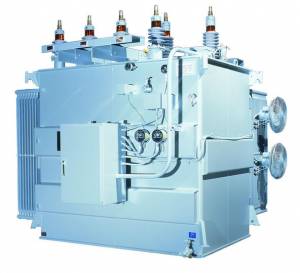 Synopsis in English: The Minas Gerais Power Company (Companhia Energética de Minas Gerais – Cemig) — the main power company for Brazil's central mining and industrial state of Minas Gerais, announced that it plans to switch its power transformers on its grid to utilizing solely vegetable oil as its insulating fluid. Cemig claims that it is the first power company in the world to have installed such "green transformers," and will soon have a series of "green" power substations running on vegetable oil. Cemig gets much of its electricity from hydro, a "clean source," but the company noted that its transmission and distribution networks utilized not-so-clean mineral-based fluids, and decided to do something about it.
Also in the works is a "green" "mobile substation" utilizing vegetable oil that can be trucked to fixed substations that need to be taken off-line for repairs, so that power customers do not have suffer loss of service.
The transformers were developed in partnership with the engineering multinational ABB. The oil used is 97% biodegradable within 21 days, not toxic and less hazardous to transport and store than traditional mineral-based fluids used in the transformers. Cemig claims that their performance is comparable with that of traditional transformers.
Desde a Companhia (Cemig):
Transformadores verdes utilizam óleo vegetal

Considerada uma fonte limpa, a energia hidrelétrica ainda utiliza óleo de origem mineral em seus equipamentos ao longo das redes de transmissão e distribuição para que possa chegar até seu consumidor final. No entanto, a Companhia Energética de Minas Gerais – Cemig, com um parque hidrelétrico de mais de 6 mil megawatts e mais de seis milhões de clientes, começa a tornar realidade a criação de uma fonte de energia 100% limpa para um grande número de consumidores, graças ao desenvolvimento e a entrada em operação do primeiro transformador do mundo que funciona totalmente a óleo vegetal. "O desafio, agora, é a criação de uma subestação verde, uma unidade ecologicamente correta, sem a utilização de nenhum equipamento que possa provocar impactos ao meio ambiente", diz o superintendente de Operação e Manutenção da área de distribuição da Cemig, José Aloise Ragone Filho.

Desde agosto passado, o primeiro transformador 100% a óleo vegetal está em operação em uma subestação de Contagem, na Região Metropolitana de Belo Horizonte. Esse transformador é responsável para que a energia, transmitida ao longo das linhas de alta tensão que saem das usinas, possa chegar a 37,2 mil consumidores de baixa e média tensão, localizados no município. Entre os clientes, estão a Prefeitura local, indústrias de componentes eletrônicos, como a SID, a GE e a Toshiba, e um hospital.

Ragone explica que as duas principais funções do óleo são resfriar e isolar os condutores de energia do transformador, ficando acondicionado, na maior parte, em um tanque no qual se localiza o núcleo do transformador. No entanto, o transformador desenvolvido pela Cemig em parceria com o fabricante de equipamentos eletroeletrônicos ABB, utiliza o óleo vegetal também para as buchas de alta tensão, que isolam externamente os controladores de energização do aparelho, assim como os cabos de entrada da energia, com tensão elevada. O mesmo óleo vegetal isolante é utilizado na chave comutadora, responsável pela regulação dos níveis de tensão entregue pelo equipamento aos consumidores.

Com os resultados satisfatórios da operação do primeiro transformador, mais dois equipamentos estão prontos para serem implantados, nos próximos meses, possibilitando que a experiência com a operação dos novos equipamentos possa ser disseminada para outras áreas de atuação da empresa, como o Triângulo Mineiro e o Leste do estado. Nos próximos meses, será dado mais um passo importante na direção da subestação verde, com a entrega da primeira subestação móvel que funcionará com óleo vegetal. Essa subestação servirá para realizar manutenções em localidades afastadas do Estado, quando for necessário fazer o desligamento de subestações fixas, reduzindo os riscos de acidentes ambientais durante seu transporte.

Segundo Ragone, a principal vantagem do óleo vegetal para a natureza é ser 100% biodegradável, sendo 97% do seu conteúdo biodegradável em 21 dias, enquanto no caso do óleo mineral, esse percentual é de apenas 25% no mesmo período. Para os empregados, o óleo vegetal é mais amigável, por sua característica de atoxicidade, o que se traduz, na prática, em menor risco de acidentes no seu manuseio e armazenamento. E, para a empresa, a substituição do óleo mineral pelo vegetal, menos corrosivo, deve aumentar a vida útil do equipamento, significando uma economia de recursos em médio prazo. A combinação do óleo vegetal com a avançada tecnologia de materiais isolantes proporciona a esse transformador, que inicialmente foi projetado para 25 MVA em 138 kV, seja sobrecarregado até 43 MVA, durante quatro horas consecutivas, sem perda de vida útil. Isto corresponde a uma reserva de potência de 70%, o que pode diminuir a necessidade de mobilização de outros equipamentos nos períodos de pico no consumo, aumentar a confiabilidade no fornecimento de energia e, conseqüentemente, reduzir o número de interrupções para os consumidores na outra ponta da linha.
Tags: ABB, Brasil, Brazil, Cemig, Contagem, energia hidrelétrica, GE, Minas Gerais, óleo vegetal, parque hidrelétrico, power substations, power transformers, SID, subestação verde, Toshiba, transformadores, vegetable oil
Subscribe to My Comments Feed
Leave a Reply