« LAC Legislators Lay Out Common Position on Climate Change / Legisladores de ALC establecen posición común sobre el cambio climático | Home | ¿Se recupera el aire bogotano? / Is Bogotá's Air Recovering? »
By Keith R | November 27, 2008
Topics: Environmental Governance | No Comments »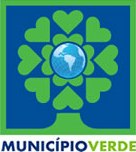 Yesterday São Paulo state (SP) Secretary for the Environment, Xico Graziano, revealed the environmental rankings of the state's municipalities and rewarded the mayors of cities with the highest grades.
This quasi "green report card" and honor roll is a fruit of the state's "Green Municipality" (Município Verde) Program, one of the governor's "21 strategic environmental projects" announced in 2007.  The idea behind this project is to provide the state's municipalities with added incentive to allocate the resources needed, and adopt the policies, measures and practices necessary to bring themselves up to best environmental management practices.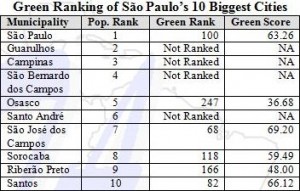 Under the Program the state Environment Secretariat (SMA)
assesses current municipal environmental performance against a special index it developed for measuring and reporting such performance;
developed a manual of good practice for municipalities; and
gets cities to sign onto a "Green Protocol" of 10 commitments, covering such areas as sewage treatment, collection and recycling of solid wastes, environmental education, sustainable housing, air pollution control, rational water use, etc. (click on box below to view full-sized image of the basic commitment checklist).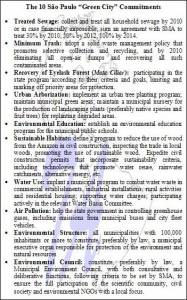 Municipalities agreeing to the commitments will be given preference in state programs, technical and financial assistance. This help will range from strictly environment related — drafting a municipal environment code and supplementary regulations, staffing and training a municipal environment authority, designing and implementing an environmental education or environmental zoning program, etc. — to more common municipal concerns, such as paving or repaving neighborhood streets.
The hope also is that certification as a "green municipality" will also attract investors.
Currently 44 municipalities have been certified.
___________________
Desde a Secretaria do Meio Ambiente do Estado de São Paulo (SMA):
São Paulo divulga primeiro "ranking" ambiental dos municípios paulistas

Santa Fé do Sul, Angatuba e Gabriel Monteiro foram as primeiras colocadas no projeto Município Verde

Os estudantes da cidade de Santa Fé do Sul sabem exatamente o que é preservar o meio ambiente, graças ao programa de Educação Ambiental que prefeitura implantou em todas as escolas do município. Em Angatuba, toda a população tem coleta seletiva na porta de casa. Já, no município de Gabriel Monteiro, o tratamento de esgoto e a destinação do lixo são eficientes e exemplares.

Ações como essas fizeram desses três municípios os primeiros colocados no "ranking" ambiental dos municípios paulistas. Nesta quarta-feira, 26.11, a Secretaria do Meio Ambiente do Estado de São Paulo divulgou, em encontro no Memorial da América Latina, com a presença de prefeitos, vereadores, deputados estaduais e lideranças locais, as notas dos 332 municípios que participaram efetivamente do Projeto Ambiental Estratégico Município Verde.

Ao todo, 44 municípios conquistaram nota acima de 80 e receberam o certificado de Município Verde. Desses, 16 cidades receberam o Prêmio Franco Montoro por obterem, ainda, a maior nota da Bacia Hidrográfica em que estão inseridos. Entre os demais municípios, 110 obtiveram nota entre 50 e 80 e os outros 178 ficaram com pontuação abaixo de 50. Esgoto, Lixo e Educação Ambiental foram as três diretivas com o maior "peso" na avaliação. Muitos municípios, prejudicados pela precariedade no tratamento de esgoto, por exemplo, já manifestaram no evento as iniciativas que estão tomando para melhorarem suas notas em 2009.

O secretário do Meio Ambiente, Xico Graziano, esclareceu que esse é o objetivo do Município Verde. "Queremos saber quais são os problemas ambientais das cidades para podermos ajudá-los. Não adianta investir em arborização urbana em uma localidade que necessita resolver com urgência o seu problema com o lixo", ressaltou.

Graziano salientou que o projeto Município Verde é como uma escola. "Em 2009 começa tudo novamente". Os 332 municípios serão reavaliados e os que não preencheram o seu plano de metas neste ano, poderão fazê-los no próximo. O secretário destacou que as novas avaliações e considerações vão surgir. Para Graziano, serão precisos critérios diferenciados para cidades das regiões metropolitanas, por exemplo. Novas premiações vão acontecer para os municípios que se destacarem em projetos de recuperação de córregos urbanos, educação ambiental para crianças do Ensino Fundamental I e construção de ciclovias, para incentivar o transporte alternativo.

Interlocutor

Uma premiação, durante o evento, que motivou os presentes foi para os interlocutores mais participativos do projeto. Ao todo, 24 deles receberam o "Prêmio Interlocutor Município Verde" pela presença em todas as reuniões e seminários do projeto e pelo preenchimento de um Plano de Ação bem elaborado.

Santa Fé do Sul

Com "torcida organizada" a cidade de Santa Fé do Sul, com a maior nota do "ranking" ambiental – 94,96 – vibrou com o desempenho do município. O prefeito Itamar Borges esperava um bom resultado, mas não sabia que a cidade seria a "campeã" ambiental de 2008. A cidade investiu forte em Educação Ambiental e já é possível encontrar, entre os moradores, crianças e jovens falando de meio ambiente com propriedade, cobrando melhorias e sugerindo alternativas para o município. Além disso, a cidade de aproximadamente 30 mil habitantes, localizada no extremo oeste do Estado, investiu forte em tratamento de esgoto, coleta seletiva, arborização urbana e programas de combate ao desperdício da água.

Borges acredita que em 2009 a concorrência será maior. "Os municípios entenderam a mensagem. Tenho certeza que no ano que vem muitas cidades vão se empenhar em entregar um plano de ação bem elaborado e por em prática a sua agenda ambiental". Mas, o prefeito do município "mais verde" do Estado não tem medo da concorrência. "O que eu desejo é um Estado de São Paulo cada vez mais verde, com ações ambientais mais concretas, e isso faremos todos juntos", destacou.

Evento

Com a presença de 1.500 pessoas, o encontro no Memorial da América Latina estava em clima de festa. Alguns municípios vibravam pelo bom resultado, outros se comprometiam com melhorias, mas todos estavam unidos na busca por cidades sustentáveis. Com o tema "Pensar Globalmente, Agir Localmente", o encontro entre os municípios paulistas falou da importância da descentralização para o cumprimento da agenda ambiental que o Estado precisa. "Como eternizou o governador Franco Montoro, as pessoas não vivem em um país ou em um Estado, elas vivem em um município. É lá que elas fixam suas raízes, se identificam e querem ver melhorias na qualidade de vida", disse Xico Graziano.

Para "inspirar" os participantes, o escritor e jornalista Inácio de Loyolla Brandão explanou para os presentes sobre a importância de se agir localmente para a garantia de um ambiente global mais harmônico. E finalizando o evento, os participantes foram envolvidos por um som que remete as raízes de nosso Estado – um concerto com a orquestra paulista de viola caipira.

Sobre o Município Verde

Lançado em junho de 2007, o projeto Município Verde surgiu como uma proposta de descentralização da agenda ambiental paulista, considerando que a base da sociedade está nas cidades. A princípio, a equipe do projeto esperava a adesão de, no máximo, 200 municípios. No entanto, 613 assinaram o termo de adesão. Desses, 521 indicaram interlocutores – responsáveis por intermediar o diálogo entre Governo do Estado e as Prefeituras –, e 332 entregaram o plano de ação completo, intitulado plano de metas, que permitiu à equipe do Município Verde avaliar o empenho do município através dos progressos ambientais apresentados na localidade.
Tags: air pollution control, Angatuba, arborização urbana, Brasil, Brazil, ciclovias, coleta seletiva, educação ambiental, Environmental Education, environmental zoning, Green Protocol, lixo, municipal environment code, Município Verde, rational water use, Santa Fé do Sul, São Paulo, selective collection, sewage treatment, SMA, sustainable housing, tratamento de esgoto, Xico Graziano
Subscribe to My Comments Feed
Leave a Reply