« LAC Farmlands Have More Tree Cover Than Most Suppose | Home | Ceará Limits Public Smoking »
By Keith R | August 24, 2009
Topics: Environmental Governance | No Comments »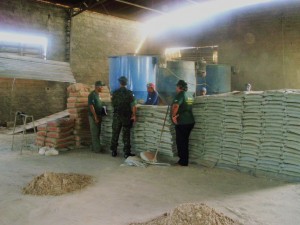 Brazil's federal environment agency, IBAMA, is sending a message to firms operating in Brazil that might be engaged in polluting activity, and therefore should be registered in the Federal Technical Registry (CTF) overseen by IBAMA.  It just checked on CTF compliance by 84 firms in the Center-West state of Tocantins, in the process issuing 66 infractions with fines worth R$ 215,000, plus 17 warnings.  The clear message: make sure you register in the CTF, and that your registration is complete and up-to-date.
The CTF was created by law in 2000 as a federal registry of industries and activities that IBAMA deems likely to produce pollution, and therefore need monitoring and inspection. Each year by 31 March industries covered by the CTF must report data on their activities in the prior year and renew their registration.
An Environmental Control and Inspection Tax (TCFA), a fee linked to the registry, is charged on industry to fund IBAMA's monitoring and inspection efforts.  The cost of registration depends on a matrix in the law that rates each industry as "low," "medium" or "high" risk of polluting, and divides companies by size of gross annual income.  Industry has never liked the TCFA, but so far their legal challenges to the measure have failed.
Since the CTF/TCFA were created, several states have decided to create their own state-level versions of both, most recent of which being Rio de Janeiro.  Others include Bahia, Goiás, Mato Grosso do Sul, Minas Gerais, Pernambuco and Santa Catarina. [Rio Grande do Norte created a version of the tax, but not the registry.]
___________________
Desde o Instituto Brasileiro do Meio Ambiente e dos Recursos Naturais Renováveis (IBAMA):
Ibama multa empresas potencialmente poluidoras por falta de inscrição no CTF, em Tocantins

Uma operação para fiscalizar o cadastro junto ao Ibama de empresas potencialmente poluidoras, coordenada pela equipe de Fiscalização e Cadastro Técnico do órgão em Tocantins, com apoio de servidores do Escritório Regional de Araguaína, aplicou R$ 215 mil em multas em apenas duas semanas de atuação na região centro-norte do estado. Iniciada em 10 de agosto, a ação vistoriou 84 empresas, emitiu 66 autos de infração e teve 18 notificações atendidas.

A inscrição no Cadastro Técnico Federal – CTF é obrigatória para quem desenvolve atividade poluidora, de acordo com o artigo 17 da Lei de Crimes Ambientais. Além do cadastro, os fiscais estão autuando empresas que deixaram de apresentar os Relatórios Anuais, conforme determina a Instrução Normativa Ibama n° 10, de 17 de agosto de 2001. Até o momento, foram vistoriados frigoríficos, postos de combustível, depósitos de gás, revendedores de tinta, madeireiras, refrigeristas e cerâmicas. Também está no foco da fiscalização empresas que armazenam produtos perigosos e utilizam gases relacionados no Protocolo de Montreal.

"Começamos por Araguaína, mas a fiscalização vai se estender por toda região norte do Tocantins, por causa do grande número de irregularidades encontradas", disse o coordenador da operação, o técnico ambiental Josemar Barreira. Além de empresas, a legislação exige que pessoas físicas utilizadoras de recursos naturais ou que exerçam atividades potencialmente poluidoras também estejam cadastradas no CTF. Elas, no entanto, estão isentas de pagar a Taxa de Controle e Fiscalização Ambiental – TCFA. Nos casos em que a empresa forneceu informações falsas ou parciais, além da multa, haverá ação criminal.
Tags: Brasil, Brazil, cerâmicas, CTF, depósitos de gás, empresas potencialmente poluidoras, environmental registry, fiscalização ambiental, frigoríficos, hazardous products, IBAMA, madeireiras, Montreal Protocol, postos de combustível, produtos perigosos, Protocolo de Montreal, refrigeristas, tinta, Tocantins
Subscribe to My Comments Feed
Leave a Reply