« Support for an Agreement on REDD | Home | Prospects for Jatropha-based Biodiesel in LAC »
By Keith R | September 25, 2009
Topics: Environmental Governance | No Comments »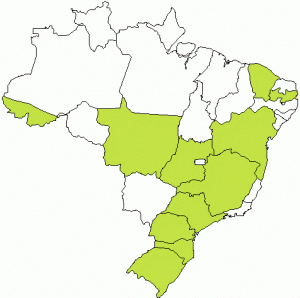 Temas Observation: Note how this loan/project is being marketed. The headline trumpets "green growth" when in reality the program is more about strengthening environmental governance/institutions, arguably not as sexy a topic. The Bank argues that this is about ensuring economic growth is as green as possible through good regulation by competent, properly-equipped environmental regulators…seems like they are trying a bit too hard to recast the loan's purpose…
___________________
From the World Bank:
Brazil: US$24.3 Million for Green Growth

Facilitating policies for a sustainable economic recovery

While Brazil already is showing clear signs of economic recovery after suffering the impact of the global financial crisis, the World Bank approved yesterday a US$24.3 million loan for Phase II of the Second National Environmental Project (NEP) to support efforts to enhance the environment and sustain economic growth.

"Environmental concerns have become central to public policies in Brazil, and this project is a reflection of this," said Carlos Minc, Brazil´s minister of environment. "The NEP II initiative has proven that it is possible to achieve important improvements to environmental management at all government levels, integrated with the social and economic sectors. In this new stage, the program will have a total budget of US$34.7 million, of which about US$17 million will help improve environmental licenses in the federal agencies (IBAMA, ANA and ICMBio) and state agencies, as part of the country's sustainable development goals."

Brazil has historically based its economy on its immense natural resources wealth. A significant part of its economy relies on the use of natural resources, whether as production inputs or as sinks for production waste. Despite the importance of its natural assets, growth in Brazil has often had negative environment impacts, such as water and air pollution in urban and industrial areas, loss or degradation of forests and ecosystems, and soil loss. These issues end up limiting the country´s future growth potential.

Phase 2 of NEP II will help states and the federal government to reduce some of the costs associated with environmental degradation and to promote an environmentally and socially sustainable growth pattern in Brazil.

"As the economy recovers from the crisis, the project will be especially important to help Brazil attain higher growth in a way that is sustainable in the long term," said Makhtar Diop, World Bank Country Director for Brazil. "In the past few years, Brazil has demonstrated that growth and protection of key environmental concerns, such as the Amazon, is possible. This project is evidence of Brazil´s commitment to this development path."

The new phase will consolidate the progress made in environmental capacity in key Brazilian institutions. It will enhance the environmental management capacity of environmental institutions at the federal, state and municipal levels and by demonstrating the effectiveness of targeted subprojects focused on priorities determined by States.

The project has three core components:

Institutional Development, strengthening environmental licensing policies and procedures at the federal, state and municipal levels; environmental quality monitoring; and economic instruments for environmental management;
Integrated Management of Environmental Assets providing an incentive to states to identify, rank and address some of their most pressing environmental challenges; and
Coordination, Dialogue and Communication supporting a unit with the technical and administrative capacity needed to manage subprojects and activities at a decentralized level.

"Since 2002, the government´s environmental program has had four major pillars: decentralization, strengthening of the National Environmental System, social control and integrating environmental issues in all government actions," said Adriana Moreira, Senior Environmental Specialist and World Bank Project Manager. "The first phase of the program contributed significantly to each one of these pillars, and NEP II is currently the main mechanism to strengthen the capacity at the local, state and Federal levels for environmental management including licensing."

Phase 1 of the Second National Environmental Project was implemented from 2000 to 2006, with US$9 million. It achieved numerous results including:

Twenty-five of the twenty-seven states identified environmental priorities to guide subprojects and interventions, and ten states had working water quality monitoring systems;
Seven additional states (AC, CE, GO, MG, MT, PB and SC) had digital licensing systems, making the licensing process more transparent and efficient. This also transformed the licensing process into a tool for environmental management;

There were forty-three specific subprojects in 17 states, leading to improvements in decentralized environmental management.
________________
Desde o Banco Mundial:
Programa Nacional do Meio Ambiente recebe US$ 24,3 milhões para promover o crescimento verde no Brasil

Facilitando as políticas para uma recuperação econômica sustentável

Enquanto o Brasil mostra sinais claros de recuperação econômica após a crise financeira global, a Diretoria Executiva do Banco Mundial aprovou ontem um financiamento de US$ 24,3 milhões para a Fase II do Segundo Programa Nacional de Meio Ambiente (PNMA), que busca apoiar os esforços do País para melhorar a qualidade ambiental e sustentabilidade do crescimento econômico.

"As questões ambientais tornaram-se centrais para as políticas públicas no Brasil, e este projeto é um reflexo disso," disse Carlos Minc, Ministro do Meio Ambiente."O PNMA II provou que é possível alcançar melhorias importantes na gestão ambiental ,em todos os níveis de governo, integradas com as áreas social e econômica. Nesta nova etapa, o Programa contará com US$ 34,7 milhões, dos quais cerca de US$ 17 milhões serão destinados ao aperfeiçoamento do Licenciamento Ambiental nos órgãos federais (Ibama, ANA e ICMBio) e nos órgãos estaduais, tendo em vista o cumprimento das metas do desenvolvimento sustentável do País."

A economia brasileira tem se baseado historicamente em sua imensa riqueza de recursos naturais. Uma parte significativa de sua economia depende da utilização dos recursos naturais, seja como insumos de produção ou como sumidouros para os resíduos de produção. Apesar da importância dos seus recursos naturais, muitas vezes o crescimento no Brasil tem impactos ambientais negativos, como a poluição da água e do ar nas zonas urbanas e industriais, a perda ou degradação das florestas e ecossistemas, e perda de solo. Esses problemas acabam por limitar o potencial de crescimento do País.

A Fase dois do PNMA II vai ajudar os estados e o Governo Federal a reduzir alguns dos custos associados com a degradação ambiental e promover um padrão de crescimento ambientalmente e socialmente sustentável no Brasil.

"Com a recuperação da crise, o projeto será especialmente importante para ajudar o Brasil a alcançar um maior crescimento de uma forma que seja sustentável em longo prazo", disse Makhtar Diop, Diretor do Banco Mundial para o Brasil. "Nos últimos anos, o Brasil tem demonstrado que o crescimento e a proteção de importantes patrimônios ambientais, como a Amazônia, é possível. Este projeto é prova do compromisso do Brasil com este caminho de desenvolvimento".

A nova fase vai consolidar os progressos alcançados na capacidade ambiental das principais instituições brasileiras. Isto será conseguido através do reforço da capacidade de gestão ambiental das instituições ambientais no âmbito Federal, Estadual e Municipal e demonstrando a eficácia de subprojetos direcionados às prioridades definidas pelos Estados.

O projeto tem três componentes principais:

Desenvolvimento Institucional – abrangendo o reforço das políticas e procedimentos de licenciamento ambiental no âmbito Federal, Estadual e Municipal; monitoramento da qualidade ambiental e instrumentos econômicos para gestão ambiental;
Gestão Integrada de Ativos Ambientais – proporcionando um incentivo aos estados para identificar, classificar e abordar alguns de seus mais prementes desafios ambientais; e
Coordenação, Diálogo e Comunicação – apoiando uma unidade com capacidade técnica e administrativa necessária para gerir os subprojetos e atividades em nível descentralizado.

"Desde 2002, o programa ambiental do Governo teve quatro grandes pilares: descentralização, fortalecimento do Sistema Nacional do Meio Ambiente, controle social, e a integração das questões ambientais em todas as ações do governo", disse Adriana Moreira, Especialista Ambiental Sênior do Banco Mundial e do Gerente do Projeto. "A primeira fase do programa contribuiu significativamente para cada um desses pilares – o PNMA II é atualmente o principal mecanismo para reforçar a capacidade para a gestão ambiental, incluindo licenciamento, nos níveis local, estadual e federal".

A Fase um do Segundo Programa Nacional do Meio Ambiente projeto foi aplicada entre 2000 e 2006, com US $ 9 milhões. O PNMA II conseguiu atingiu numerosos resultados, entre os quais:

Vinte e cinco dos vinte e sete estados executaram uma identificação das suas prioridades ambientais para orientar subprojetos e intervenções, e dez estados implantaram sistemas de controle da qualidade da água;
Sete estados adicionais (AC, CE, GO, MG, MT, PB e SC) desenvolveram sistemas de licenciamento digital, tornando o processo de licenciamento mais transparente e eficiente. Isto também transformou o processo de licenciamento em uma ferramenta para a gestão ambiental;

Foram executados quarenta e três subprojetos específicos em 17 estados, levando a melhorias na gestão ambiental descentralizada.
Tags: Acre, ANA, Banco Mundial, Brasil, Brazil, Carlos Minc, Ceará, environment, environmental licensing, Goiás, IBAMA, ICMBio, licenciamento ambiental, Mato Grosso, meio ambiente, Minas Gerais, MMA, NEP, Paraíba, poluição da agua, qualidade da agua, Santa Catarina, water pollution, water quality, World Bank
Subscribe to My Comments Feed
Leave a Reply