« World No-Tobacco Day in LAC: Panama Hunts Smoke | Home | World No-Tobacco Day in LAC: Touting Uruguay's Example »
By Keith R | June 3, 2007
Topics: Environmental Justice, Waste & Recycling | No Comments »

I came across this tidbit during my eternal quest for information/data on waste in Latin America and the Caribbean (LAC). [Yes, yes garbologists are strange that way.] It seems that authorities in the northeastern state of Bahia have determined that there 438 trash dumps in the state, even though there are only 417 municipalities, yet very few civil or other actions by public prosecutors to address the problem. The state's Public Ministry (Ministério Público – MP) has made forcing Bahian municipalities to clean up their dumps a top priority for 2007. [Each state's MP has a permanent "chamber" or "center" of attorneys devoted to environmental protection. Their job is to bring suit in the public interest — sometimes even taking on government officials for not implementing or enforcing law or doing so improperly (in their estimation).] Toward that end it called a meeting of local prosecutors from around the state to discuss working together to tackle the problem. The MP also introduced a radio spot they can use on local stations alerting the populace to the health and environmental dangers of poor waste management.
The pessimists will point at the number of dumps and the lack of action so far as evidence that, for all its waste management and recycling efforts, Brazil still has very, very far to go. Perhaps. I tend to look at the fact that the MP has decided make clean-up a priority for 2007 as a positive — they recognize the the magnitude of the problem, and are determined to do something about it.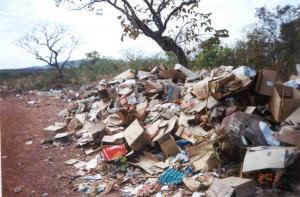 Desde o Ministério Público do Estado da Bahia:
Bahia tem mais lixões que municípios

Pôr fim a todos os lixões do Estado, exigindo dos municípios baianos a correta destinação final de seus resíduos sólidos é a meta prioritária do Ministério Público na área do Meio Ambiente para o ano de 2007. De acordo com a promotora de Justiça Ana Luzia Santana, que coordena o Centro de Apoio Operacional às Promotorias de Justiça do Meio Ambiente (Ceama), foi computada a existência de um número alarmante de lixões: "são 438 em um estado com 417 municípios!", informou a representante do MP, durante o evento 'Desafio do Lixo', que reúne durante todo o dia de hoje (11), no Centro de Estudos e Aperfeiçoamento Funcional (Ceaf), promotores de Justiça das regionais de Barreiras, Bom Jesus da Lapa, Camaçari, Eunápolis, Feira de Santana, Guanambi, Ibotirama, Ilhéus, Irecê, Itaberaba, Itabuna, Itapetinga, Jequié, Juazeiro, Paulo Afonso, Porto Seguro, Santa Maria da Vitória, Seabra, Teixeira de Freitas e Valença.

"Temos mais lixões que municípios, e poucas ações civis e penais contra os seus gestores", alertou Ana Luzia, convocando os promotores de Justiça a promoverem medidas judiciais de responsabilização de prefeitos e ex-prefeitos que não gerenciam, ou não gerenciaram, de forma adequada os resíduos sólidos do seu município. A coordenadora do Ceama esclareceu, ainda, aos membros do MP, que eles mesmos podem realizar vistorias nas áreas utilizadas para despejo do lixo, e enfatizou a importância de se realizar um esforço conjunto para acabar com os lixões. "Temos um grande trabalho a fazer", concluiu Ana Luzia, informando que o Ceama está elaborando um documento que vai ser entregue ao governador do Estado, Jaques Wagner, para mostrar a necessidade de políticas públicas na área. Na reunião também foi apresentado um spot de rádio, que os promotores deverão divulgar em seus municípios por meio de rádios locais e comunitárias, como forma de alertar a população sobre os perigos da má gestão do lixo.
Tags: Bahia, Barreiras, basura, Bom Jesus da Lapa, Brasil, Brazil, Camaçari, CEAMA, desechos, dumps, environment, Eunápolis, Feira de Santana, Guanambi, Ibotirama, Ilhéus, Irecê, Itaberaba, Itabuna, Itapetinga, Jequié, Juazeiro, lixo, lixões, manejo de residuos, medio ambiente, meio ambiente, Ministério Público, Paulo Afonso, Porto Seguro, residuos, rubbish, Santa Maria da Vitória, Seabra, Teixeira de Freitas, trash, Valença, waste, waste management
Subscribe to My Comments Feed
Leave a Reply