« Greenhouse Gas Emissions in Rio de Janeiro State | Home | Brazilian Export of Organic Produce »
By Keith R | January 8, 2009
Topics: Chemicals, Environmental Protection, Hazardous Substances | No Comments »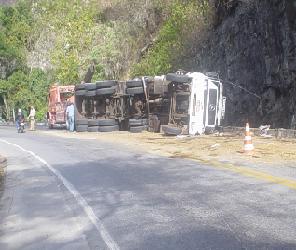 Five years ago when President Lula issued the decree launching the National Plan for the Prevention of, Preparation for and Response to Environmental Emergencies Involving Hazardous Chemicals Products ("P2R2"), a cornerstone of the Plan's implementation was the establishment by all the states and the Federal District (DF) of their own committees ("CE-P2R2") to coordinate planning, training and other preparations for environmental accidents involving chemicals.
Until now, the only states to do so had been Bahia (BA), Mato Grosso (MT), Paraíba (PB), Rio de Janeiro (RJ), Rio Grande do Sul (RS) and Tocantins (TO).  [Temas Observation: in case you're wondering why these states took the lead, I can't explain MT, PB or TO, but the other three — BA, RJ and RS — are easy: these latter three all have major petrochemical complexes within their borders.]

After a couple of local high-profile highway accidents involving chemicals in recent months, the Governor of the Espirito Santo (ES) has added his state to the list.  Published in the state's official gazette at the end of the year is a decree that creates a CE-P2R2 with representatives from
state environment organ (the Environment Institute – IEMA)
the State Health Secretariat (SESA);
the Fireman Corps (CMBES) [which, contrary to the press release below, will be in charge of coordinating the CE-P2R2)];
the State Secretariat on Transport and Public Works (SETOP);
the environmental battalion of the Military Police;
the federal environment authority (IBAMA);
the State Public Ministry (MPES);
the State Water Resources Council (CERH);
the State Secretariat on Science and Technology (SECT);
the Capitancy of the Ports (CPES); and
the Federal University of Espirito Santo (UFES);
the environment NGO community, nominated from those in the State Register of Environmental Entities;
the National Association of Municipal Environment Organs (Associação Nacional de Órgãos Municipais de Meio Ambiente – ANAMMA);
the Federation of Rural Workers;
the Brazilian Association of the Chemical Industry (Abiquim);
the Commerce Federation (Fecomércio-ES);
the Transport Federation; and
the General Confederation of Workers (Confederação Geral dos Trabalhadores – CGT).
Beyond organizing emergency response plans and training and running accident drills, the CE-P2R2 is to:
identify any legal or organizational obstacles to effective planning and response that need to be resolved;aspects relevant to such events;
encourage the adoption of innovative solutions that ensure the full integration of efforts between the government and civil society, especially in the states and municipalities;
define the respective responsibilities of public and private sectors in cases of accidents involving hazardous chemicals, and the commitments to be undertaken by the parties to protect the environment and health;
develop and implement systems for generating and compiling essential information for effective implementation of P2R2, integrating data on control actions (licensing and inspection) and emergency response with that on production, storage, transport and handling of dangerous chemicals, and ensuring that every citizen has access to information about the risks of accidents with dangerous chemicals;
mobilize human and financial resources appropriate and sufficient to ensure the performance levels established by the P2R2;
continuously improve P2R2 through systematic performance audit and evaluation and periodic review of guidelines, objectives and targets.
________________
Desde o Governo do Estado de Espirito Santo:
Governo cria Comissão Estadual para prevenção e resposta rápida a emergências com produtos químicos

Um decreto, publicado nesta terça-feira (30) no Diário Oficial, cria a Comissão Estadual do Plano Nacional de Prevenção, Preparação e Resposta Rápida a Emergências Ambientais com Produtos Químicos Perigosos do Estado do Espírito Santo (CE-P2R2).

Dentre as diretrizes estratégicas do CE-P2R2 estão a elaboração e a constante atualização de planejamento preventivo que evite a ocorrência de acidentes com produtos químicos perigosos; a criação e a operação de estrutura organizacional adequada ao cumprimento das metas e dos objetivos estabelecidos no Plano Nacional (P2R2); e o estímulo à adoção de soluções inovadoras que assegurem a plena integração de esforços entre o poder público e a sociedade civil.

Ainda dentro das diretrizes está o fortalecimento da capacidade de gestão ambiental integrada dos órgãos e instituições públicas no âmbito federal, distrital, estadual e municipal, para o desenvolvimento de planos de ações conjuntas, estabelecendo seus níveis de competência e otimizando a suficiência de recursos financeiros, humanos ou materiais, no sentido de ampliar a capacidade de resposta e o aperfeiçoamento contínuo do P2R2 por meio de processo sistemático de auditoria e avaliação do desempenho e da revisão periódica das diretrizes, dos objetivos e das metas.

Atribuições

O decreto traz também as competências dadas à Comissão Estadual do P2R2. Algumas delas são: promover a divulgação do Plano P2R2 junto aos diversos setores da sociedade, por meio da realização de fóruns, oficinas e seminários regionais e estaduais; propor aos órgãos competentes a destinação de dotação orçamentária objetivando a viabilização de projetos e ações de prevenção, preparação e resposta rápida a emergências ambientais com produtos químicos perigosos; promover a capacitação continuada dos integrantes do Plano P2R2; divulgar o Plano P2R2 para todos os segmentos envolvidos e à comunidade em geral, estabelecendo canais de acesso com a sociedade; e promover mecanismos para alimentação, atualização e disponibilização de sistemas de informação necessários à implementação do Plano P2R2, bem como para o mapeamento de áreas de risco de acidentes com produtos químicos perigosos.

Para atingir todos esses objetivos a Comissão Estadual será composta por um representante do órgão estadual de meio ambiente, que será responsável também pela coordenação da CE-P2R2; um representante da Coordenadoria Estadual de Defesa Civil; um da Secretaria Estadual da Saúde; do Corpo de Bombeiros; um da Secretaria Estadual de Transportes e Obras Públicas; um da Polícia Militar Ambiental; um representante do Instituto Brasileiro do Meio Ambiente e dos Recursos Naturais Renováveis (Ibama); um do Ministério Público Estadual; um do Conselho Estadual de Recursos Hídricos; um do órgão estadual de Ciência e Tecnologia; um da Capitania dos Portos e um representante da Universidade Federal do Espírito Santo.
Tags: access to information, acidentes industriais, acidentes químicos, Brasil, Brazil, CE-P2R2, CERH, chemical accidents, chemicals, civil defense, Corpo de Bombeiros, CPES, Defesa Civil, emergências ambientais, environment, environmental emergencies, environmental licensing, Espírito Santo, Hazardous Substances, IBAMA, IEMA, industrial accidents, inspection, meio ambiente, military police, Ministério Público Estadual, MPES, P2R2, Polícia Militar Ambiental, portos, ports, produtos químicos, SECT, SESA, SETOP, substâncias perigosas, UFES
Subscribe to My Comments Feed
Leave a Reply