« Argentine, Chilean, Colombian and Dominican Blogs Added to LAC Environment Blogroll | Home | UNEP Honors Brazil's Environment Minister as "Earth Champion" »
By Keith R | February 1, 2007
Topics: Corporate Social Responsibility, Economics & the Environment, Environmental Protection | No Comments »
Another entry that's sat unfinished for far too long in the queue. Some of you might feel that maybe it should have stayed there, but I hope by the end of this post to convince you otherwise.
At the end of November I read in the online edition of the Cayman Compass, the Cayman Islands' newspaper, a short article that struck my interest and stayed with me.
Why? Not because of any personal passion for the place, fine as it may be. I have not yet visited the Caymans, and what little I know about them does not go far beyond what I read in travel brochures, Wikipedia, whatever online article I happen to stumble upon and, yes, I'll confess, what little I saw of it in the 1991 film "The Firm."

And it's not because it's the biggest (only 58,000 people) or economically or environmentally most crucial of the Caribbean islands. (It's not.)
No, it was the evident conviction in the "voice" of the person featured by the article when they discussed the environment. Yes, I often hear "voice" in people interviewed or featured in a well-written article — don't you? And frankly, all too often when that person is a business leader or politician, the beliefs espoused about the environment sound canned, scripted or forced — like they know it's the thing to say, but don't particularly feel it.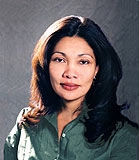 The new President of the Cayman Islands Chamber of Commerce featured in this article, Angelyn Hernandez, didn't sound flat like that, and that's what caught my eye (or should I say "ear"?). She sounded like she meant what she said. Only time and follow-up actions will tell if she did, but she got off to a good start in her speech upon accepting the leadership spot for 2007. The Chamber must assume leadership in the 3 E's", she insisted: economic development, education and the environment.
At this point, I'll let her own words speak for her — listen to the "voice":
It would appear that this topic gets a back seat too often and is not given the importance it deserves. Each of us play a role is unconsciously helping to destroy our environment daily. It is in the way we dispose of our waste, the way we do not conserve on energy and the way we waste generally. It therefore means that we each can play a role in preserving and enhancing our environment. It is way too huge a topic for us to tackle in any real way, but we can take little steps and so gradually bring awareness to this issue and eventually reach the point where it becomes a goal and a way of life in our homes, our businesses and our community.

In considering this issue, Wil and I visited with Caribbean Utilities Company Ltd. (CUC), who we knew as leaders in educating us on energy conservation and to be Energy Smart. What we discovered is that CUC not only talk but they actually DO – they have adopted international standards in their waste management, to the point where they are audited externally. They hold themselves and their staff to high levels. Every component of their business is recycled, or disposed of according to international standards. Very little is taken to the dump site. Thank Goodness for that as Mount Trashmore keeps growing higher. I would like to congratulate CUC on its proactive approach and being corporate and community leaders in the area of conservation and environment preservation.

I would like our members, to start considering what role they can play in this challenge. I would also challenge our leaders to move this issue up on their agendas. It is not just the unsightly and physical aspect of the issue, it is the health of our country and its citizens, it is ensuring we are a country with a holistic approach, preserving our resources and being leaders in ensuring our environment is healthy. In so doing we will reap the economic benefits.

One of our first steps will be to draft an environmental charter that encourages member businesses to take decisive actions to protect the environment. Armed with healthy participation, we will in turn encourage our leaders to do the same and to focus more on what can be done by Central Government, by planning regulations, by holding landlords responsible, by giving duty concessions on energy smart products, recycled goods etc.
Continue to support Earth Day initiative through the Chamber's annual Roadside Clean-up and extend to Cayman Brac and Little Cayman
Develop an Environmental policy of the key issues that are impacting Cayman's natural resources: beach erosion, mangrove destruction, reef degradation and invite guest speakers during the year to address these subjects
Launch an initiative with community organisations to erect anti-littering signs in all three islands
Work with the Ministry and the DOE to re-energise recycling

…The Chamber is only as good as its membership. We cannot continue to be passive bystanders and have matters of importance take root before we speak up and have our voice heard. We need the support and involvement of all our members. Together, we can make a difference.
Earth-shattering? No, although it may sound modest to those of us in North America or Europe or even to those in Brazil or Chile, but it probably looks ambitious in the Cayman context. Will it change the world, or the hemisphere, or even the Caribbean? Maybe the latter, but only if other Caribbean business and community leaders choose to emulate her.
But how how many small island leaders do you know speak like that about the environment, and set out a clear agenda with set goals at the moment they assume office? Even more importantly, how many small business leaders in LAC do you know that speak like that?
She is not a career environment activist, nor someone working in company that clearly stands to profit from taking a stance on environment issues. She is a banking and securities lawyer, working on a small tropical island where 70% of the economy is geared to pleasing the every whim of fickle tourists and much of the rest is dependent on serving as a banking and tax haven. So one would expect plenty of discussion of economic development, but placed on a par with the environment?
I guess what appeals to me about this is precisely that: when the business sector in a small state decides that it's time to take a stance and to push not only its members into proactive environmental protection, but also the local government, then maybe there's hope for environmental progress in all the rest of the region.
Brick by brick, step by step, island by island…
Tags: Cayman Compass, Cayman Islands, Chamber of Commerce, CUC, Earth Day, energy conservation, Energy Smart, environment, environmental charter, Ilhas Caymans, Islas Caimán, litter, mangroves, medio ambiente, meio ambiente, Mount Trashmore, recycled goods, recycling, reefs, waste management
Subscribe to My Comments Feed
Leave a Reply