« Not Always Easy Exporting Ethanol | Home | A Call for Scaled-Up R&D for Neglected Diseases / Una llamada para más I+D para las enfermedades olvidadas / Uma chamada para aumento de P&D sobre as doenças negligenciadas »
By Keith R | February 22, 2009
Topics: Conservation, Extractive Sectors | Comments Off on Colombia: Mining, Yes, But Not in National Parks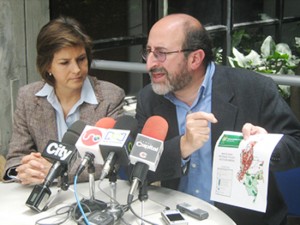 "Mining in Colombia, yes, but not in national parks," insists Colombia's Environment Minister Juan Lozano Ramírez. "Mining in Colombia, yes, but environmentally responsible. Mining in Colombia, yes, but not that they rob everything of value and leave us with deserts and zones of erosion."
He announced a total prohibition on all granting of mining licenses in national parks and has requested the revocation of those already existing in those zones. No mining authority, he insisted, neither the Colombian Institute of Geology and Mines (Ingeominas) nor those in departmental (Colombia's version of states) governments, was empowered to issue exploitation rights in national parks. "The parks belong to all Colombians, and have special protection."
To understand Lozano's distress, see the current overlap between national protected areas and mining titles already granted, click on the second map below.  To see the overlap with both existing and requested mining titles, click on the third map image.
______________________
Desde el Ministerio del Ambiente, Vivienda y Desarrollo Territorial (MAVDT):
Revocatoria Titulos Mineros

"Minería en Colombia: Sí, pero no en parques naturales": Ministro Lozano.

"Minería en Colombia sí, pero ambientalmente responsable. Minería en Colombia sí, pero sin que se roben la plata de las regalías y nos dejen como saldo, desiertos y zonas de erosión" manifestó el ministro de Ambiente, Vivienda y Desarrollo Territorial, Juan Lozano Ramírez, al confirmar la prohibición radical de títulos mineros en los Parques Naturales Nacionales de Colombia y pedir la revocatoria inmediata de los que ya hayan sido otorgados en estas zonas específicas.

"Ni Ingeominas, ni los departamentos que tienen delegación minera (como Antioquia, Bolívar y Caldas) ni ninguna otra autoridad minera en el país puede dar títulos en los Parques Nacionales Naturales de Colombia. Los Parques son de todos los colombianos, tienen una protección especial" destacó el titular de la Cartera Ambiental.

"Quienes tengan algún título minero en los parques naturales tienen que saber que esos títulos no les dan ningún permiso, ningún derecho de explotación. Y si con todo insisten en desarrollar la actividad minera, se tendrá que aplicar la Ley, se tendrán que aplicar con todo rigor las sanciones porque es una violación de normas de superior jerarquía para la protección de un patrimonio que es de todos los colombianos: el agua, los recursos naturales, la biodiversidad que está en estos parques", agregó.

Por otra parte, ante la proliferación de solicitudes de licencias mineras, Lozano Ramírez insistió en la necesidad de que Ingeominas observe las normas sobre protección ambiental y que se acelere la tramitación de la normativa correspondiente en el Congreso de la República.

La directora de Parques Naturales Nacionales, Julia Miranda, se refirió a la preocupación que existe por los títulos entregados: "Nos preocupan todos los casos de los títulos adjudicados. De todos estos, que son más de 38, algunos alcanzaron el proceso de explotación en áreas correspondientes a parques naturales. Estos son dos casos concretos: uno, en la selva de Florencia y otro en el parque de Los Farallones de Cali. No obstante, ya fueron suspendidas las actividades y ya se inició un proceso sancionatorio".
Tags: Antioquia, áreas protegidas, biodiversidad, Biodiversity, Bolívar, Caldas, Colombia, departamentos, environment, Ingeominas, Juan Lozano, licencias mineras, MAVDT, medio ambiente, minería, mining, mining licenses, national parks, parques nacionales, protected areas, recursos naturales
Subscribe to My Comments Feed