« US$15 mil. to Improve Rural Health Care in Peru / US$15 millones para mejorar salud rural en el Perú | Home | Stay at Marriott, Save the Brazilian Rainforest? »
By Keith R | February 18, 2009
Topics: Extractive Sectors | No Comments »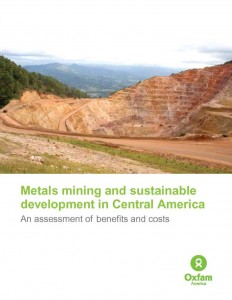 Oxfam has released a report, Metals Mining and Sustainable Development in Central America: An Assessment of Benefits and Costs, that looks at the current debate surrounding mining in Central America and the need for informed public discussion over its potential costs and benefits.  Despite its title, the report only covers mining projects in El Salvador, Guatemala and Honduras, but not Belize, Costa Rica Nicaragua or Panama.
While I do not necessary accept all their arguments, I think that Oxfam's report raises some important issues and support its call for a full, honest, transparent and public debate over the pluses and minuses of mining in Central America, so I am adding this to the Mining section of the Temas Recommended Reading List.
Not Just Any Mining
Oxfam insists that it is not against mining per se, but rather it wants mining under the right conditions:
This report does not aim for the wholesale rejection of mining proposals. Just as mining companies carefully choose which deposits to develop and what technologies to use to assure profitability, communities and nations must do the same to assure public net benefits.

Public policy must guide mineral developments to appropriate sites, to the use of appropriate technologies, and to an appropriate sharing of the benefits and costs. And it must permit local communities to reject mining proposals when these and other criteria are not met. If public policy is well conceived, planned, and administered — and if local communities have the right to reject proposed mines—mining communities stand a better chance of seeing net benefits rather than net losses.
This second paragraph is the principal take-away message of the report.
Weighing Alleged Benefits Against Probable Costs
Oxfam argues that "the current debate surrounding mining in the region, especially in El Salvador, reveals a dangerous misunderstanding of the potential costs and benefits of aggressive [mining] development."  It notes that mining has never played a significant role in the economies of the three nations under study, and asserts that even if the current mining projects are fully realized, the revenue they generate would only marginally help their relatively diversified economies.  Oxfam also cautions that (a) modern open-pit mines generate relatively few jobs; (b) most mining projects have little impact on local poverty alleviation; (c) most mines have short revenue-generating lives; and (d) mining is subject to the boom and bust cycles of mineral commodity markets.
Any economic benefit must be weighed against the environmental risks from large-scale open-pit mining, "ranging from acid mine drainage to tailing dam leaks."  While some of the worst environmental damages can be prevented through mining company implementation of best practice and strict regulation and enforcement by environment authorities, the former often does not occur even in developed nations and the latter is unlikely given the current state of environmental law and enforcement in the nations covered by this study.
Local Consultation, Done Right
Given the high stakes involved, local communities must play a pivotal role in project and policy decision-making. This should start with universal support for communities' right to free, prior, and informed consent. To support that consent process, host governments and mining companies should create a space in the public discourse where stakeholders' interests can be respected and reconciled.
For their part, communities must learn to ask the right questions and bargain for the most useful things, says Oxfam.  They should for any proposed mining project to help
develop new and transferable skills;
transform part of the population into entrepreneurs;
create public infrastructure that boosts productivity in sectors other than mining (such as upgraded roads and highways linking to national markets, or upgraded energy supplies); and
improve community infrastructure, including education and public health.
Tags: acid mine drainage, América Central, Central America, El Salvador, Guatemala, Honduras, minería, mining, open pit mines, Oxfam, tailing dams
Subscribe to My Comments Feed
Leave a Reply