« EPC "Awards" Manipulative Food Advertising to Children | Home | Electricity from Chicken Poop »
By Keith R | March 13, 2009
Topics: Extractive Sectors | No Comments »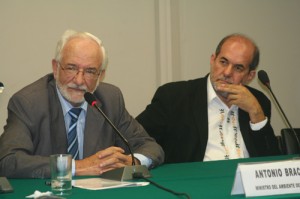 Should mining be banned from, or severely restricted in, the Andean high plateaus?
Most national environment agencies, nongovernmental organizations (NGOs), scientists and academic experts in the Andean Community (CAN) nations (Bolivia, Colombia, Ecuador, Peru) seem to think so.  They argue that without strong restrictions and supervision, mining in the highlands may seriously harm the role the plateaus play in providing water for Andean cities such as Bogotá, Cali, Medellín and Quito.
Mining enterprises and national mining authorities on the other hand, point out mining can bring jobs and development to traditionally poor areas.
The debate, judging from the CAN workshop organized by the Consortium for the Sustainable Development of the Andean Ecoregion (CONDESAN) recently held in Lima, centers not so much on banning mining in the high plateaus altogether, but rather on what sort of minimum restrictions and safeguards are needed and what are the best legislative/regulatory vehicles to impose them.
________________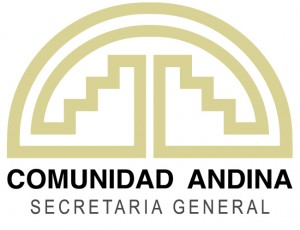 From the Andean Community (CAN):
Need for special mining policies to preserve Andean high plateaus presented

Representatives of environmental and mining authorities, mining companies, scientists and NGOs of Colombia, Ecuador, and Peru agreed yesterday to stress the need for special public policies to guarantee the conservation of Andean high plateaus and their strategic functions, such as providing water.

Participants at the Regional Workshop on Mining and High Plateaus with a view toward Sustainable Development, held on Tuesday and Wednesday at the Andean Community General Secretariat headquarters, studied the effects of mining activities on the high plateau ecosystems of Colombia, Ecuador, and Peru, sharing ideas about the subject and identifying differences and coincidences.

During the workshop, it was proposed that each country analyze, within its respective regulatory framework, the possibility of excluding mining activities from the high plateau regions, either in form of Areas not Suitable for Mining Rights (ANAD), as in the case of Peru, or of the reform –currently under discussion– of the Mining Code, as in Colombia.

As reported at the meeting, over 60 million people in Colombia, Ecuador, and Peru depend on the high plateaus for their water supply. "Cities like Bogotá, Quito, Cali, Medellín, Bucaramanga, Tunja, Cuenca, Loja, Cajamarca, and Piura, to mention only a few, depend directly on them for their water sources," it was pointed out.

It was noted that despite the fragility and vulnerability of these Andean high plateau ecosystems, they are subject to mining expansion in the Andean region. "Mining projects in operation and being processed today cover 28 percent of the area of those ecosystems in the three Andean countries cited," it was revealed.

The Workshop was closed by Antonio Brack, the Environment Minister of Peru, and the CAN Secretary General, Freddy Ehlers, who agreed to stress the importance of addressing the issue with a view to the future and of the presence at the meeting of a series of different actors and sectors interested in the subject of mining and the high plateau ecosystems.

The participants insisted on the need for an integral analysis of the impacts of mining on the high plateaus, considering not only the environmental, but also the social effects. "It is not a matter of a simplistic dialogue on whether or not mining should be practiced on the high plateaus, but of situating it within the framework of a comprehensive analysis of the territory and a broader discussion of the development model," they pointed out.

At the same time, they recognized the importance of mining as a "development generator" and, therefore, of environmentally and socially responsible behavior toward the high mountain ecosystems.

The Workshop was organized by CONDESAN – Proyecto Páramo Andino (Andean High Plateau Project) in coordination with the Andean Community General Secretariat.
_______________
Desde la Comunidad Andina (CAN):
Plantean necesidad de políticas mineras especiales para preservar los páramos andinos

Representantes de autoridades ambientales y mineras, empresas mineras, científicos y ONGs de Colombia, Ecuador y Perú coincidieron ayer en subrayar la necesidad de políticas públicas especiales que garanticen la conservación de los páramos andinos y sus funciones estratégicas, como la de proveer agua.

Durante el Taller Regional Minería y Páramos en la Perspectiva del Desarrollo Sostenible, desarrollado el martes y miércoles en la sede de la Secretaría General de la Comunidad Andina, los participantes analizaron las implicancias de la actividad minera sobre los ecosistemas de páramo en Colombia, Ecuador y Perú; intercambiaron ideas al respecto, e identificaron las diferencias y coincidencias.

En el curso del taller, se planteó que, en cada país se analice, dentro de sus respectivos marcos normativos, la posibilidad de que la minería sea excluida en los páramos, bajo la figura ya sea de Areas no Adecuadas para Derechos mineros (ANAD) como en el caso del Perú, o de la reforma -actualmente en discusión- del Código Minero, como en Colombia.

Según se informó en la reunión, más de 60 millones de personas de Colombia, Ecuador y Perú dependen, en cuanto a la provisión de agua, de los páramos. "Ciudades como Bogotá, Quito, Cali, Medellín, Bucaramanga, Tunja, Cuenca, Loja, Cajamarca y Piura, por sólo mencionar algunas, dependen directamente de ellos como fuentes de agua", precisaron.

Estos ecosistemas de las altas montañas andinas -anotaron- son frágiles y vulnerables, no obstante lo cual la expansión minera que vive la región andina se proyecta sobre ellos. "Actualmente los proyectos de explotación minera y en trámite cubren el 28 por ciento de extensión de dichos ecosistemas en los tres países andinos mencionados", revelaron

El taller fue clausurado por el Ministro de Ambiente del Perú, Antonio Brack, y el Secretario General de la CAN, Freddy Ehlers, quienes coincidieron en destacar la importancia de tratamiento del tema con visión de futuro y la presencia en la reunión de diversos actores y sectores interesados en el tema de la minería y los ecosistemas de alta montaña como son los páramos.

Los participantes insistieron en la necesidad de analizar, de una manera integral los impactos de la minería en los páramos, considerando no sólo los impactos ambientales sino también sociales. "No se trata de plantear discusiones de manera simplista sobre si debe o no debe haber minería en los páramos, sino hacerlo en el marco de un análisis integral del territorio y de una discusión más amplia sobre el modelo de desarrollo", señalaron.

Asimismo, reconocieron la importancia de la minería como "sector generador de desarrollo" y, por lo tanto, de un comportamiento ambiental y socialmente responsable frente a los ecosistemas de alta montaña.

El taller fue organizado por CONDESAN – Proyecto Páramo Andino, en coordinación con la Secretaria General de la Comunidad Andina.
Tags: ANAD, Andean Community, Andean high plateaus, Antonio Brack, Bogotá, Bolivia, Bucaramanga, Cajamarca, Cali, CAN, Colombia, Comunidad Andina, CONDESAN, Cuenca, Ecuador, Loja, Medellín, minería, mining, Peru, Piura, Quito, Tunja
Subscribe to My Comments Feed
Leave a Reply