« Hearts and Minds in LAC II: What LAC Thinks About CVD | Home | The Elections for WHO's DG: The LAC Connection »
By Keith R | November 5, 2006
Topics: Electronic/Electrical Equipment, Environmental Education, Environmental Protection, Eye on Ads, Waste & Recycling | 1 Comment »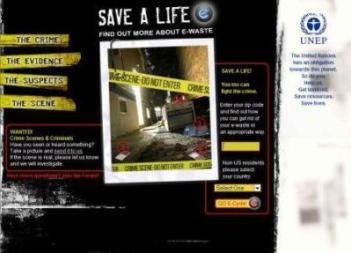 The materials provided below — the video and examples of posters — were developed for a new United Nations Environment Programme (UNEP) campaign on waste from electrical and electronic equipment (WEEE or "e-waste" or "e-scrap") by a group of Emerson University graduate students who called themselves the "Mixed Greens." Although none of these materials are from Latin America and the Caribbean (LAC) (although I note that one of the "Mixed Greens" is from Jamaica!), and the video is not (as yet) available in Spanish or Portuguese, they do involve an environmental issue facing LAC nations and probably will eventually be seen worldwide, including LAC nations, thanks to UNEP. The campaign is expected to reach full swing early in 2007. For more information, click on the screen capture of their site (parts still under construction) at right.
Mixed Greens' E-waste Video
(click image to play)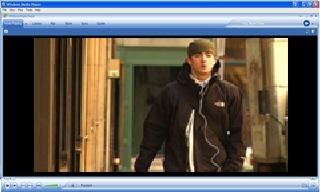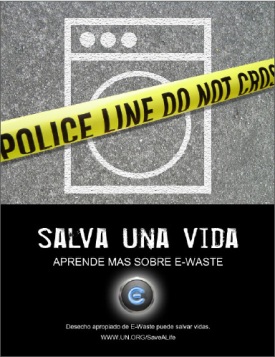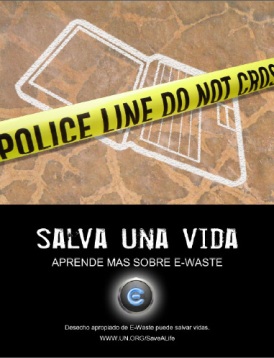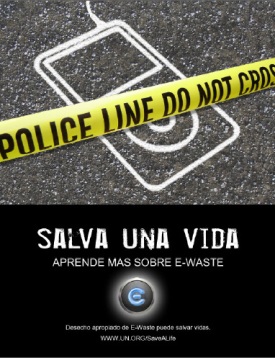 Tags: ads, advertising, desechos tecnológicos, e-lixo, e-scrap, e-waste, electronic waste, Emerson University, lixo tecnologico, Mixed Greens, PNUMA, RAEE, residuos tecnologicos, scrap electronics, UNEP, WEEE
One Response to "Eye on Ads: E-Waste"
mano Says:
November 5th, 2006 at 22:19

I think it is really good for the environment to recycle electronics since there are so many harmful chemicals in them.
Leave a Reply