« Pap Smear? Nah! PAHO Has a Better Idea to Prevent Cervical Cancer in LAC | Home | IDB Approves Loan for Water Resources Reform in Peru / BID aprueba préstamo para reforma de la gestión de recursos hídricos en Perú »
By Keith R | June 27, 2007
Topics: Biodiversity, Conservation, Environmental Protection, Sustainable Agriculture, Sustainable Forestry | No Comments »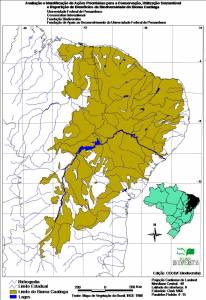 From the World Bank:
Brazil: World Bank Approves US$10 Million Grant for Environmental Conservation

The World Bank's Board of Executive Directors today approved a US$10 million grant from the Global Environment Facility (GEF) to Brazil's Fundação Luiz Eduardo Magalhães to contribute to the preservation, conservation, and sustainable management of the biodiversity of the Caatinga forest in the states of Bahia and Ceará, while improving the quality of life of its inhabitants.

"This project highlights the importance of sustainable environmental conservation and management as a foundation for sustainable growth and poverty reduction," said John Briscoe, World Bank Director for Brazil. "The program responds to a need to control the rapid degradation of a unique ecosystem that provides a livelihood for 11 million people in one of Brazil's poorest regions."

The Caatinga forest -located between the Amazon forest and the Atlantic forest in Brazil's northeast- is the largest dry forest in South America and one of the richest dry forests in the world. Comprising an area of approximately 800,000 km², it covers approximately 11 percent of the national territory, extending throughout the states of Piauí, Ceará, Rio Grande do Norte, Paraíba, Pernambuco, Alagoas, Sergipe, Bahia, and Minas Gerais.

In the last two decades, desertification has advanced quickly, caused by the removal of vegetation through charcoal production, over-farming, over-grazing, soil erosion, and slash-and-burn by smallholder farmers and ranchers. Desertification has resulted in disruptions of water flows and poor quality of water sources, which in turn affects the health of human and animal populations. Rural poverty is deep, with the poor surviving through short-cycle types of subsistence farming, animal breeding in extensive systems, extractive activities (wood and non-timber products), temporary farm employment, and seasonal migration to urban areas.

The Caatinga Conservation and Management Project will support the states of Bahia and Ceará, which together encompass about 50 percent of the Caatinga forest, in the design and implementation of policies that create incentives for an integrated management of ecosystems. The project will enhance the capacity for management of protected areas, develop capacity to assess and monitor the conservation and sustainable use of biological diversity, and identify and implement replicable demonstration projects.

"With support from this project, rural poor in Brazil's northeast will be stewards of their natural resource base and participants in activities that promote conservation, reverse desertification and provide economic opportunities," said Monique Barbut, GEF CEO and Chairperson.

Specifically, the project will support the following activities:

Strengthening local institutions committed to integrated ecosystem management and conservation of the Caatinga biome in Bahia and Ceará.
Financing approximately 200 demonstration subprojects to ensure sustainability of conservation efforts and prevention of land degradation in the Caatinga biome at the local level. Potential investments include: reforestation through tree planting; development of small ruminant grazing corridors; introduction of sustainable agro-forestry techniques; development of local drought management plans; development of hill slope erosion control; fire awareness and control programs; and introduction of soil and water management practices.
Establishing a monitoring and evaluation system to track progress toward achieving the project's global environmental objectives. In addition, this component will support knowledge sharing and dissemination of project findings."The governments of the states of Bahia and Ceará are interested in addressing biodiversity issues and ecosystem management, and the Caatinga is one of their key priorities," said Claudia Sobrevila, World Bank task manager for the project. "They are creating the institutional structure necessary to address these challenges, and we are glad to be one of the parties involved in this important project," she added.

The Global Environment Facility (GEF) is a mechanism for providing new and additional grant and concessional funding to meet the agreed incremental costs of measures to achieve agreed global environmental benefits in the six focal areas – climate change; biological diversity; international waters; persistent organic pollutants; land degradation; and ozone layer depletion. GEF also supports the work of the global agreements to combat desertification.

The World Bank Group is one of GEF's implementing agencies and supports countries in preparing GEF co-financed projects and supervising their implementation. The Bank plays the primary role in ensuring the development and management of investment projects. The Bank draws upon its investment experience in eligible countries to promote investment opportunities and to mobilize private sector, bilateral, multilateral, and other government and non-government sector resources that are consistent with GEF objectives and national sustainable development strategies.
Desde o Banco Mundial:
BANCO MUNDIAL APROVA DOAÇÃO DE US$10 MILHÕES PARA PRESERVAÇÃO DA CAATINGA

A Diretoria Executiva do Banco Mundial aprovou hoje uma doação de US$10 milhões do Fundo para o Meio Ambiente Mundial (GEF) com o objetivo de contribuir para a preservação, conservação e manejo sustentável da biodiversidade da Caatinga nos Estados da Bahia e do Ceará, melhorando ao mesmo tempo a qualidade de vida de seus habitantes.

"Este projeto acentua a importância do manejo e da conservação ambiental como base para o crescimento sustentável e a redução da pobreza", afirmou John Briscoe, Diretor do Banco Mundial para o Brasil. "O programa responde à necessidade de controlar a rápida degradação de um ecossistema único, que fornece o sustento de 11 milhões de pessoas em uma das regiões mais pobres do Brasil".

A Caatinga, localizada entre a Floresta Amazônica e a Mata Atlântica, é a maior floresta seca na América do Sul e uma das mais ricas do mundo. Compreendendo uma área de aproximadamente 800.000 km², esse ecossistema cobre cerca de 11% do território nacional, estendendo-se pelos Estados do Piauí, Ceará, Rio Grande do Norte, Paraíba, Pernambuco, Alagoas, Sergipe, Bahia e Minas Gerais.

Nas última duas décadas, a desertificação avançou rapidamente, causada pela retirada da vegetação para a produção de carvão, pelo cultivo e pastagem excessivos, erosão do solo e o corte e queima de árvores pelos pequenos agricultores e fazendeiros. A desertificação resultou em interrupções dos cursos de água e na má qualidade das fontes hídricas, o que por sua vez afeta a saúde humana e dos animais. As pessoas carentes sobrevivem de culturas de subsistência de ciclo curto, da criação de gado em sistemas extensivos, de atividades extrativas (madeira e produtos não-madeireiros), empregos agrícolas temporários e migrações sazonais para as áreas urbanas.

O Projeto de Manejo e Conservação da Caatinga apoiará a Bahia e o Ceará, que abrigam cerca de 50% da Caatinga, no planejamento e implementação de políticas que criam incentivos ao manejo integrado de ecossistemas. O projeto ampliará a capacidade de gestão das áreas protegidas, promoverá um maior acesso e monitoramento da conservação e do uso sustentável da diversidade biológica, além de identificar e implementar projetos-piloto que poderão ser reproduzidos. Os recursos serão gerenciados pela Fundação Luiz Eduardo Magalhães.

"Com o apoio deste projeto, os pobres das áreas rurais no nordeste poderão ser guardiões de sua própria base de recursos naturais, além de participar em atividades que promovem a conservação, reversão da desertificação e criação de oportunidades econômicas", disse Monique Barbut, Presidente do GEF.

Especificamente, o projeto apoiará as seguintes atividades:

Fortalecimento das instituições locais comprometidas com o manejo e conservação integrada do bioma da Caatinga na Bahia e no Ceará.
Financiamento de aproximadamente 200 subprojetos-piloto para assegurar a sustentabilidade dos esforços de conservação e prevenção da degradação do solo no bioma da Caatinga no nível local. Os potenciais investimentos abrangem: reflorestamento; criação de corredores destinados à pastagem de pequenos ruminantes; introdução de técnicas agroflorestais sustentáveis; elaboração de planos locais de gestão da seca; maior controle da erosão de encostas; programas de conscientização e controle de incêndios; e práticas de manejo da água e do solo.
Estabelecimento de um sistema de monitoramento e avaliação para acompanhar o avanço em direção ao alcance dos objetivos ambientais globais do projeto. Além disso, esse componente apoiará a troca de conhecimento e a disseminação das suas conclusões.

"Os governos da Bahia e do Ceará estão interessados em tratar das questões da biodiversidade e do manejo do ecossistema, e a Caatinga é uma de suas prioridades", salientou Claudia Sobrevila, coordenadora do projeto no Banco Mundial. "Eles estão criando a infra-estrutura institucional necessária para enfrentar esses desafios e estamos contentes de ser um dos parceiros envolvidos neste importante projeto", acrescentou.

O Fundo Mundial para o Meio Ambiente (GEF) é um mecanismo que fornece doações novas e adicionais e financiamentos concessionais para fazer frente aos custos incrementais decorrentes das medidas adotadas para alcançar os benefícios ambientais globais em seis áreas prioritárias: mudanças climáticas, diversidade biológica, águas internacionais, poluentes orgânicos persistentes, degradação do solo e redução da camada de ozônio. O GEF também presta assistência ao trabalho dos acordos globais para combater a desertificação.

O Grupo Banco Mundial é uma das agências implementadoras do GEF e ajuda os países a preparar os projetos co-financiados pelo Fundo e a supervisionar sua execução. O Banco desempenha o papel primordial de assegurar o desenvolvimento e a gestão dos projetos de investimento. A instituição contribui com a sua experiência em investimentos nos países elegíveis para promover oportunidades de investimento e mobilizar recursos da iniciativa privada, bilaterais, multilaterais e outros investimentos governamentais e não governamentais, que sejam compatíveis com os objetivos do GEF e das estratégias nacionais de desenvolvimento sustentável.
Tags: animal breeding, áreas protegidas, Bahia, Banco Mundial, biodiversidade, Biodiversity, Brasil, Brazil, Caatinga, carvão, Ceará, charcoal production, conservação, conservación, Conservation, desertificação, desertification, drought management, erosão do solo, GEF, over-farming, over-grazing, pastagem excessivo, protected areas, slash-and-burn, soil erosion, subsistence farming, sustainable agro-forestry, World Bank
Subscribe to My Comments Feed
Leave a Reply