« Cell Phone Recycling in Brazil Weak? | Home | Helping HIV/AIDS Prevention/Control in Barbados »
By Keith R | August 6, 2008
Topics: Electronic/Electrical Equipment, Environmental Protection, Waste & Recycling | 1 Comment »

The Data Problem
One of the key challenges in formulating a reasonable and effective policy on waste electrical and electronic equipment (WEEE) in Latin America and the Caribbean (LAC) is figuring out how much there is, what type of WEEE it is (different WEEE pose different hazardous material/waste management challenges), and what is happening to it at end of product life (EOL). Remember what I said before about the importance of proper diagnosis!
Unfortunately, most LAC policymakers have not yet attempted a serious diagnosis. A handful have, and in future posts I will discuss these and their findings, strengths and weaknesses.
To address the data deficit, the Basel Convention's Regional Center for South America in Buenos Aires, in cooperation with Argentina's National Institute for Industrial Technology (INTI), help from Environment Canada and Switzerland's EMPA and some financing from the UK, is putting together a first stab at a regional WEEE inventory.
Argentina
Meanwhile, if one wants a picture of how much WEEE exists in Argentina, what type and how much may be coming in the near future, where do you turn?
No official comprehensive statistics exist — yet. But it is being worked on, since WEEE bills have been pending in Argentina's National Congress in the last 2-3 years and both national and local environment authorities have been debating vigorously what to do with e-scrap during that period.
But you can cobble together at least a partial picture from other sources. To start, the Environment Secretariat (SAyDS) says that they expect that by end-2008, 80,000 metric tons of WEEE will be created by Argentines, or about 2 kilograms (kg) per inhabitant. However, they do not elaborate on how they arrive at this figure.
Next, there are the assertions made by Scrapex, a processor of electronic scrap in Argentina, made at an e-waste workshop held in Buenos Aires a few months ago. They claimed that 72% of electronic waste generated in Argentina originates in businesses, 28% from homes. [Temas observation: I have some doubts about this claim, because it omits government (local, provincial, national), which I suspect also contribute significantly to e-waste generation (current or potential).] They also assert that 66% of Argentina's e-waste is from the informatics segment (computers and peripherals), 19% from televisions, 1% from cell phones and 14% "other." [Temas observation: These figures make me wonder how exactly they define "electronic."] Last but not least, they said roughly half of the nation's electronic waste comes from Buenos Aires city and province, a quarter from the Córdoba-Rosario-Mendoza corridor and another quarter from the rest of the country. [Temas observation: Plausible, but I'd like to see a new, comprehensive survey before I fully buy into it.] I have been trying to get verification of these claims, but haven't been able to yet, so take them with a grain of salt.
Last but far from least, the Argentine trade association for office equipment, CAMOCA, publishes online some statistics on electronic equipment in use and disuse broken down by type, along with an estimate of the weight (in kilograms) represented by the units in disuse. Below I have put together an aggregated and translated table of CAMOCA's statistics for year-end 2007 — click on the image to see the much larger (and much sharper!) full-sized version.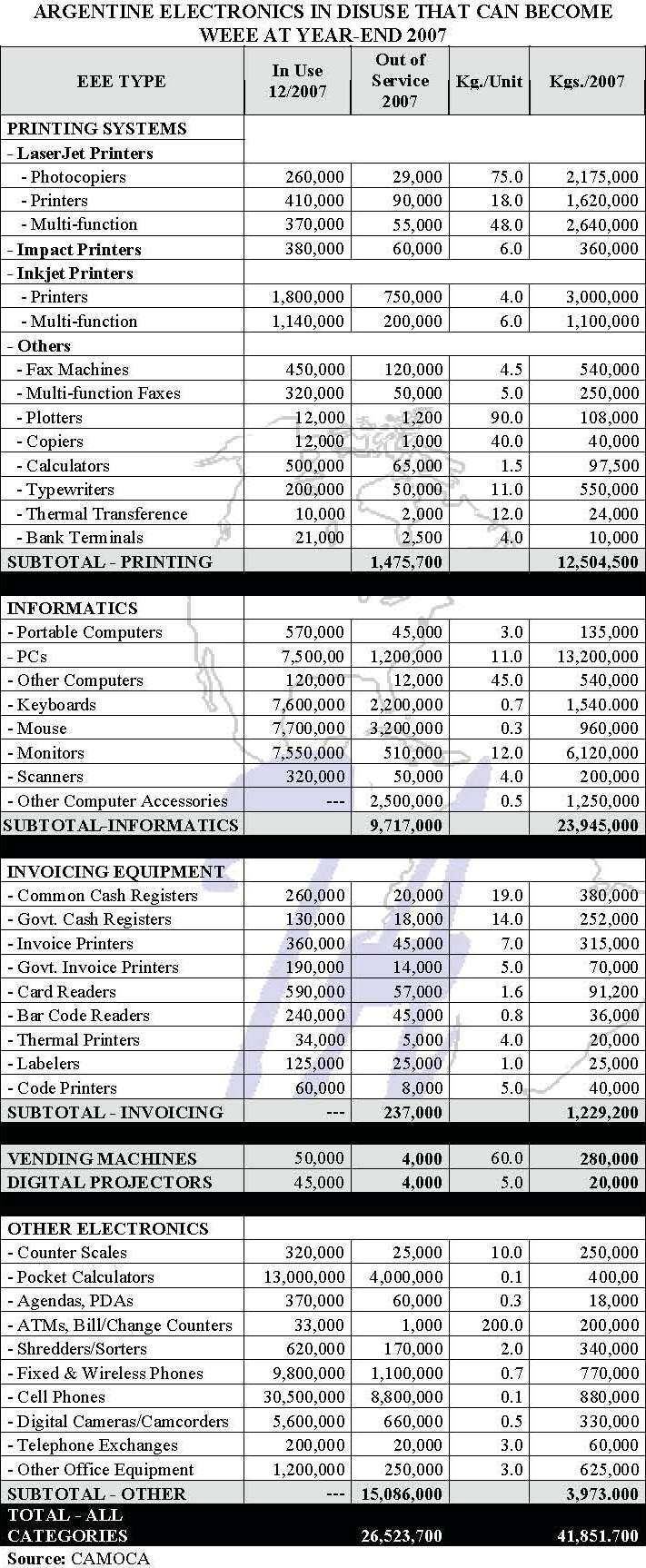 Of course this does not cover key WEEE segments, such as household electronics and appliances (home PCs, stereo systems, VCRs, televisions, microwaves, refrigerators, air conditioners, digital clocks, etc.), scientific instruments, medical devices, EEE embedded in vehicles, toys/games (such as video games), and certain personal electronic devices (such as GPS devices). Unfortunately, good, up-to-date stats on these items in are not easy to come by in Argentina. The National Statistical Office (INDEC) does collect and publish quarterly statistics on household appliance sales, but they only provide information on sales in terms of peso value, not how many units of each type of appliance were sold. So their data is not very useful for the purposes of divining WEEE generation in Argentina.
How much confidence can we have in the CAMOCA data? Well, to be honest, I am always cautious about statistics in LAC that have a short track record, and leery about a possible industry bias in reporting the data. That said, however, the CAMOCA data seems unusually solid for a LAC industry source, and until INTI, SAyDS or the Basel Regional Center come up with a better set of data, this will have to do.
Tags: air conditioners, Argentina, ATMs, bar code readers, Basel Convention, Buenos Aires, CAMOCA, card readers, cash registers, Convenio de Basilea, diagnosis, digital cameras, digital projectors, e-desechos, e-scrap, e-waste, electronic scales, electronic waste, EMPA, environment, Environment Canada, fax machines, GPS devices, household appliances, informatics, inkjet printers, INTI, juguetes, keyboards, laptops, laserjet printers, lixo tecnologico, medical devices, medio ambiente, microndas, microwaves, monitors, office equipment, PDAs, personal computers, photocopiers, pocket calculators, portable computers, RAEE, refrigerators, residuos tecnologicos, scanners, scientific instruments, stereo systems, Suiza, Switzerland, telephone exchanges, televisions, toys, VCRs, vending machines, video games, WEEE, wireless phones
One Response to "Getting a Handle on E-Waste Data in LAC: Argentina"
iPhone News Says:
August 6th, 2008 at 19:23

[…] Ma Pause Café – Blog de débat, d'idée, d'agitatio… put an intriguing blog post on Getting a Handle on E-Waste Data in LAC: ArgentinaHere's a quick overviewTemasEtUnam The Data Problem One of the key challenges in formulating a reasonable and effective policy on waste electrical and electronic equipment (WEEE) in Latin America and the Caribbean (LAC) is figuring out how much there is, what type of WEEE it is (different WEEE pose different hazardous material/waste management challenges), and what is happening to it at end of product life (EOL). Remember what I said before about the importance of proper diagnosis! Unfortunately, most LAC policymak […]
Leave a Reply