« Digitizing the Fight Against Chagas | Home | São Paulo's New Bioenergy Research Program »
By Keith R | July 8, 2008
Topics: Corporate Social Responsibility, Environmental Protection | No Comments »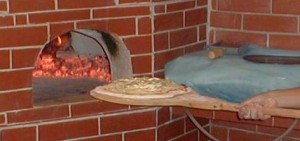 Synopsis in English: Brazilians are serious about their pizza, especially in São Paulo. In the state capital alone there are an estimated 5,850 pizzerias and about 8,000 bakeries that offer pizzas. About 40,000 pizzas are made every hour in the capital, and in the metro São Paulo area 42.9 million units are produced each month. Globally among cities São Paulo is second in pizza consumption only to New York. About 70% of the city's producers still cook their pizzas in stone ovens.
The majority of the shops are micro and small enterprises — "mom-and-pop shops" we tend to call them in the States. A few years back the Brazilian Service of Aid to Micro and Small Enterprises (Sebrae) helped form a trade association for pizza producers, the United Pizzerias Association (Associação Pizzarias Unidas) to swap ideas about and promote cooperation in marketing, cost reduction, operations improvements, etc.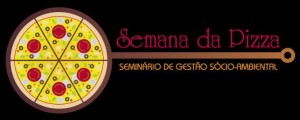 The Association and Sebrae today are hosting the first (of what they hope to be several) Seminar on Socio-Environmental Management of Pizzerias, to be held in Barra Funda. Yes, they are looking to make pizzerias environmentally responsible.
The seminar will brief owners on some of the new trends in "eco-efficient management" in the restaurant trade, covering such issues as energy savings and efficiency. A big focus, however, will be convincing all the pizzerias that currently utilize wood-burning ovens to switch to briquettes. The briquettes are made from the sawdust and wood wastes created by mills during primary processing of timber. The national environment authority, IBAMA, says that some 60% of the wood harvested in the Amazon is discarded during such processing, creating millions of tons of waste that could instead be converted into briquettes. Pizzerias are a natural marketing target for briquette production.
________________________
Desde a Agência Sebrae de Notícias:
Empresários investem em pizzarias ecologicamente corretas

Seminário promovido pelo Sebrae em São Paulo e a Associação Pizzarias Unidas mostra as principais tendências em gestão ecoeficiente

Nesta terça-feira (8), o Sebrae em São Paulo, por meio do Escritório Regional da Capital Oeste, em parceria com a Associação Pizzarias Unidas, reunirá diversos empresários do ramo de pizzarias para participar do 1º Seminário de Gestão Socioambiental, voltado para os profissionais desse segmento, que acontece no Senai da Barra Funda.

O encontro tem como objetivo promover o conhecimento de novas tendências de gestão ecoeficiente que possam ser utilizadas dentro dos negócios da gastronomia, como economia de energia gerada pelo uso de briquetes.

O briquete, que é uma lenha ecológica produzida com pó de serragem e com restos de madeira descartados por indústrias, pode ser uma boa alternativa de produção de energia, além de um meio adequado de se lidar com os resíduos vegetais.

Segundo o Ibama, 60% da madeira extraída na região amazônica é desperdiçada nas serrarias durante o processamento primário, gerando 18 milhões de toneladas de resíduos. Todo esse lixo madeireiro tem potencial e pode ser transformado em energia elétrica alternativa, ecologicamente correta.

Só na capital paulista, há uma estimativa de que existam 5.850 pizzarias e oito mil padarias que produzem pizzas, das quais, aproximadamente, 70% utilizam fornos à lenha. A maior parte dessas empresas é considerada micro e pequena.

São Paulo é a segunda cidade do mundo onde se consome o maior número de pizzas, perdendo apenas para Nova York. Na grande São Paulo, as pizzarias produzem cerca de 42,9 milhões de unidades por mês. Na capital, há uma estimativa de que 40 mil pizzas sejam feitas por hora.

Thiago Bueno Ferraz, analista do Sebrae/SP do Escritório Regional Oeste, acredita que o seminário deverá estimular o empresário a desenvolver técnicas de desenvolvimento sustentável dentro de seus negócios.

"A micro e pequena empresa precisa ter consciência de que ela pode colaborar muito com o meio ambiente e ainda aumentar o lucro dentro de seus negócios. Aquele que deseja aprender novos meios para sobrevivência de sua empresa com responsabilidade ambiental possui muito mais chances de sucesso dentro do seu ramo".

Ferraz ressalta que tanto os donos de pizzarias, como panificadoras e até indústrias que fornecem pizzas para serem vendidas nos estabelecimentos comerciais, podem participar do seminário.

Em abril de 2002, o Sebrae/SP, por meio do Escritório Regional Oeste, organizou um encontro de empresários que fazem parte do ramo de pizzarias, dos quais cinco deles fundaram a Associação Pizzarias Unidas.

As primeiras reuniões desse grupo definiram os propósitos e suas necessidades. Hoje, a Associação reúne 30 pizzarias que participam das atividades.

Carlos Sartal, presidente da Associação Pizzarias Unidas, afirma que ao longo de seis anos, muitos projetos passaram pela Casa. "Diversas idéias surgem em nossas reuniões, muitas são transformadas em projetos, por isso sempre temos a esperança de gerar excelentes resultados com determinadas ações".

Os trabalhos são organizados de forma integrada, alcançando uma série de vitórias com objetivos de desenvolver produtos, buscando alternativas para administração, redução de custos e apoio no marketing das lojas.

No Brasil, a pizza chegou no final do século passado com os imigrantes italianos, que se estabeleceram principalmente nos bairros do Brás e do Bexiga, na capital paulista.
Tags: Associação Pizzarias Unidas, Brasil, Brazil, briquetes, environmental management, gastronomia, gestão ecoeficiente, gestão socioambiental, IBAMA, lumber mills, pizza, pizzerias, São Paulo, Sebrae, wood waste
Subscribe to My Comments Feed
Leave a Reply