« Zero Waste in Buenos Aires? | Home | Better Solid Waste Management in Argentine Tourism Cities »
By Keith R | June 8, 2007
Topics: Environmental Governance, Environmental Protection, Sanitation, Water Issues | No Comments »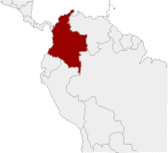 From the World Bank:
Colombia: World Bank Approves US$200 Million for Sustainable Development

The World Bank's Board of Directors today approved a US$200 million loan to Colombia in order to integrate the principles of sustainable development into country policies and programs, which seek to protect the poor from the impacts of environmental degradation, particularly in terms of health and productivity.

"We are honored to continue supporting the Government of Colombia's efforts to ensure environmental sustainability," said Miguel Lopez-Bakovic, World Bank Country Manager for Colombia. "This program is key because besides its emphasis on improved environmental management, it has clear poverty and inequality implications, given that environmental degradation disproportionately affects the poor and most vulnerable populations."

The Second Programmatic Development Policy Loan for Sustainable Development is part of a three-phase program that will support Colombia's efforts to achieve the Millennium Development Goals (MDGs), particularly the goal that seeks to ensure environmental sustainability. The program will do so by improving the effectiveness and efficiency of the National Environmental System (Sistema Nacional Ambiental, SINA), and integrating principles of sustainable development into key sectors, with a particular emphasis on protecting the most vulnerable groups.

Specifically, the loan will support the following activities:

Developing a results-based framework for planning and monitoring progress of SINA towards goals directly linked with sustainable development and achievement of the MDGs, which include halving the proportion of people without access to drinking water and basic sanitation, among others.
Improving inter-institutional coordination and increased public participation in environmental decision-making through changes in the existing Technical Advisory Council.
Preparing critical policies and regulations related to air quality, water quality, solid waste management, and environmental licensing.

"Improvements in air quality, water quality, and hygiene will address the principal health threats to children under five, such as respiratory illnesses and diarrheal diseases," said Juan Carlos Belausteguigoitia, World Bank task manager for the project. "The program will also increase accountability and transparency by strengthening SINA and the coordination among government units, and enhancing public participation in decision-making."

The first Programmatic Development Policy Loan for Sustainable Development (supported by a World Bank US$150 million loan and completed in 2006) supported initial steps in the government's sustainable development program. Some of the activities completed by the government include: (i) establishing a baseline to monitor six sustainable development objectives linked to the MDGs; (ii) approving a package of reforms to improve administration, planning, and management of water resources; (iii) implementing a technical assistance program to close at least 75 open dumps (to date more than 200 have been closed); (iv) establishing a protocol for air quality monitoring; and (v) developing an emissions inventory protocol.

The new US$200 million, fixed spread loan is repayable in 16.5 years, including a 5.5-year grace period.
Desde el Banco Mundial:
Colombia: Banco Mundial aprueba US$200 millones para el desarrollo sostenible

El Directorio Ejecutivo del Banco Mundial aprobó hoy un préstamo de US$200 millones para Colombia con el fin de que este país incorpore los principios del desarrollo sostenible en sus políticas y programas, cuyo objetivo es proteger a los pobres del impacto que genera la degradación del medio ambiente, principalmente en la salud y la productividad.

"Nos complace seguir apoyando el esfuerzo que realiza el Gobierno de Colombia para garantizar la sostenibilidad ambiental", señaló Miguel López-Bakovic, representante del Banco Mundial para Colombia. "Este programa es clave ya que, además de mejorar la gestión medioambiental, tendrá efectos claros en la pobreza y la desigualdad en vista de que la degradación medioambiental afecta desproporcionadamente a los grupos más pobres y vulnerables de la sociedad".

El Segundo préstamo programático de políticas de desarrollo para el desarrollo sostenible forma parte un programa de tres etapas que apoya los esfuerzos realizados por Colombia para lograr los Objetivos de Desarrollo del Milenio (ODM), en particular el objetivo que busca garantizar la sostenibilidad medioambiental. El programa cumplirá este objetivo por medio del mejoramiento de la eficacia y la eficiencia del Sistema Nacional Ambiental (SINA), y la integración de principios de desarrollo sostenible en sectores clave, con especial énfasis en la protección de los grupos más vulnerables.

En particular, el préstamo apoyará las siguientes actividades:

Desarrollar un marco basado en resultados para planificar y hacer un seguimiento de los avances obtenidos por el SINA en función de las metas directamente vinculadas con el desarrollo sostenible y con la consecución de los ODM, lo que incluye reducir a la mitad la proporción de personas sin acceso a agua potable y saneamiento básico, entre otros aspectos.
Mejorar la coordinación interinstitucional y aumentar la participación del público en la toma de decisiones medioambientales a través de cambios en el actual Consejo Técnico Asesor.
Elaborar políticas y reglamentos de vital importancia relacionadas con la calidad del aire y el agua, la gestión de los residuos sólidos y la adjudicación de licencias medioambientales.

"A través del mejoramiento de la calidad del aire, del agua y la higiene se podrán abordar las principales amenazas para la salud de los niños y niñas menores de cinco años, entre ellas las enfermedades respiratorias y diarreicas", indicó Juan Carlos Bealusteguigoitia, gerente de proyecto del Banco Mundial. "Además, el programa aumentará la rendición de cuentas y la transparencia gracias al fortalecimiento del SINA, la coordinación con otras unidades de gobierno y el mejoramiento de la participación del público en la toma de decisiones".

El Primer préstamo programático de políticas de desarrollo para el desarrollo sostenible (que contó con el apoyo de un préstamo del Banco Mundial por US$150 millones y que se completó en 2006) respaldó la primera etapa del programa de desarrollo sostenible del gobierno. Algunas de las actividades finalizadas por el gobierno incluyen: (i) establecer líneas bases para monitorear seis objetivos de desarrollo sostenible vinculados a los ODM; (ii) aprobar un paquete de reformas para mejorar la administración, la planificación y la gestión de los recursos hídricos; (iii) implementar un programa de asistencia técnica para clausurar al menos 75 vertederos abiertos (hasta la fecha se han clausurado más de 200); (iv) establecer un protocolo de control de la calidad del aire y (v) crear un protocolo para el inventario de las emisiones.

El nuevo préstamo de margen fijo de US$200 millones se reembolsará en 16,5 años e incluye un período de gracia de cinco años y medio.
Tags: agua potable, Air Quality, Banco Mundial, basic sanitation, calidad del agua, calidad del aire, Colombia, diarrhoeal disease, drinking water, emissions inventory, environmental licensing, inventario de emisiones, licenciamento ambiental, licencias medioambientales, licensamiento ambiental, MDGs, Millennium Development Goals, ODM, recursos hídricos, residuos sólidos, saneamiento, SINA, solid waste management, water quality, water resources, World Bank
Subscribe to My Comments Feed
Leave a Reply