« Groundbreaking Project of Carbon Credits for Avoided Deforestation | Home | Gold Mining in Guyana (Re)visited »
By Keith R | August 7, 2007
Topics: Corporate Social Responsibility, Environmental Protection, Waste & Recycling | No Comments »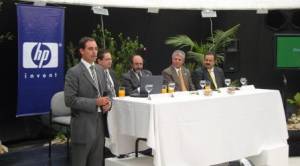 Recently I highlighted Lexmark's printer cartridge recovery program in Latin America and the Caribbean (LAC), lauded by Colombia's Environment Minister Juan Lozano Ramírez. Well, Minister Lozano also has applauded a competitor, Hewlett Packard (HP), for its cartridge collection program, and since HP's program covers more than just Colombia just as Lexmark's does, in the interest of being fair I'll mention it here too.
HP's "Planet Partners" doesn't give you a movie ticket (or bus or metro ticket or some other popular incentive) for your spent cartridge (as Lexmark does), they don't offer (at least not publicly) special discounts for volume returns of spent cartridges by large consumers (as Lexmark does), and evidently they'll only provide onsite pick up of spent cartridges if you have a minimum of five. You can, however, request by email or via their website to be sent postage-paid shipping materials to send in your spent cartridge(s).
I have to wonder about the recovery rates HP will have with such a passive system that provides no special incentives and relies on the user/consumer to take all of the initiative.
The cartridges collected under the program are exported to the U.S. for recycling there. The plastic in the cartridges is used to make plastic parts for automobiles, fences, benches, trays and ladders, among others.
Planet Partners is currently available in Brazil, Chile, Colombia, Mexico, Peru and Puerto Rico (PR is covered under the US program — strangely, they do not offer portorriqueños a separate webpage in Spanish). It's puzzling to me as to why this list does not include Argentina (HP does do business there, and my guess would be that the market is at least as big as that in Chile or Peru). In any case, I look forward to seeing HP extend the program to the rest of LAC.
And I'll repeat the question with which I ended the post on Lexmark's program, slightly modified: How aggressive are other major cartridge manufacturers being in cartridge take-back in LAC?
_____________________________________
Desde el Ministerio del Ambiente, Vivienda y Desarrollo Territorial (MAVDT):
"PROGRAMA 'PLANET PARTNERS' ES UN EJEMPLO DE RESPONSABILIDAD AMBIENTAL": MINAMBIENTE

El ministro Lozano resaltó importancia de trabajar con la empresa privada

El ministro de Ambiente, Vivienda y Desarrollo Territorial, Juan Lozano Ramírez, se mostró complacido con la iniciativa de la empresa Hewlett Packard de desarrollar una campaña para recoger y reciclar los cartuchos de tóner que ya no se usen en las empresas del país.

"Esta presentación que hace Hewlett Packard (HP) con su programa Planet Partners, con su proyecto de responsabilidad ambiental para recoger y reciclar los cartuchos de tóner de impresión; nos gusta, estimula, compromete y además interpreta una serie de acciones que hemos venido realizado desde el Gobierno Nacional", aseguró el jefe de la cartera ambiental, durante la presentación de está campaña que busca establecer una política de conservación y cuidado de medio ambiente.

Lozano Ramírez, recalcó la importancia de trabajar conjuntamente entre el sector privado y el público, para desarrollar este tipo de campañas que benefician a la población en general.

"En el Gobierno tenemos que trabajar con el sector privado, sin ninguna vacilación, sin ningún temor y todos los funcionarios tenemos la obligación de mostrarle al país y a los consumidores, cuando nos encontramos en el camino con empresas ambientalmente responsables", sostuvo.

La campaña consiste en que HP, a través de un proveedor, recogerá gratuitamente a sus clientes los cartuchos de tóner usados –mínimo cinco- y luego la empresa se compromete a enviarlos a sus centros de reciclaje en los Estados Unidos.

Estos tóner después de ser reciclados, son utilizados para producir partes plásticas de automóviles, cercas, bancos, bandejas, carretes, entre muchos otros productos.

"Nos sentimos felices cada vez que se venda un tóner de HP, el que posteriormente será recogido y enviado a centros de reciclaje en Virginia, Estados Unidos. Esa acción va a generar un impacto ambiental favorable, son los ejemplos que deben seguir otras empresas", resaltó el Ministro.

Lozano, reiteró que el mundo está amenazado por una serie de acumulaciones de malos efectos ambientales en los procesos productivos, pero es sólo por este camino que se va a lograr que se restablezcan unos equilibrios en el planeta y que los procesos productivos y comerciales honren las normas superiores de compromiso ambiental.

"Nosotros hemos hecho un apuesta muy fuerte y muy seria para hacer en Colombia responsabilidad postconsumo de parte de los productores e importadores", puntualizó el jefe de la cartera ambiental.
Tags: automobiles, automóviles, bandejas, benches, Brasil, Brazil, carretes, cartuchos, Chile, Colombia, fences, Hewlett Packard, HP, impresoras, Juan Lozano, ladders, Lexmark, MAVDT, Mexico, Peru, Planet Partners, plastics, printer cartridges, printers, Puerto Rico, reciclagem, reciclaje, recycling, trays, Virginia
Subscribe to My Comments Feed
Leave a Reply