« One of the World's Top PET Recyclers | Home | Five Things You Should Know about Me »
By Keith R | January 16, 2007
Topics: Conservation, Environmental Protection, Sustainable Agriculture, Sustainable Forest Use | 3 Comments »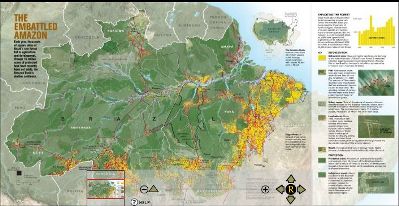 I'd like to recommend reading this month's edition of National Geographic. It contains an interesting and well-done piece on human pressures on the Amazonian rainforest. An excerpt is available free online, but to read the entire article you have to buy the print edition. Also available online are some terrific photos, and a interactive version of one of those great National Geographic maps that supports the article.
Also worth reading is the 2006 study done by the World Resources Institute (WRI) and Brazil's Amazon Institute of Man and the Environment (Instituto do Homen e Meio Ambiente da Amazônia – Imazon) on which much of the National Geographic article is based, Human Pressure on the Brazilian Amazon Forests (English) or Pressão humana na floresta amazônica Brasileira (Portuguese). Also available are an English and Portuguese executive summary.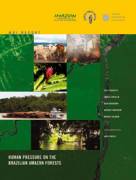 The report key findings were that:
In 2002, some 47% of the Brazilian Amazon was under some form of "human pressure" — deforestation, mining, logging, urbanization, clearing for agriculture, fires begun by humans.
Enough forest area without evidence of "human pressure" remains for the government to fulfill its goal of expanding the national protected areas system — but only if they act soon.
The political costs of trying to add protected status to areas with emerging evidence of "human pressure" likely will be high, so better to concentrate first on the relatively untouched zones.
About 80% of the area deforested is within 30 kilometers (km) of an official road. However, most fire zones are more than 30 km from such roads. Thus the environmental impacts of transportation corridors needs to be more fully considered and taken into account.
Tags: agriculture, Amazon, Brasil, Brazil, deforestation, desmatamento, floresta amazônica, Imazon, logging, mineração, mining, National Geographic, rainforest, urbanization, WRI
3 Responses to "Human Pressure on the Amazonian Rainforest"
Craig Mackintosh Says:
January 17th, 2007 at 11:10

Ugh! The lengths we will go to to maintain our lifestyle! And now they want it too! We're really 'leading' the way, huh.

Keith R Says:
January 17th, 2007 at 12:40

Hi Craig. Welcome to the Temas Blog. I'm honored to have you visit and comment — I'm a fan of your blog. Very thought-provoking, well-written. I've printed out the entries you linked, I want to read them over carefully, sort my thoughts and then maybe I'll "join the conversation" about them at your blog. I hope likewise this is only the visit of your visits here and that you will not be shy about commenting.
Best Regards,
Keith

Craig Mackintosh Says:
January 18th, 2007 at 6:32

Hey Keith – thanks for the welcome! Yes, please do pop over and let us know your thoughts. I shall certainly drop by again too. 🙂
Leave a Reply