« Obesity Among Mexican School Children | Home | Improving Potable Water & Sewage Treatment in Mexico »
By Keith R | January 3, 2009
Topics: Environmental Governance, Environmental Protection | No Comments »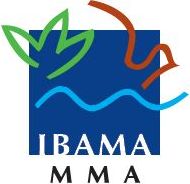 Brazil's environment agency, IBAMA, has announced that it set a new record for issuing environmental licenses during 2008. IBAMA is not in charge of all environmental licensing in Brazil: much of that is done by state and local environment bodies.
IBAMA issued 467 licenses in 2008, almost a 27% increase over licenses granted in 2007 (367).   IBAMA President Roberto Messias Franco insists that the spike in license grants does not "a decrease in the stringency of licensing requirements."
71% of the licenses granted by IBAMA in 2008 were emitted since Carlos Minc took over as Environment Minister in May.  Minc had pledged to "unlock" IBAMA licensing when he assumed the post.  Of the total, 42.7% involve works included in the federal government's Program for Accelerated Growth (PAC) the generation and transmission of energy, oil and gas, and transport infrastructure, among other areas.
[Temas Observation: Of course Minc, as a long-time politican, will emphasize keeping his political promises, and take credit for breaking a bottleneck in the PAC implementation process.  But this cannot help but raise questions, especially in juxaposition with Franco's claim that there has been no drop in licensing standards.  IBAMA has been adding more license application reviewers in recent years, but enough to account for a 27% spike in approvals in one year?  Why did the lion's share of approvals only come in the final half of 2008, and why do most of these involve PAC-related projects?  It's an open secret that President Lula replaced Minc's predecessor, Marina Silva, in part because of his impatience with IBAMA's environmental licensing reviews of PAC projects.  Did this spike in license issuances come because most of those license applications had already run their natural course and were nearing decisions anyway, or was it because Minc overrode the technicos at IBAMA?  I've had both sides argued to me; I'm not sure yet which to believe. ]
Some of the projects that received some type of IBAMA environmental license during 2008 were quite controversial, such as the Santo Antônio and Jirau hydroelectric dams on the Madeira River in Rondônia (RO), and the Angra III Nuclear Power Plant in Angra dos Reis, Rio de Janeiro (RJ).  Each of the Madeira hydroelectric plants should generate 3,100 MW of power and together will produce the equivalent of twice the power consumption of the metropolis of Rio de Janeiro.  Angra III will generate 1,350 MW, enough to supply nearly half Rio's consumption.
The licenses in the area of oil and gas were devoted to production, as in the Marlim Leste, Module 2 field in the Campos Basin off the shores of São Paulo (SP) state, and the Membro Siri reserve and bloc BM-C-7 in the same basin, as well as the prior licensing of production and marketing of natural gas and oil in the Camarupim field the Espírito Santo basin.
As for transporting and processing oil and gas, key licenses involved the Bolivia-Brazil gas pipeline, the license to install a treatment plant for products extracted from the Mussel field in Caraguatatuba (SP), the license to install the pipeline Caraguatatuba-Taubaté and the operating license for the Flexible Natural Gas Terminal in the Port of Pecém, Ceará (CE).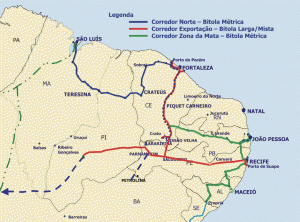 In the area of transport, major undertakings were licensed to Lot 3 Support Units of the Trans-Northeastern Railroad, which received all three major environmental licenses (prior, installation and operation), the North-South Railway, for which both installation and operation licenses have been issued, and the site works of highway BR 230 stretch of the Transamazonian highway in Miritituba, Pará (PA), which obtained the license to install. The Port of Rio Grande in Rio Grande do Sul (RS) also was granted permission to expand its piers.
Energy generation and transmission also important licensing activity by IBAMA. The Angra III Nuclear Power Plant received prior license, and the thermoelectric power plants in Porto Itaqui, Maranhao (MA), as well as the aforementioned Santo Antônio and Jirau hydroelectric plants, obtained installation licenses, while the San Salvador hydroelectric plant  in Tocantins (TO) received its operating license.
Also receiving an operating license was the Mariana-Ubu ore pipeline. This undertaking carries iron ore from Minas Gerais (MG) to Espírito Santo (ES), where the product is shipped for export.
| | | | |
| --- | --- | --- | --- |
| Tipo de licença | Número | PAC | "Era Minc" |
| Licença Prévia | 36 | 19 | 24 |
| Licença de Instalação | 81 | 42 | 60 |
| Licença de Operação | 90 | 17 | 57 |
| Outras licenças | 260 | 121 | 191 |
| Total | 467 | 199 | 332 |
_____________________
Desde o Instituto Brasileiro do Meio Ambiente e dos Recursos Naturais Renováveis (IBAMA):
Ibama licencia mais em 2008

O Ibama quebrou novo recorde de emissão de licenças ambientais em 2008. Ao todo foram 467, entre licenças prévias, de instalação e de operação, além de outras licenças, como as de pesquisa sísmica e as de supressão vegetal.

Houve um aumento de quase 27% no número de licenças concedidas com relação a 2007, quando 367 licenças foram emitidas. "Isso não significou, entretanto, nenhuma diminuição no rigor dos licenciamentos e das exigências feitas a todos empreendedores públicos e privados", garantiu o presidente do Ibama, Roberto Messias Franco.

Das 466 licenças emitidas em 2008, 71% foram concedidas durante a gestão do ministro do Meio Ambiente, Carlos Minc, o qual se comprometeu a "destravar" o licenciamento do Ibama ao assumir o cargo. Do total, 42,7% referem-se a obras do Programa de Aceleração do Crescimento do Governo Federal, ligadas a melhorias na infra-estrutura do País, com investimentos nos setores de geração e transmissão de energia, petróleo e gás, e de transportes, entre outros.

Entre os empreendimentos que receberam algum tipo de licença ambiental nesse ano, alguns foram bastante polêmicos, a exemplo das hidrelétricas de Santo Antônio e Jirau, no Rio Madeira, em Rondônia, e da Usina Nuclear de Angra 3. Cada uma das hidrelétricas do Madeira deve gerar 3.100 MW de energia e juntas vão produzir o equivalente ao dobro do consumo da cidade do Rio de Janeiro. Já Angra 3 irá gerar 1.350 MW, suficiente para abastecer quase a metade da capital carioca.

As licenças de maior destaque na área de petróleo e gás foram as voltadas para a produção, como as do campo de Marlim Leste, Módulo 2, na Bacia de Campos, as do reservatório Membro Siri, e as do bloco BM-C-7, na mesma bacia, e a licença prévia para produção e escoamento de gás natural e petróleo no campo de Camarupim, na bacia do Espírito Santo.

No campo do transporte e beneficiamento de petróleo e gás, foram importantes as licenças referentes ao gasoduto Brasil-Bolívia, a licença de instalação de uma unidade de tratamento para os produtos extraídos do campo Mexilhão, em Caraguatatuba-SP, a licença de instalação do gasoduto Caraguatatuba-Taubaté, e a licença de operação do Terminal Flexível para Gás Natural do Porto de Pecém, no Ceará.

Na área de transportes, os principais empreendimentos licenciados foram as Unidades de Apoio do Lote 3 da Ferrovia Transnordestina, que receberam as licenças prévia, de instalação e de operação; a Ferrovia Norte-Sul, cujas licenças de instalação e de operação foram emitidas; o canteiro de obras da rodovia BR 230; trecho da Transamazônica, em Miritituba/PA, que obteve a licença de instalação. O Porto de Rio Grande/RS também conseguiu a licença prévia para ampliação dos molhes.

A geração e transmissão de energia também tiveram empreendimentos importantes licenciados pelo Ibama. A Usina Nuclear de Angra 3, em Angra dos Reis/RJ, recebeu licença prévia, bem como a Usina Termelétrica Porto de Itaqui, no Maranhão, além das Usinas Hidrelétricas de Santo Antônio e Jirau, que obtiveram licença de instalação, a Usina Hidrelétrica de São Salvador, no Tocantins, recebeu sua licença de operação.

Também merece menção a licença de operação do Mineroduto Mariana-Ubu. O empreendimento transporta minério de ferro de Minas Gerais até o Espírito Santo, onde o produto é embarcado para exportação.
Tags: Angra III, Bacia de Campos, Bolivia, Brasil, Brazil, Camarupim, Caraguatatuba, Carlos Minc, Ceará, energía, energy, environmental licensing, Espírito Santo, Ferrovia Norte-Sul, Ferrovia Transnordestina, gas, gas natural, gasoductos, gasoduto, hidrelétricas, IBAMA, Jirau, licença ambiental, licença de instalação, licença prévia, licenciamento ambiental, Maranhão, Mexilhão, Minas Gerais, Mineroduto Mariana-Ubu, Miritituba, natural gas, PAC, Pará, Pecém, petroleo, petroleum, Rio de Janeiro, Rio Grande do Sul, Rio Madeira, Rondônia, Santo Antônio, São Paulo, São Salvador, Tocantins, Transamazônica, transport, transportes, usina nuclear
Subscribe to My Comments Feed
Leave a Reply