« Brazil Sets Norm on Oil Platform Discharges / Nova regra sobre descarte de óleos por plataformas de petróleo | Home | Improving Water and Sanitation in Minas Gerais / Melhorar tratamento de água e esgoto em Minas »
By Keith R | July 10, 2007
Topics: Conservation, Energy & the Environment, Environmental Protection, Extractive Sectors | No Comments »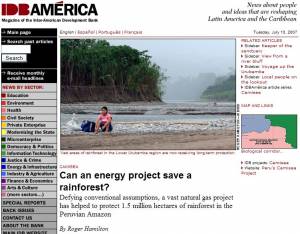 Well, I guess everyone should stop fretting.
The IDB now says the Camisea natural gas project not only will not cause significant harm to Peru's environment and isolated indigenous communities, but may actually be the catalyst for saving the Peruvian rainforest!
Read all about it in the IDB's magazine, IDBAmerica, and let me know if you agree.
Tags: BID, Camisea, gas natural, IADB, IDB, IDBAmerica, indigenous peoples, natural gas, Peru, rainforest
Subscribe to My Comments Feed
Leave a Reply