« When is a Biogas Subsidy an Incineration Subsidy? | Home | Argentina and Brazil Propose HCFC Phaseout »
By Keith R | March 19, 2007
Topics: Biofuels, Energy & the Environment, Environmental Protection, Renewable Sources | No Comments »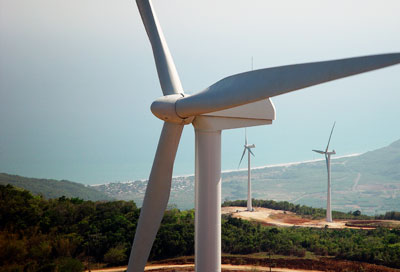 From the Inter-American Development Bank (IDB):
Future development and poverty reduction tied to gains in renewable energy, says IDB President

Technological advances are making renewable energy economically feasible

The countries of Latin America must increase their development of renewable energy sources and improve energy efficiency to ensure future development and the ability to meet the demands of the low-income majority, said IDB President Luis Alberto Moreno today.

In contrast to the discussions sparked by the 1970s energy crisis, the region's countries today are in the center of the current debate on the subject, both due to their growing energy needs and because of potential role of some of them as major suppliers of alternatives to fossil fuels, he said.

Moreno was speaking at the opening of a seminar Sustainable Energy for Sustainable Development that was held in conjunction with the 48th Annual Meeting of the IDB's Board of Governors in this Central American capital. The formal sessions begin on Monday, March 19. The seminar was sponsored by the German government.

The IDB president disputed those who maintain that the present interest in renewable energy is a transitory phenomenon.

First, said Moreno, advances in technology have reduced the costs of renewable energy sources, in the case of solar energy, from $200 to $3 per installed watt. In Mexico, the state of Oaxaca will put into operation a 250-megawatt wind farm in 2008 while Brazil is building two wind power projects with a combined generating capacity of 425 megawatts.

Moreover, not just Brazil, but other countries in the region, have considerable potential to produce ethanol and other biofuels, said Moreno.

In the second place, he said, there is a growing consensus over the dangers of global warming, which could seriously affect Latin American countries. Twelve countries have or are in the process of adopting goals for the use of biofuels in response to this threat, he added.

Moreno described a new IDB initiative in which the Bank will help to clear away roadblocks to the generation and use of renewable energy and work to develop mechanisms through which entities in industrialized countries receive credit in exchange for financing projects that reduce greenhouse gas emissions in the countries of Latin America.

In her statement, Guatemalan Minister of Energy and Mines Carmen Urizar said that her government has accepted the challenge to gradually replace fossil fuels with renewable energy. She added that access to energy is crucial for countries where a large proportion of the population has unmet needs. "Eliminating poverty is the priority objective of our energy policy," she said.

A representative of the German government told seminar participants that a key European Union goal is the adoption of sustainable energy. But early action is needed to avert "enormous damage," said Karin Kortmann, state parliamentary secretary for Germany's Ministry of Economic and Development Cooperation and IDB governor.

Kortmann conceded that Latin America only generates 4 percent of the world's greenhouse gasses. But the push for renewable energy is still crucial for the region because of its vulnerability to climate change. Moreover, she continued, a forward-looking energy policy is politically necessary for Latin America as a way to ensure energy independence and as necessary precondition to reducing poverty.

According to Kortmann, Germany is one of the world's leaders in solar, wind and biodiesel power generation.

Energy demand in Latin America is expected to increase 75 percent by the year 2030, and electrical generating capacity will need to increase 144 percent. Studies indicate that non-hydrocarbon energy sources such as wind power, hydroelectric and geothermal power could provide from 23 percent to 47 percent of the region's electricity demand by that same date.

For the second year in a row, the IDB's Annual Meeting is carbon neutral by offsetting greenhouse gas emissions associated with the event. These emissions are calculated on the basis of each participant's long distance and local travel, accommodations and conference venues.

The IDB is offsetting these emissions by financing a project to build a small hydro plant, without the use of a dam, to help improve the quality of life of indigenous communities living in the Vaupés area of Colombia, near the border with Brazil.
Desde el Banco Interamericano de Desarrollo (BID):
Futuro desarrollo y disminución de pobreza vinculados a beneficios de la energía renovable, dice presidente del BID

Avances tecnológicos están haciendo económicamente factible la energía renovable

Los países de América Latina deben aumentar su desarrollo de recursos de energía renovable y mejorar su eficacia energética para asegurar su futuro desarrollo y la capacidad de satisfacer las demandas de las mayorías de menor ingreso, dijo hoy el Presidente del Banco Interamericano de Desarrollo, Luis Alberto Moreno.

A diferencia de las discusiones generadas por la crisis energética de los años 70, los países de la región se encuentran hoy en el centro del actual debate sobre el tema, tanto por su creciente necesidad de energía como por el papel potencial de algunos países latinoamericanos como importantes abastecedores de alternativas a los combustibles fósiles, agregó.

Moreno habló en la inauguración del seminario "Energía Sostenible para el Desarrollo Sostenible" auspiciado por el gobierno de Alemania bajo el marco de la 48va Reunión Anual de la Asamblea de Gobernadores del BID que se realiza en Ciudad de Guatemala. Las sesiones formales empiezan el lunes 19 de marzo.

El presidente del BID cuestionó a quienes sostienen que el interés que existe actualmente en la energía renovable es un fenómeno pasajero.

Primero, dijo Moreno, los avances tecnológicos han disminuido los costos de las fuentes de energía renovable. En el caso de la energía solar se han reducido de 200 dólares a 3 dólares por vatio instalado. En 2008 el estado mexicano de Oaxaca pondrá en operación una planta cólica de 250 megavatios, mientras que Brasil está construyendo dos proyectos de energía eólica con una capacidad de generación combinada de 425 megavatios.

Más aún, dijo Moreno, no sólo Brasil sino también otros países en la región tienen un considerable potencial para producir etanol y otros biocombustibles.

En segundo lugar, agregó, hay un consenso creciente sobre los peligros del calentamiento mundial, que podría afectar gravemente a los países latinoamericanos. En respuesta a esta amenaza, ya doce países tienen o están en proceso de adoptar metas para el uso de biocombustibles, añadió.

Moreno describió una nueva iniciativa del BID por la cual el Banco ayudará a eliminar los obstáculos para la generación y uso de energía renovable y también trabajará para desarrollar mecanismos mediante los cuales las entidades de países industrializados reciban crédito por financiar proyectos que reduzcan las emisiones de gas con efecto invernadero en América Latina.

La ministra de Energía y Minas de Guatemala, Carmen Urizar, dijo durante su intervención que su gobierno ha aceptado el reemplazo gradual de combustibles fósiles por energía renovable. Agregó que el acceso a la energía es crucial en países donde un gran porcentaje de la población tiene necesidades que no han sido satisfechas. "Eliminar la pobreza es el objetivo prioritario de nuestra política energética", agregó.

Una representante del gobierno alemán dijo a los participantes del seminario que un objetivo clave de la Unión Europea es la adopción de la energía sostenible. Pero que era necesaria una acción temprana para evitar un "enorme daño", dijo Karin Kortmann, Secretaria de Estado Parlamentaria del Ministerio Federal de Desarrollo Económico y Cooperación (BMZ) de Alemania y gobernadora del BID.

Kortmann admitió que América Latina sólo genera 4 por ciento de la emisión mundial de gas de efecto invernadero. Pero que sin embargo el esfuerzo por la energía renovable es crucial a la región por su vulnerabilidad a los cambios climáticos. Mas aún, agregó, una política energética progresista es también políticamente necesaria en la región como una forma de asegurar independencia energética y como precondición necesaria para reducir la pobreza.

Según Kortmann, Alemania es uno de los líderes mundiales en la generación de energía solar, energía eólica y de biocombustibles.

Se espera que la demanda de energía en América Latina aumente un 75 por ciento para el año 2030, y la capacidad de generación eléctrica necesitará aumentar un 144 por ciento. Los estudios indican que para esa fecha las fuentes energéticas tales como la eólica, la hidroeléctrica y la geotérmica podrían satisfacer del 23 al 47 por ciento de la demanda de energía eléctrica de la región.

Por segundo año consecutivo, la Reunión Anual del BID es un evento cuyas emisiones de gas de efecto invernadero son neutralizadas. En un evento con emisiones neutras, los gases de efecto invernadero que se generan y que no se pueden reducir por otros métodos se compensan mediante la compra de reducciones de emisiones. Estas emisiones se calculan en base al desplazamiento aéreo y local de cada participante, así como en el alojamiento local y en lo que se produzca en el sitio de la conferencia.

El BID neutraliza estas emisiones financiando un proyecto para construir una pequeña planta hidroeléctrica, sin necesidad de usar una represa, para ayudar a mejorar la calidad de vida de comunidades indígenas que bien en la zona de Vaupés en Colombia, cercana a la frontera con Brasil.
Tags: Alemania, BID, biocombustibles, biocombustiveis, Biofuels, Brasil, Brazil, calentamiento global, energía eólica, energía renovable, energia renovável, energía solar, gases de efecto invernadero, Germany, greenhouse gases, IDB, Mexico, Oaxaca, renewable energy, solar energy
Subscribe to My Comments Feed
Leave a Reply