« LAC Wins Two of Five UNDP Equator Awards | Home | Brazil Develops Faster Hepatitis A Diagnostic »
By Keith R | May 24, 2007
Topics: Energy & the Environment, Environmental Protection, Extractive Sectors | No Comments »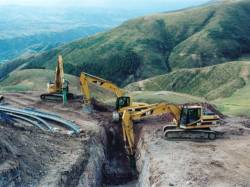 Last Thursday (17 May) the Inter-American Development Bank (IDB) released the results of an environmental and social audit (executive summary in Spanish; "fact sheet" in English and Spanish) and of an "integrity review" (executive summary in English; "fact sheet" in English and Spanish) of a natural gas pipeline project in Peru known as Camisea. IDB declares that the audit shows "generally acceptable performance" by the Camisea project and the integrity review identified the pipeline risks as "geotechnical and geological" rather than resulting from construction practices, and asserts that measures have been taken to minimize such risks.
Why is this news? you may be asking, The IDB does environmental and/or social assessments on many of its projects, right? Yes, environmental impact assessments prior to backing a project, but environmental audits of one underway are rare and their publication by IDB rarer still. And when was the last time you saw the IDB conduct a technical "integrity review", much less publish it?
But then, this is Camisea, one of the most controversial projects the IDB has ever backed.
What is Camisea?
Camisea is not just another IDB-funded project. If it were, it would not have its own IDB webpage and a five-page "backgrounder" arguing all the benefits the project will bring to Peru. Surf the IDB's website and tell me how many other individual projects you see this treatment for!
The original Camisea Project actually consists of three very interrelated projects ("upstream," "downstream" and "distribution"). Exploration/exploitation of natural gas occurs at the Camisea fields and initial processing at Las Malvinas, both hundreds of kilometers west of Lima in the southeastern Amazonian portion of the country. Twin pipelines — one carrying natural gas, the other natural gas liquids, together cross demanding jungle terrain and Andean peaks until reaching the coast near Pisco, where the natural gas pipeline veers north to supply industry and households in greater Lima and the liquids pipeline heads to a fractionation plant and marine terminal.
Yes, under "Camisea II" Peru intends to export some of the output: for certain to Mexico, while the US, Chile and even Argentina and Brazil have been mentioned as other potential customers. The partners in Camisea II are even talking about constructing another pipeline.
Who's Involved?
The IDB presently only participates in the "downstream" component, which covers the pipelines: it directly provided a US$75 million loan to "Transportadora de Gas del Perú" (TgP) for the pipeline, plus a US$ 5 million loan to the Peruvian Government to "strengthen its institutional capacity to monitor the environmental and social effects of the Project." It also syndicated a US$60 million loan for TgP. The Andean Development Corporation (CAF) also loaned TgP US$75 million for the pipeline.
Who is TgP? While it sounds Peruvian, it mostly isn't. TGP is partially owned (23.6%) by Techint, the same Argentine firm TgP employed to build the pipeline and also the manufacturer of the piping utilized, through its subsidiary Tecgas NV. [Tecgas is the designated "operating member" — i.e., the one in charge of day-to-day operations — of TgP.] Other TgP shareholders include the Algerian hydrocarbons firm Sonatrach, the Argentine hydrocarbons firm Pluspetrol (12.38% stake in TgP), the Peruvian construction firm Graña y Montero (with only a 2% stake), the South Korean energy firm SK Corporation (11.1% stake), the Belgian energy/engineering conglomerate Suez-Tractebel (8.07% stake), and the US firm Hunt Oil (22.2% stake).
The members of the consortium "Peru LNG" involved in Camisea II are Hunt Oil, which has majority share, SK Corporation, and the Spanish-Argentine oil and gas firm Repsol YPF (partially owned by Pluspetrol).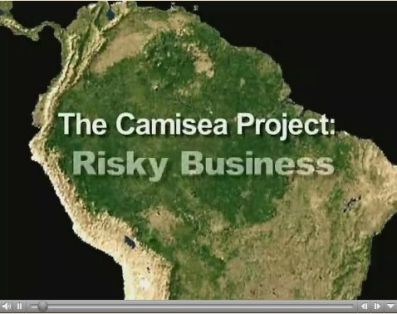 Peru LNG wants the IDB to lend it US$400 million and help it raise an equal amount from private investors. IDB is supposed to decide on its participation later this year, based in part on the conclusions of the aforementioned environmental/social audit and pipeline integrity assessment.
Why is Camisea Controversial?
Ay, where to begin in answering that question? Well, perhaps first I should point to a pretty decent, readable summary of the project and its controversies through spring 2006 in Grist.
Many blog posts could be written about the objections to Camisea (in fact, many have). I'll only give a quick summary with links here:
the extraction operations and pipelines may harm what the Smithsonian Institution calls one of the most richly biodiverse rainforests of the world;
the extraction operations are harming the indigenous populations that are supposed to be protected by the state because they have chosen to live in isolation. There was numerous charges here, from exposing the locals, who because of their isolation lack natural immunities, to sickness and death by diseases brought by the workers, to ruining their fishing grounds;
the pipeline runs through many indigenous lands for which the locals were poorly compensated;
the environmental and safety management of the pipeline's construction has been poor, increasing the likelihood of dangerous spills and accidents. Indeed, since operations started in 2004, there have been six spills — four in the first 15 months(!), an explosion in 2006 that harmed several locals, and the latest just this past April (click on image at right to view a newscast in Spanish reporting on the latest spill) — after TgP supposedly had taken steps to correct problems and minimize risks. And an independent audit by E-tech (executive summary in English, Spanish) presented to the IDB last year suggested numerous violations of industry and Bank standards.
The technical audit of the operations contracted by the Peruvian government was not trustworthy because of how it was contracted.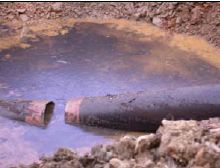 The project has been opposed by several nongovernmental organizations (NGOs), including the Rainforest Action Network (RAN), Environmental Defense, Friends of the Earth International (FoEI), Oxfam, Amazon Watch (click on the "Risky Business" image above to see Amazon Watch video summary of the project and its risks), Amazon Alliance (English, Spanish), the Bank Information Center (BIC) and a host of organizations representing indigenous people (most without websites).
And then there are the special hearings by the Inter-American Commission on Human Rights (Comisión Interamericana de Derechos Humanos – CIDH) on whether the project violated the human rights of the indigenous communities involved…
IDB Goes Where Others Fear to Tread
As a result of such opposition and doubts raised about the environmental protection risks represented by the project, back in 2003 the US Export-Import Bank (Eximbank) declined to get involved in the project's financing, as did the Overseas Private Investment Corporation (OPIC) and Citigroup. In fact, debate over Camisea contributed to the development and adoption in 2003 of the Equator Principles on environmental and social issues in project financing.
The IDB and CAF did choose to get involved in the project, both claiming that they did so in order to use their participation to leverage better environmental, social and safety management out of the project participants.
Many of Camisea's critics, however, retort that until the Bank finally commissioned the special audits late last year, it was doing very little to ensure that the project met industry standard practice, much less its own environmental guidelines. They also assert that the Bank only agreed to the special audits because NGO campaigning, E-tech's damaging technical assessment, and questions about the objectivity of the Peruvian government's technical report all had raised doubts about the wisdom of possible IDB involvement with Camisea II.
Fears Quieted, or Just the Calm Before a New Storm?
The Bank hopes that these audits will take the wind out of the sails of Camisea's critics and clear the way for IDB participation in funding Camisea II. The risks have been minimized, they argue, things are not as bad as many feared, and this project is critical for Peruvian energy independence, export earnings, etc.
I waited in posting this precisely because I expected at a couple, if not most, of Camisea's critics to pounce on the audits' release with heavy criticisms.
So far, that has not happened. The only reaction I have seen so far is an E-tech line-by-line response (English, Spanish) to the pipeline integrity study.
Perhaps the NGOs are simply saving it for the public meeting on the two audits to be held Monday, 04 June, at IDB Headquarters in Washington, D.C. If you are interested in attending, it is open to the public but you need to RSVP by phone [202-623-3524] or email [danielsa@iadb.org].
Meanwhile, protesters have marched to a Camisea pipeline pumping station, blockaded a key road and threatened to take over the pipeline until the Energy Minister comes to the area to personally hear their concerns about spills and demands for damage compensation.
Stay Tuned!
From the Inter-American Development Bank (IDB):
IDB releases results of a social and environmental audit and a pipeline integrity analysis of the Camisea Project in Peru

Effective social, environmental performance noted

The Inter-American Development Bank today released the results of an environmental and social audit of the Camisea project, carried out by ICF International, and a pipeline integrity analysis of the gas transportation system prepared by Exponent, Inc.

The environmental and social audit is a requirement included in the IDB's 2003 loan contract for the transportation component of the Camisea project. IDB required the pipeline integrity analysis as part of its supervision of the loan.

The Camisea project is comprised of a gas extraction component, owned and operated by Pluspetrol, a gas transportation system owned by Transportadora de Gas del Peru S.A. (TgP) and a distribution component carried out by Cálidda. The IDB approved a $75 million loan to the transportation component of the project in 2003. In 2002, the Bank provided a $5 million loan to the Government of Peru (GoP) for capacity building and oversight of the project. The Andean Development Corporation (CAF) is a co-lender to the project. Other lenders include local institutional investors.

Bruce Babbitt, former U.S. Secretary of the Interior and head of a panel appointed to advise the IDB on issues related to sustainable development, commended the Bank for following through on its commitment to produce the two audits: "This is one of the most important and contentious projects that the Bank has ever helped to finance. I am pleased that the Bank has commissioned and published these studies, and pleased that the studies describe ways that all involved in the project can improve their practices."

ICF's social and environmental audit found generally acceptable performance in social and environmental management, based on an examination of five areas: environmental, social, health and occupational safety, contingency planning and emergency response, and cross-cutting issues including management of contract staff and training.

ICF's audit rated TgP's and Pluspetrol's performance as effective, identifying monitoring of erosion, re-vegetation and biodiversity, mechanisms for communication to local communities and execution of occupational health and safety practices as areas for improvement. Many of the recommendations are already addressed in corrective action plans negotiated with the IDB.

ICF credited the GoP for making strides in supervision and management of the environmental and social aspects of the Project and recommended enhanced coordination of environmental management in the Lower Urubamba Valley of Peru overall.

The findings of the social and environmental audit will be presented to interested parties in meetings in Peru.

Exponent's pipeline integrity analysis identified the main risks to the pipeline as being associated with geotechnical and geologic conditions. Geotechnical stabilization measures have reduced the risk, the report said.

Exponent reviewed five spill incidents that occurred between December 2004 and March 2006 and assessed the overall integrity of the pipelines, evaluating risks and mitigation actions taken by TgP. The audit identified geological factors (including steep topography and poor soil conditions) as responsible for three of the spills, a crack related to a weld as the main cause of one, and scour in a river crossing as causing another.

Exponent found that risks associated with construction, specifically as related to welds and pipe material, are minimal. The report said all pipes were purpose-built for the Camisea project and coated with an anti-corrosion layer.

TgP has invested $50 million for various improvements to reduce risks to the pipelines. In conjunction with IDB, the company has also established an action plan to further improve the pipeline integrity management.

Jaime Quijandria, Executive Director for Peru at the IDB and a former Minister of Energy and Mines underscored the significance of the project for Peru's development, "The Camisea gas project is key to Peru's energy security and economic development. But it also presents our country with significant engineering, environmental and social challenges. I believe that the Bank's involvement has brought about more successful outcomes for Peru than would otherwise be possible, in part by helping us to define and correct problems as they arose."

The Bank is committed to continued monitoring of performance of the companies and to support the sustainable development of the Lower Urubamba Valley of Peru.
Desde el Banco Interamericano de Desarrollo (BID):
BID divulga resultados de una auditoria social y ambiental y un análisis de la consistencia de los ductos del Proyecto Camisea en el Perú

Se destaca rendimiento efectivo en el manejo social y ambiental

El Banco Interamericano de Desarrollo divulgó hoy los resultados de una auditoría social y ambiental del proyecto Camisea, llevado a cabo por ICF International y un análisis de la integridad de los ductos del sistema de transporte del gas, preparado por Exponent, Inc.

La auditoría social y ambiental es un requisito del préstamo otorgado por el BID en el 2003 para el componente de transporte de Camisea. El BID solicitó el análisis de integridad de los ductos como parte de su labor de supervisión del préstamo.

El proyecto de Camisea está integrado por un componente de extracción de gas —cuyo propietario y operador principal es Pluspetrol —, un sistema de transporte de gas —propiedad de Transportadora de Gas del Perú S.A. (TgP) — y un componente de distribución, a cargo de la empresa Cálidda. En 2003, el BID aprobó un préstamo de US $ 75 millones de dólares al componente de transporte del proyecto. En 2002, el Banco otorgó al Gobierno del Perú un préstamo de US $ 5 millones de dólares, destinado a la capacitación y desarrollo de programas, así como a la supervisión del proyecto. La Corporación Andina de Fomento (CAF) es también prestamista del proyecto, así como lo son varios inversionistas institucionales locales.

Bruce Babbit, ex Secretario del Interior de Estados Unidos y jefe del panel nombrado para formular recomendaciones al BID en temas vinculados al desarrollo sostenible, elogió al Banco por su fidelidad al compromiso de ejecutar las dos auditorías: "Este es uno de los más importantes y polémicos proyectos que el Banco haya ayudado a financiar a lo largo de toda su vida institucional. Me complace que el Banco haya encargado y publicado estos estudios, y además que éstos describan formas para mejorar las prácticas de todos involucrados en el proyecto".

La auditoría del ICF encontró en general niveles aceptables de manejo social y ambiental, con base en el examen de cinco áreas: medio ambiente, social, salud y seguridad ocupacional, planificación de contingencias y respuesta frente a emergencias, así como otros temas relevantes que incluyen el manejo de la contratación y la capacitación laboral de los trabajadores.

El estudio de ICF calificó el desempeño de TgP y Pluspetrol como eficaz, identificando el monitoreo de la erosión, la reforestación y biodiversidad, los mecanismos de comunicación con comunidades locales y la ejecución de prácticas de salud y seguridad como áreas susceptibles de ser mejoradas. Muchas de las recomendaciones ya están siendo asumidas en diversos planes de acción correctivos discutidos conjuntamente con el BID.

ICF reconoció al Gobierno del Perú por sus avances en la supervisión y manejo de los aspectos ambientales y sociales del Proyecto, y recomendó una mayor coordinación del manejo ambiental en los valles del Bajo Urubamba.

Los resultados de la auditoría social y ambiental serán presentados en el Perú a todas las partes interesadas.

El estudio de Exponent subraya que los mayores riesgos que enfrentan los ductos están asociados a las condiciones geotécnicas y geológicas que afronta el proyecto. Las medidas de estabilización geotécnica han reducido los riesgos, dice el informe.

Exponent revisó cinco incidentes de derrames ocurridos entre diciembre de 2004 y marzo de 2006 y evaluó las estimaciones globales de la consistencia de los gasoductos, tomando en cuenta los riesgos y las acciones de reducción emprendidas por TgP. La auditoría identificó factores geológicos (incluyendo la empinada topografía y las pobres condiciones del terreno) como responsables de los tres derrames; una grieta relacionada a una soldadura como la causa principal de uno de ellos, y a la erosión en el cruce de un río por los efectos de las corrientes como la causa de otro.

Exponent señala que los riesgos asociados con la construcción, en particular aquellos relacionados con soldaduras y tubería, son mínimos. El reporte subraya que toda la tubería fue manufacturada específicamente para el proyecto Camisea y recubierta con una capa anti-corrosión.

TgP ha invertido US $ 50 millones de dólares en varias mejoras destinadas a reducir los riesgos de los gasoductos. Junto con el BID, la compañía también ha establecido un plan de acción para mejorar más aún el manejo de la ingtegridad del gasoducto.

Jaime Quijandría, Director Ejecutivo del Perú en el BID y ex Ministro de Energía y Minas, subrayó la importancia del proyecto para el desarrollo del Perú. "El Proyecto de gas de Camisea es vital para encarar la seguridad energética y el desarrollo del Perú. Pero también confronta a nuestro país con enormes retos sociales, ambientales y de ingeniería. La participación del Banco ha traído como consecuencia que se produzcan resultados exitosos para el Perú, que de otra forma no hubieran sido posibles. Y eso ha sido así en parte porque nos ha ayudado a identificar y a corregir errores tan pronto como ocurren".

El Banco está comprometido a continuar monitoreando el desempeño de las compañías y apoyar el desarrollo sostenible del Valle del Bajo Urubamba en Perú.
Tags: Amazon Alliance, Amazon Watch, Argentina, auditoria ambiental, auditoria social, BIC, BID, biodiversidad, Biodiversity, CAF, Cálidda, Camisea, Chile, CIDH, Citigroup, E-tech International, energy security, environment, environmental audit, Environmental Defense, Equator Principles, erosion, Eximbank, Exponent, FoEI, gas natural, gas pipeline, gasoductos, Graña y Montero, Grist, Hunt Oil, ICF International, IDB, indigenous peoples, medio ambiente, meio ambiente, Mexico, natural gas, OPIC, Oxfam, Peru, Peru LNG, pipeline integrity, Pluspetrol, rainforest, RAN, reforestación, Repsol YPF, seguridad energética, SK Corporation, Smithsonian Institution, soldaduras, Sonatrach, Suez-Tractebel, Tecgas NV, Techint, TgP, tubería, welds
Subscribe to My Comments Feed
Leave a Reply