« Tetra-Pak Chooses to Deal | Home | A Deal to Improve Bogotá's Air »
By Keith R | July 26, 2007
Topics: Biofuels, Economics & the Environment, Energy & the Environment, Environmental Protection | No Comments »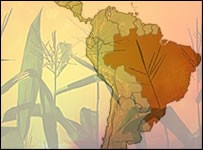 From the Inter-American Development Bank (IDB):
IDB approves US$120 million for biofuel project in Brazil

First IDB private sector financing for bioenergy

The Board of Directors of the Inter-American Development Bank today approved its first private sector financing for a bioenergy project in Brazil for a total of US$120 million to Usina Moema Acúcar e Alcohol Ltda., a major sugar, ethanol and bio-energy producer based in the State of São Paulo, that is operating in one of the fastest growing industries in Brazil and worldwide.

This operation is part of IDB's initiative to promote the structuring of senior debt financing for five Brazilian ethanol production projects that will have a total cost of US$997 million. These investments will contribute to Brazil's goal of tripling annual ethanol production by 2020.

The IDB also supports the Brazilian government's goal of becoming a global center of excellence for research and development in biofuels. The Bank is holding discussions with senior Brazilian officials with a view to facilitating technology transfer and technical assistance, so that other countries in the region can benefit from Brazilian know-how.

"In past years, Moema's brisk growth was financed primarily by short- and medium-term debt," said IDB team leader Leandro Alves. "Moema is now in the process of refinancing up to US$120 million of such debt through a financing package put together by the IDB."

The package comprises an IDB loan of up to US$40 million from the Bank's ordinary capital and $80 million of co-financing from commercial banks.

"The transaction will help Moema increase the average life of the debt being refinanced from approximately 10 months to 6.6 years," explained the other IDB team leader, Sylvia Larrea. "It will therefore improve the company's debt profile towards one more consistent with the long-term nature of its assets, enhancing the sustainability of the company," added Larrea.

The operation will allow Moema to redirect funds currently used to service short-term debt to fund its capital investment plan, including projects to boost Moema's production of sugar, ethanol and energy co-generation from biomass (bagasse).

IDB's private sector window serves as a catalyst, not only enabling financing in the long tenors required by the company, but also mobilizing private funds in the form of co-financings. Required implementation of IDB's Environmental and Social Management System ensures a good management of potential environmental, social, health, safety, and labor impacts.
_____________________________________
Desde o Banco Interamericano de Desenvolvimento (BID):
O BID aprova us$120 milhões para projeto de biocombustíveis no Brasil

Primeiro financiamento do BID ao setor privado para bioenergia

A Diretoria Executiva do Banco Interamericano de Desenvolvimento aprovou hoje o seu primeiro financiamento ao setor privado para um projeto de bioenergia no Brasil, num total de US$ 120 milhões, para a Usina Moema Açúcar e Álcool Ltda., um importante produtor de açúcar, etanol e bioenergia sediado no estado de São Paulo, que opera num dos setores de mais rápido crescimento no Brasil e no mundo.

Essa operação é parte da iniciativa do BID para promover a estruturação do financiamento da dívida privilegiada de cinco projetos brasileiros de produção de etanol, que terão um custo total de US$ 997 milhões. Esses investimentos contribuirão para a meta do Brasil de triplicar a produção anual de etanol até 2020.

O BID também apóia a meta do governo brasileiro de tornar-se um centro mundial de excelência para a pesquisa e desenvolvimento em biocombustíveis. O Banco está mantendo conversações com autoridades brasileiras com o objetivo de facilitar a transferência de tecnologia e assistência técnica, para que outros países da região possam beneficiar-se do know-how do Brasil.

"Em anos passados, o crescimento acelerado da Moema foi financiado principalmente por dívida de curto e médio prazo", disse o líder de equipe do BID Leandro Alves. "A Moema está agora em processo de refinanciar até US$ 120 milhões dessa dívida por meio de um pacote de financiamento oferecido pelo BID."

O pacote compreende um empréstimo do BID de até US$ 40 milhões com recursos do capital ordinário do Banco e US$ 80 milhões de co-financiamento por parte de bancos comerciais.

"A transação ajudará a Moema a aumentar de aproximadamente 10 meses para 6,6 anos a duração média da dívida que está sendo refinanciada", explicou a outra líder de equipe do BID, Sylvia Larrea. "Em conseqüência, melhorará o perfil de dívida da empresa, tornando-o mais compatível com a natureza de longo prazo de seus ativos e aumentando a sua sustentabilidade", acrescentou Larrea.

A operação permitirá que a Moema redirecione fundos atualmente usados no serviço da dívida de curto prazo para financiar o seu plano de investimento de capital, incluindo projetos destinados a impulsionar a produção de açúcar, etanol e co-geração de energia a partir da biomassa (bagaço).

A iniciativa do BID para o setor privado atua como um catalisador ao possibilitar financiamento nos prazos mais longos requeridos pela empresa e, ao mesmo tempo, mobilizar fundos privados na forma de co-financiamentos. A exigência de implantação do Sistema de Gestão Ambiental e Social do BID assegura uma boa administração de possíveis impactos ambientais, sociais, sanitários, trabalhistas e de segurança.
_____________________________________
Desde el Banco Interamericano de Desarrollo (BID):
BID aprueba US$120 millones para proyecto de biocombustibles en Brasil

Primer financiamiento del BID al sector privado para bioenergía

El Directorio Ejecutivo del Banco Interamericano de Desarrollo aprobó hoy el primer financiamiento del sector privado para un proyecto de biocombustibles en Brasil por un total de US$120 millones a Usina Moema Açúcar e Álcool Ltda. con sede en São Paulo. Moema es un importante productor de azúcar, etanol y bioenergía, operando en una de las industrias de más rápido crecimiento en Brasil y en el mundo.

Esta operación forma parte de una iniciativa del BID para promover la estructuración de financiamiento de deuda prioritaria para cinco proyectos de producción de etanol en Brasil que tendrán un costo total de US$997 millones. Estas inversiones contribuirán al objetivo de Brasil de triplicar su producción anual de etanol para el año 2020.

El BID también apoya el objetivo del gobierno brasileño de convertir a su país en un centro mundial de primer nivel para investigación y desarrollo de biocombustibles. El Banco viene sosteniendo conversaciones con las principales autoridades de Brasil para facilitar la transferencia de tecnología y asistencia técnica y permitir que otros países de la región se puedan beneficiar del conocimiento y la experiencia de Brasil en este campo.

"En años anteriores, el vigoroso crecimiento de Moema se financió principalmente mediante deuda a corto y mediano plazo", afirmó uno de los jefes del equipo del BID, Leandro Alves. "Actualmente, Moema ha iniciado un proceso de refinanciamiento de esa deuda hasta un monto de US$120 millones, a través de un paquete de financiamiento preparado por el BID", añadió.

El paquete comprende un préstamo del BID de hasta US$40 millones del capital ordinario del Banco y un cofinanciamiento de hasta US$80 millones proveniente de bancos comerciales.

"La transacción ayudará a Moema a extender de 10 meses a 6,6 años el promedio de vida de la deuda refinanciada", explicó otra jefa del equipo del BID, Sylvia Larrea. "Esto permitirá mejorar el perfil de la deuda de la compañía, haciéndolo más acorde con las características de largo plazo de sus activos básicos, mejorando la sostenibiliad de la empresa", añadió Larrea.

La operación permitirá a Moema reorientar fondos que actualmente usa para atender el servicio de su deuda a corto plazo, para financiar su plan de inversiones de capital, incluidos proyectos tendientes a impulsar la producción de azúcar, de etanol y la cogeneración de energía a partir de biomasa (bagazo).

La ventanilla del sector privado del BID sirve de catalizador, facilitando no sólo los financiamientos de largo plazo que requiere Moema, sino también la movilización de fondos privados en forma de cofinanciamiento. La condición de implementar el Sistema de Gestión Ambiental y Social del BID asegura el buen manejo de los potenciales impactos ambientales, sociales, laborales y de salud.
Tags: açúcar, azúcar, bagaço, bagasse, bagazo, BID, biocombustibles, biocombustiveis, bioenergía, bioenergy, Biofuels, biomasa, biomass, biomassa, Brasil, Brazil, co-financiamento, co-financing, co-generation, cofinanciamiento, cogeneração, cogeneración, etanol, ethanol, IADB, IDB, Moema, São Paulo
Subscribe to My Comments Feed
Leave a Reply