« Pesquisa mostra Brasil vulnerável às mudanças climáticas | Home | One of the World's Top PET Recyclers »
By Keith R | January 13, 2007
Topics: Environmental Governance, Environmental Protection | No Comments »
When the Governing Council (GC) of the UN Environment Programme (UNEP) and the Global Ministerial Environmental Forum (GMEF) meet in Nairobi in February, the theme will be "Globalization and the Environment and United Nations Reform." Thus it seems timely to (finally) finish and release this entry I started a few months back.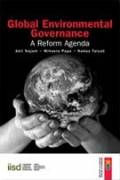 In September 2006 the International Institute for Sustainable Development (IISD) released a publication which I have added to the Temas Actuales Recommended Reading List. Entitled Global Environmental Governance: A Reform Agenda, the report examines the "the sum of organizations, policy instruments, financing mechanisms, rules, procedures and norms that regulate the processes of global environmental protection" — or global environmental governance (GEG), for short — explains its evolution, analyzes its perceived shortcomings, and makes recommendations on how to improve it.
GEG encompasses not only the some 500 existing multilateral environment agreements (MEAs) — for example, the Basel Convention (hazardous waste), MARPOL (marine pollution), Kyoto Protocol (climate change), Montreal Protocol (ozone-depleting substances) — but also other types of agreements with environment components, and the many United Nations and other bodies created or mandated to work on environment issues.
If you deal with international environment issues at all, this book provides some worthwhile food for thought. For someone like me who deals with environmental policy in the context of Latin America and the Caribbean (LAC), the health and future of GEG is critical. Many of the region's governments probably would not act as soon or as strongly (if at all, in some cases) on many of their environmental challenges without the steady pressure of their international commitments [for a snapshot of which nations have signed onto which environmental commitments, see my LAC ratification chart]. Some politicians and proud nationalists might deny that is the case, but most of us working in environmental protection in the region any length of time know it to be true.
The report identifies six principal challenges the authors feel should be addressed by any reform attempts:
The proliferation of MEAs and fragmentation of GEG;
Lack of cooperation and coordination among international organizations;
Lack of implementation, compliance, enforcement and effectiveness;
Inefficient use of resources;
GEG outside the environment arena (for example, environment issues discussed within trade talk contexts);
Non-state actors in a state-centric system.
The report suggests that any GEG reform be based on the following premises/understandings:
There is a clear and urgent need for GEG reform.
GEG reform likely would be more effective if accompanied by system-wide UN reform.
The system need not be entirely dismantled to be rebuilt. Some things it already does well, and others that show promise, should be encouraged and built upon, not scraped.
Grandiose schemes for massive overhaul of the GEG system are neither desirable nor realistic. Targeted reform, fixing only what needs fixing and can actually be fixed, is better.
While short-term reform steps should focus on the necessary, desirable and doable, they should be taken in the context of a broad articulated context of what we would like the GEG system to eventually look like.
Any GEG reform effort, the report argues, should focus on five principal goals:
Leadership:

The GEG system should grasp the attention and visible support of high-profile political leaders.
The key institutions within the system should be managed by leaders of the highest professional caliber and international repute; all working together towards the best interests of the GEG system as a whole.
The selection process should be streamlined, transparent and subject to consistent criteria that emphasize both political and managerial skills.
Candidates should not be limited to persons nominated by governments.
Candidates should articulate their visions for the agency before being picked.
Consideration should be given to appointing a single individual to be executive of more than one related organization, particularly with regard to MEAs which have overlap or synergies.
Once elected, leaders should be given the independence and resources to lead their organizations with, and toward, excellence.

Knowledge:

Science should be the authoritative basis of sound environmental policy.
The GEG system should be seen as a knowledge-based and knowledge-producing system.
UNEP should become a preeminent convener and catalyst of authoritative, cross-cutting and relevant science on issues related to the global environment. UNEP should establish the independent position of Chief Scientist to coordinate this effort.
There is an urgent need to integrate the scientific and technical advice (STA) bodies of the various MEAs, and depoliticize them by returning them to their original intended composition — scientists, not negotiators.

Coherence. GEG should operate as a coherent "system" with reasonable coordination, regular communication and a shared sense of direction among its various elements. Useful steps would include:

Stop proliferating the "ministerial level" meetings and forums (weakening the currency of "ministerial level") and instead make GMEF the principal regular forum for high-level political decision-making on issues related to GEG.
Stop the proliferation of MEA secretariats. There is no need for a new forum for every new environmental issue.
UNEP should become the hub of UN system work on the environment, focusing on broad policy coordination and science, but leaving project management to specialized agencies.
Existing MEA secretariats should be clustered and donors should provide incentives for the secretariats to seek clustering.

Performance. The institutions that make up the GEG system should be well-managed; they should have the resources they need and should use these resources efficiently; and they should be effective in implementation.

GEG institutions should focus less on improving member state negotiating capacity and more on their policy development and implementation capacities.
More MEAs should have compliance committees.
UNEP needs a management overall and should be given a stable funding source.
MEA reports and communications should be streamlined and clustered. Some of the independent national reports currently required can cost up to US$500,000 to prepare, leading to personnel in environment ministries/agencies in smaller states spending too much time and money on preparing reports rather than getting results to report.

Mainstreaming. The GEG system should seek to incorporate environmental concerns and actions within other areas of international policy and action, and particularly so in the context of sustainable development.
Tags: Basel Convention, Convenio de Basilea, Environmental Governance, IISD, Kyoto Protocol, MARPOL, MEAs, Montreal Protocol, PNUMA, Protocolo de Kyoto, Protocolo de Montreal, UNEP
Subscribe to My Comments Feed
Leave a Reply