« Announcing the Temas Reading List | Home | More Sections Added to The Reading List »
By Keith R | May 14, 2007
Topics: Climate Change, Environmental Protection, Marine/Coastal Issues | 3 Comments »
While the reports issued by the Intergovernmental Panel on Climate Change (IPCC) have stolen the headlines and thunder, the World Bank quietly released an important working paper examining how the expected rise in sea level (SLR) caused by global climate change might affect the 84 coastal developing countries among its membership. Twenty-five of these are from Latin America and the Caribbean (LAC). [Why does that figure not correspond with the number of LAC nations? Well, some LAC nations are not World Bank members. And in the case of Bolivia, it is not a coastal nation.] For each country and region, the authors looked at SLR impact along a scale of 1 to 5 meters on six factors: land; population; gross domestic product (GDP); urban extent; agricultural extent; wetlands.
The paper reveals significant across-the-board impacts for several Caribbean nations and on wetlands for most of the LAC nations, and specific vulnerabilities for a handful (such as agriculture for Argentina and Jamaica). It should be read by all LAC policymakers, and its implications for their key policy areas — coastal zone management, wetlands protection, agriculture — should be contemplated, debated and factored into budgets, plans and programs.  Unfortunately, as the paper points out, none of the most vulnerable nations have yet prepared National Adaptation Programs of Action (NAPA) as envisioned by the United Nations Framework Convention on Climate Change (UNFCCC).
I'm adding it to the Temas recommended Reading List in the climate change section.
Provisos and Key Findings Worth Underlining
Before delving into the paper's results regarding LAC, I'd like to repeat here a few caveats the paper's authors state:
the study does not attempt to assess the likelihood of alternative SLR scenarios, but rather looks at the probable impacts for each;
the analysis utilizes current, rather than prospective, figures for key variables such as population, socioeconomic conditions and land-use patterns. The authors note, however, since human activity in coastal zones in most of the nations is increasing, the study's assessment if anything probably underestimates the impacts.
the study does not take into account storm surge augmentation, and thus probably underestimates impact in many areas. Even a small increase in sea level can magnify the adverse impacts of storm surges.
Also worth repeating and underlining are two key findings tucked away into the last pages of the paper:
First, the overall magnitudes for the developing world are sobering: Within this century, hundreds of millions of people are likely to be displaced by SLR; accompanying economic and ecological damage will be severe for many. The world has not previously faced a crisis on this scale, and planning for adaptation should begin immediately.  Second, international resource allocation strategies should recognize the skewed impact distribution that we have documented in this paper. Some countries will be little-affected by SLR, while others will be so heavily impacted that their national integrity may be threatened. Given the scarcity of available resources, it would seem sensible to allocate aid according to degree of threat.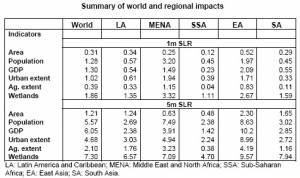 SLR Impact on LAC vs. Rest of the World (ROW)
The table at right (click to enlarge) compares the SLR impact on the 84 countries as a whole versus each of the regions in the six factor areas mentioned above.  Regionally speaking, SLR in LAC will have impacts similar to ROW in regards to land area, agriculture and wetlands, but lesser impact (by as much as half) vis-a-vis population, GDP and urban infrastructure.
But that masks significant differences at the country level.  For example, the Bahamas was one of the few developing countries in the world identified for which the impact of SLR would be "catastrophic" across-the-board.   Suriname also consistently ranked as one of the five most affected of the 84 nations.
In contrast, Chile and Guatemala were consistently identified as two of the 84 developing countries least impacted by SLR.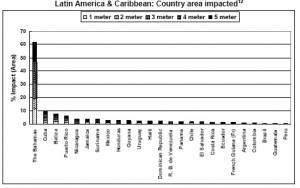 The Six Dimensions of SLR Impact
Regarding the first impact factor measured, land area (click on graphic to enlarge), the LAC nations among the most affected by SLR include the Bahamas, Belize, Cuba and Jamaica.  Also among the most affected, notes the paper, is Puerto Rico (not a Bank member state per se).
Even with a one-meter SLR, 11% of the Bahamas' land area would be impacted; 60% under a 5-meter SLR scenario.  Those thinking of investing in (and insuring) Bahamanian real estate development should take note!
LAC includes four of the hardest hit population-wise (click on map and graphic to enlarge): Suriname, Guyana, French Guiana (technically not a Bank member state, but rather a territorial division of Bank member state France) and the Bahamas.  With just a one-meter SLR, 7%, 6.3%, 5.4% and 4.5% of their populations would be hit, respectively, rising to as much as 30% for Suriname and 25% for Guyana with a 3-meter SLR.   At a 5-meter SLR, nearly half of the populations of these four would be affected.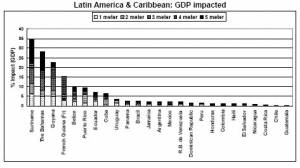 Also quite vulnerable if the SLR gets up to 3-meters are the populations of Belize, Ecuador, Puerto Rico and Uruguay.
In GDP terms (click on graphic to enlarge), five of the countries most likely to be significantly affected worldwide are the Bahamas, Ecuador, French Guiana, Guyana and Suriname.
A one-meter SLR would affect 5% for the Bahamas, Guyana and Suriname; with a 3-m SLR, the economic impact reaches 20% for Suriname and about 15% apiece for the Bahamas and Guyana.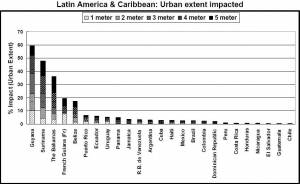 Regarding urban infrastructure (click on graphic to enlarge), among the most affected in LAC are Guyana, French Guiana, Suriname, the Bahamas and Belize.
Guyana is most vulnerable: 10% with a one-meter SLR, 22% for 2-m, 38% for 3-m.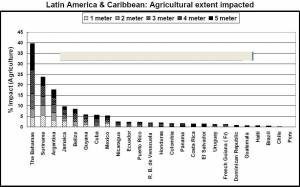 Among the most affected in the agricultural sector (click on graphic to enlarge) by SLR are six LAC nations: Suriname, the Bahamas, Argentina, Jamaica, Mexico and Guyana.  The Bahamas has the greatest agricultural exposure to SLR, followed by Suriname, Argentina and Jamaica.
Agriculture is one of the few areas where SLR would significantly impact Argentina and Mexico.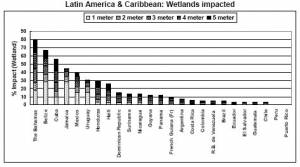 Finally, the analysis suggests that most of the region's wetlands (click on graphic to enlarge) will be hard-hit by SLR.  In fact, wetlands in five LAC nations are among those to be hardest hit worldwide: Jamaica, Belize, the Bahamas, Uruguay and Mexico.  With just a one-meter SLR, about 30% of Belize's and Jamaica's wetlands would be impacted.  At five meters SLR, nearly all of the Bahamas' and Belize's wetlands would be affected, and more than half of Cuba's.
— Keith R
Tags: agricultura, agriculture, América Latina, Argentina, Bahamas, Banco Mundial, Belice, Belize, Bolivia, cambio climático, Caribbean, Caribe, Chile, Climate Change, coastal management, Cuba, Ecuador, French Guiana, Guatemala, Guyana, IPCC, Jamaica, land use, Latin America, manglares, Mexico, NAPA, population, Puerto Rico, sea level rise, Suriname, UNFCCC, Uruguai, Uruguay, wetlands, World Bank
3 Responses to "Impact of Sea Level Rise on LAC"
will Says:
May 16th, 2007 at 12:10

hey keith this is a very interesting report and one that will look into and study further and will inquire as to how it has been noticed or not noticed at home, i am very keen in joining your Lac blogroll let me know how and i will.

Jayson Says:
February 20th, 2008 at 23:15

It's amazing that the media isn't focus much of its attention on the LAC regions. The information is shocking and really opened my eyes to what is going on in other parts of the world.

Rob Millard Says:
September 23rd, 2008 at 16:38

Do you perhaps know where I could get graphics of the inundation zones for The Bahamas at 1m, 2m etc?
Leave a Reply