« "Ecological Bricks" | Home | Join the Latin America Blogroll! »
By Keith R | December 26, 2006
Topics: Biofuels, Biotechnology, Climate Change, Economics & the Environment, Energy & the Environment, Energy Efficiency, Environmental Protection, Renewable Sources, Sustainable Forestry | 1 Comment »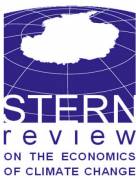 Okay, I know what you're thinking: the Stern Review — the analysis of the economic costs/benefits of coming to grips with global climate change that was commissioned by the UK Government and coordinated by the head of the Government Economic Service (and ex-Chief Economist at the World Bank) Sir Nicholas Stern — has been out for more than a month already and has been flogged to death by the media and bloggers ever since. Why read yet another discussion on the Stern Review?
Because this one is different!
First off, I won't simply regurgitate here all the official press releases, the news reports, commentator debates and skeptics' attacks that have been emitted on this like some have. You can get plenty of that elsewhere.
Second, I don't feel personally qualified to pass judgment on the quality of Stern's analysis and the confidence we should have in his conclusions. I'm neither a climatologist nor an economist by training, so I leave the debate on whether Stern picked the correct climate change models, the most appropriate carbon target, disaster damage estimates, discount rate (here, here and here) and outcome probabilities to people with far more expertise in such things than I.
Third, the focus, the lens through which I deal with all topics here in The Temas Blog, is Latin America and the Caribbean (LAC). In all the treatments of the Stern Review I've read so far (and I've read many!), I have yet to see a discussion of its implications for this region. So if you're looking for a discussion of what the Stern Review means for US or European policy, then I'm afraid you should keep looking.
Of course, on the other hand, if you're interested in a discussion of its implications for US or European development aid and environmental technical cooperation with LAC nations, or the OECD position on trade in environmental goods and services, then you're in the right place.
To download a PDF of the entire Stern Review report in English, click on this link. There are also PDFs for download in English, Spanish or Portuguese of the Review's executive summary.
Provisos
Before going further, I want to state upfront a couple of assumptions and perspectives I utilize in examining the Stern Review and its implications for LAC nations.
First off, if you've read my prior entries on global climate change, you know that I agree with the vast majority of scientists in that major climate change is indeed underway, that its principal engine are greenhouse gas (GHG) emissions linked primarily to man's activities, and that sometime during the 21st century, we will see major environmental and health impacts. We can debate the precise timings (mid-century? earlier? later?), mechanisms and severity (i.e., whether it will be bad or worse), but I think most people realize and accept that it is happening and, barring dramatic action by individuals, communities, industry and service sectors and, of course, government, many of its negative impacts will be felt during the 21st century.
Second, I essentially concur with Nordhaus and Quiggin on several key points about how to view the Stern Review, namely:
even if you quibble with some of the economic assumptions, the Review's results "are fundamentally correct in sign if not in size. The approach taken in the Review – selecting climate-change policies with an eye to balancing economic needs with environmental dangers – is solidly grounded in mainstream economic analysis."
it is a political document. That is to say, it was commissioned by a government to guide it in a particular direction and it is not an academic analysis subjected to independent peer review.
most media reports of Stern have overstated the risks of worst-case outcomes in the long term, but critics are too quick to dismiss low-probability outcomes as irrelevant.
Third, I see the role of the Stern Review not as the final word on the economics of climate change (especially after reading Maddison's critique!), but rather as the catalyst for getting us all (and not just a handful of economists) to discuss seriously and openly the economic costs and benefits of action and inaction, who pays and when, and what policy options make the most sense economically. An honest, in-depth and broad-based discourse on the economics of addressing global climate change has been missing in negotiations and policy debates.
Fourth, like it or not, the Stern Review and its conclusions and recommendations are reshaping the international policy debate. It is to be the linchpin of UK foreign and development policy, likely will heavily influence the direction of related European Union (EU) and Group of Eight (G-8) initiatives, and is virtually guaranteed to be cited as a basis for decisions in the World Bank, Global Environment Facility (GEF), Inter-American Development Bank (IDB) and various UN institutions concerned with climate change, energy, forestry, environment, science and technology and anything even faintly related to addressing climate change. Policymakers in LAC, those dealing with LAC, and business and NGOs working in the region would be well advised to become familiar and conversant with the Review's assertions and recommendations, even if it is only to challenge, modify or improve on them.
Some Messages for LAC to Draw from the Review's Main Presentation
In the hundreds of pages of the main body of the Review, LAC and its constituent nations are mentioned rarely by name. But there are a number of messages in the main texts that apply nonetheless and should be noted, contemplated and discussed by those concerned with the future of the region:
The long-term costs of inaction on global climate change are not minor, but the benefits of collectively acting early much outweigh the costs of doing so, even if many of the environmental benefits will not be fully discernible for decades. Look, then, for more calls for stronger action sooner by

all

parties,

not

just the G-8 (although there should and doubtless will be intense pressure for the US to finally acknowledge its contribution to the phenomenon and take ambitious, concrete steps). I doubt that there will be much sympathy if Brazil or Mexico (or any other LAC nation) tried to take up the argument recently put forward by some in China and India that they have "a right" to an energy-intensive, high-carbon emission path simply because that's the route other economies used before to achieve high per-capita income levels.
The Stern call for regional mechanisms to providing information on climate change impacts is a good one I heartily second. Global analyses are fine and necessary, but potential impacts and wise policy approaches thereto will vary substantially from region to region — indeed, from subregion to subregion. I would even take it further, and advocate some sort of regional center and/or forum in which LAC nations can analyze, discuss and even caucus on climate change issues — as long as such a body doesn't become yet another high-paid international bureaucracy producing little of tangible benefit to policymakers when they actually need it. The difficult question thus becomes (as usually is the case) of whether to create a new office within an existing institution, or a new body altogether, what mandate and budget to give it so that is actually productive and useful, and where to locate it.
There will be strong international pressure going forward on addressing deforestation. This is particularly true of Brazil, which controls much of the Amazon ("the world's lungs"), but it also applies to the many other LAC nations with serious deforestation problems. There is increasing recognition that without fully addressing this issue soon, too much of the world's work on carbon reduction, sequestration or offsets will be negated.
There will be a huge future global market for low-carbon technologies. LAC policymakers should be considering now how best to get in on this wave.
If there is indeed to be a doubling of global expenditures on energy R&D:

work to ensure that it goes to renewable sources other than large hydroelectric. Fossil fuels, nuclear and large hydro already take too much of energy R&D budgets.
Resist the urge to push to allocate most to bioenergy research. Yes, I know, there is great potential there for many LAC nations, but money is already pouring into the area from governments and investors. If additional money is to be spent on biofuels, let it focus on more analysis of its potential environmental, health, economic and social downsides and how to avoid them.
work to get the monies spent allocated to those areas that have the greatest potential for benefiting LAC nations over the next couple of decades, such as energy savings (including public education efforts), energy efficiency improvements and standards, solar heating systems, ways to make wind power and photovoltaics far cheaper and more prevalent than currently, and more research into nontraditional sources found in LAC but starved for R&D funds such as geothermal, wave and OTEC.

Those OECD nations which have not already done so will be asked to retool their development aid policies to providing far more aid to developing nations in planning for, abating, and adapting to global climate change and its manifestations, as will the World Bank, EU aid bodies and IDB. LAC nations need to take a hard look at their developments plans and programs in this light. Some of these can be tied into the stronger climate change emphasis — for example, not enough LAC nations are yet taking advantage of carbon credit opportunities for tapping biogas from landfills to improve their solid waste disposal system, or for foreign aid opportunities for adopting energy savings and energy efficiency programs in areas like public lighting, or for adding carbon-neutral or low-carbon renewable sources to their national energy mix.
If there is follow-up to the idea of international product standards, LAC nations need to become involved in such discussions at the early stage, regardless of forum. It is difficult for most LAC nations to do, I fully realize, given budgetary and personnel restraints. But too often in the past LAC nations have ignored such international standard-setting efforts until late in the game, only to discover that the international standard benefits European, North American and/or Japanese manufacturers but do not make sense in the LAC context. Instead of lamenting this later, find ways to get involved early and stay involved. There are ways, including LAC pooled expertise or caucusing on proposed standards. And there are existing and potential sources of funding to help nations scale up their in-house expertise and attend such negotiations, but they have to seek and tap them.
Given the likely growing importance of alternative energy and low-carbon technologies highlighted by the Review, I think LAC policymakers need to seriously reassess their participation — or perhaps better put, their lack of active and assertive participation — and stances in the World Trade Organization's (WTO) global trade round negotiations on environmental goods and services. Argentina, Brazil, Colombia, Ecuador and Mexico have participated and either offered proposals or signed onto joint developing nation proposals, but it is unclear how many other LAC nations have paid attention to this exercise and analyzed the implications of the various proposals for their long-term development and environmental interests. [Example: would it really benefit LAC nations more to adopt the so-called project or agreement-linked approach to granting trade benefits, or simply to globally drop all tariffs and most nontariff barriers to "core" technologies such as photovoltaics, wind turbines, advanced and low-polluting power storage technologies, etc.?]
In view of the Stern call for some sort of global carbon pricing mechanism, LAC governments would do well to analyze well (but swiftly) how such pricing schemes would affect the competitive position of their portfolio of current and prospective goods and services offered in the global marketplace, and adjust strategies and policies accordingly.
The Stern call for expanded and linked emissions trading is of high interest to Latin America, so far a major beneficiary of such schemes (more on this in a future Temas article). Not to be a wet blanket, but I worry that while the idea is nice in theory, unless existing schemes are fixed and planned schemes are adjusted, this policy option will not help nearly as much as its proponents claim and in the process a good market-based idea may become discredited.
The Stern call for more R&D into flood- and drought-resistant crops will be welcomed by LAC nations (and the FAO!), given the importance of food security and agricultural production/trade to most LAC nations. However, isn't this type of research supposed to be underway already for non-climate reasons? And if the Stern recommendation means, in practical terms, more R&D into genetically engineered crops, then LAC policymakers have a lot of hard work ahead in preparing and adopting their biotech review and approval regimes, and in working with civil society on improving public acceptance of said technologies.
In Part II, I look at the LAC-focused report commissioned by Stern as an input to the overall Review.
— Keith R
Tags: Amazon, Argentina, Banco Mundial, BID, bioenergy, biogas, biotech review, Brazil, cambio climático, carbon credit, carbon pricing, Climate Change, Colombia, crédito de carbono, deforestation, desmatamento, discount rate, drought-resistant crops, Ecuador, efeito estufa, eficiencia energética, emissions trading, energía, energy, Energy Efficiency, energy saving, environmental goods and services, European Union, FAO, food security, gases de efecto invernadero, gases de efeito estufa, GEF, geothermal energy, greenhouse gases, Group of 8, IADB, IDB, Informe Stern, landfills, low-carbon technologies, Mexico, mudanças climáticas, Nordhaus, OTEC, photovoltaics, product standards, public lighting, Relatório Stern, Stern Review, transport, União Europea, Unión Europea, wind turbines, World Bank, WTO
One Response to "Implications of the Stern Review for LAC, Part I"
Anonymous Says:
January 20th, 2007 at 1:26

My only dissension from your post would be over a statement in the introduction where you agree that some have overplayed how serious the economic effects of climate change will be without mitigation. I haven't seen these claims but two points seem like to be relevent: I listened to Nicholas talk at London School of Economics and two key points came out of that for me; firstly, the range 5-20% as i understand it, exists largely due to different scientific considerations…there is increasing concern about positive feedbacks in the climate system, this cutting edge science tends to lead to the 20% figure, the higher figure therefore seems to me not just one part of the range, but the part of the range that accurately reflects the entire scientific thinking. Also, he pointed out that at the upper end of the temperature range, the models he used where most likely not up to the job, and that long terms assumptions (beyond 2100) where probably to rosy for the upper end scenarios.
Leave a Reply