« São Paulo Requires Use of Recycled Construction Materials / Uso de entulho reciclado torna-se obrigatório em São Paulo | Home | Join the LAC Environment Blogroll / Afialiase al Blogroll Ambiental de ALC / Associa-se ao Blogroll Ambiental de ALC »
By Keith R | January 1, 2007
Topics: Climate Change, Economics & the Environment, Energy & the Environment, Environmental Protection, Health Issues, Sustainable Forest Use, Water Issues | 2 Comments »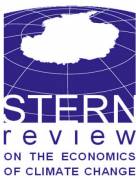 In Part I, I looked at the implications for Latin America and the Caribbean (LAC) of the main body of analysis, discussion and policy recommendations in the Stern Review. Here in Part II, I look at the LAC-focused report commissioned by Stern as an input to the overall Review.
Implications from the Back-up Report on LAC Impacts
Most of the Stern Review's work on LAC can only be found in the input paper commissioned from Gustavo Nagy et. al. Most of the paper's discussion of probable adverse impacts will not surprise those who have read the "Up in Smoke" report released earlier this year. The difference here is that the Nagy paper attempts to calculate the potential costs and benefits, points out areas (such as the cost of natural disasters on human capital) where further work on cost estimates is needed, and discusses probable economic constraints to adaptation strategies.
The main conclusions of the Nagy report are:
LAC energy consumption &

CO2 emissions (click to enlarge)

Beyond 2ºC, by 2060, without adaptation, expected loss in agriculture and in energy will account for 1.3% of GDP in LAC. This estimation should increase by 2 to 6-folds if expansion of losses in agriculture and the quantification of all climate disasters are included.

The LAC sector the most affected by climate change and variability is agriculture. The aggregated impact in productivity is estimated to vary from –9% to -2% by 2050. [Temas Observation: Given the importance of agriculture to most of the region's nations — to employment (sometimes the largest single employer), trade (hard currency earner) and economy overall, these nations need to consider seriously some adaptation planning for this sector.]
On broad sub-regional basis carbon fertilization will likely benefit soybean (+31 to +40%) and, to a lesser degree, maize and wheat cultures in temperate Southern South America (SSA — essentially the River Plate Basin countries and Chile) by the 2050s. On the other hand, maize production in the Andean countries (AC) and Mexico and the Central American (MA) countries could decrease, affecting food security in countries such as Belize, Guyana and Venezuela. [A Temas Question: have Belize, Guyana and Venezuela even begun serious consideration of the food security issues posed to them by global climate change?]

Per Capita Carbon Emissions

vs. Climate Change Vulnerability

(click to enlarge)

The energy sector will likely be affected by warming and hydro-climatic changes as well as by demand growth at a cost up to $4-5 billion by the 2050s. However, the sector will very likely adapt to gradual changes by means of new dams' construction, interconnected transmission networks, and the use of alternative sources of energy.
Coastal sectors (i.e. biodiversity, fisheries, tourism, and infrastructure) that are highly vulnerable to floods, sea level rise (SLR) and windstorms will very likely be damaged. For instance infrastructure damages due to climate extremes could increase from 0.15% of GDP /year over the period 1970-99 to 0.7% per year over the next few decades. Beyond 2°C, and without adaptation measures, damages due to SLR are roughly estimated to reach 0.3% of GDP per year by the 2050s to 2.0% by the 2100s. The most vulnerable countries to SLR and storm surges during tropical storms and hurricanes are those of Caribbean, Central America, Argentina, Ecuador, Mexico, Peru, Uruguay and Venezuela. Nagy

et

al

point out that there is a notable lack of assessment of the combined effect of SLR, storm surges and warming on the environs and infrastructure of coastal areas and their populations.
A large fraction of the population living west of the Tropical Andes will be affected by melting of glaciers between 2010 and 2050. People at risk of water supply for human consumption, hydro-power and agriculture are estimated to reach about 37 million in 2020 and 50 million in 2050. Shortages are expected in Central Chile, Patagonia, Mexico, Central America, most of the Caribbean, Venezuela, the Guyanas, and Amazonian and Northeast Brazil. Particularly affected will be the cities of La Paz, Lima and Quito.

[Unfortunately, I see few signs that LAC policymakers are yet taking the risk to water supply seriously. Perhaps the ball could get rolling if the mayors of La Paz, Lima and Quito approached their respective national governments with this study in hand and demanded to know how the feds plan to address the issue. Maybe our journalist friend at

Ecoperu

could ask the Lima government what they plan to do?]

Vector borne diseases, i.e. malaria and dengue fever, could potentially increase and spread southward. People living at risk zones could increase from 1.5 million currently up to 50 million by the 2050s. The adaptation costs to face increase in malaria will likely be two times greater (from $1.4 billion currently to $2.8 billion by 2050).

[Which makes support for the tropical diseases work of

WHO,

the Drugs for Neglected Diseases Initiative (

DNDi

) and the Global Fund to Fight AIDS, Tuberculosis and Malaria ("

Global Fund

") all the more critical.]

Under climate change scenarios mitigation investments in safe drinking water are estimated to amount $16,500 million (2000) during the period 2000-2015.
The reduction of tropical forests will lead to the loss of biodiversity, i.e. 24% of tree species of the Central Brazil savannas by 2050 for a projected increase of 2º C in surface temperature.
It is likely that warming will increase species extinction in the Amazonian region, Mexico and in dry areas of Bolivia, Chile and Argentina. The most vulnerable biodiversity hot spots are the Caribbean, the Tropical Andes and the Atlantic forest.
There is very likely an underestimation of pressures disasters can exert on social and human capitals. Small-scale disasters are likely to have been played down through lack of data. Likewise reported data on the cost of disasters relate predominantly to direct costs. For instance, only 19% of the damages have been quantified for the period 2000-05.
— Keith R
Tags: agriculture, alternative energy, Amazon, América Central, Andes, aquecimento global, Argentina, Atlantic Forest, Belize, biodiversidad, biodiversidade, Biodiversity, Bolivia, calentamiento global, cambio climático, carbon fertilization, Caribbean, Caribe, Central America, Chile, Climate Change, climate extremes, dengue, DNDi, drinking water, Ecuador, energía, energía alternativa, energy, fisheries, GFATM, glacier retreat, global warming, Guyana, Informe Stern, La Paz, Lima, maize, malaria, Mexico, mudanças climáticas, Patagonia, Peru, Quito, Relatório Stern, sea level rise, soja, soya, soybean, species extinction, Stern Review, storm surge, tourism, tropical forests, Uruguay, vector borne diseases, Venezuela, water shortage, wheat, WHO
2 Responses to "Implications of the Stern Review for LAC, Part II"
Implications of Climate Change for Latin America and the Caribbean at After Gutenberg Says:
January 2nd, 2007 at 14:41

[…] 1Implications of the Stern Review for LAC, Part II […]

Anonymous Says:
January 20th, 2007 at 1:30

I like your agitating over the issue of water, taking the report to places of power and demanding a response, always going to get my support! The points about developing hardy crops, and spending money to research the mitigation of biofuels downsides also makes a lot of sense to me. Dealing with biofuels and other drivers of deforestation would seem to be key challenges, particularly for Brazil.
Leave a Reply