« A Change in Environmental Licensing of Oil & Gas Projects? | Home | The World's Largest Rainforest Park »
By Keith R | March 8, 2007
Topics: Climate Change, Environmental Protection | No Comments »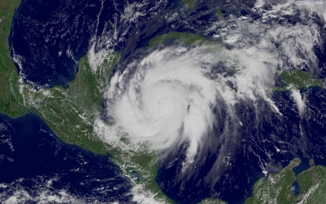 By now, unless you've been hiding under a rock, you've heard about the "summary for policymakers" released 02 February by the Intergovernmental Panel on Climate Change (IPCC), its 90% certainty claim, and the long list of frightening predicted impacts worldwide of the global climate change phenomenon. What synopsis of the report could I possibly offer, what analysis of how it was produced and what it means, could I possibly offer that you have not heard 1,000 times already?
I tried once or twice to conceive of new ways to summarize/analyze the report, but in the end decided not to re-invent the wheel. Instead, for a fine summary of the IPCC summary, check out Craig's entry at The Celsias Blog (a blog I recommend for regular reading, by the way).
So what does it means specifically to the primary focus of this blog, Latin America and the Caribbean (LAC)?
Well, much of that ground has already been well-explored in the "Up in Smoke" report and Nagy paper commissioned for the Stern Review.
But to bring it into sharper focus, I'd like to borrow from a column recently published by Andres Oppenheimer, the Miami Herald's Latin America correspondent. Andres called up Dr. Osvaldo F. Canziani, co-chair of IPPC's Working Group II on key "Impacts, Adaptation and Vulnerability" and Professor of Applied Meteorology at Argentina's Universities of La Plata and Comahue. Dr. Canziani obligingly provided a core set of probable impacts for the LAC region:
Rising oceans will cause severe flooding in Caribbean beach resorts, the Gulf of Mexico and the Rio de la Plata Basin. This could affect major cities, such as Buenos Aires and Montevideo.
Glaciers in the Andean mountain range of Peru, Colombia and Ecuador will melt at an increasingly faster pace, creating water accumulations that will cause flooding and mudslides. This will pose great danger to many mountain villages.
Deforestation of the Amazon will reduce rainfall in much of South America. This will lead to more forest fires and a greater shortage of water in many areas.
Shifting air currents, in addition to deforestation, will make rainfall levels drop in some areas and increase in others. Rainfall will drop by up to 20 percent in Mexico, Central America, northeastern Brazil and southern Chile, while it will increase by up to 15 percent in South America's Rio de la Plata Basin stretching through Paraguay, Argentina, Brazil and Uruguay.
In coming Temas Blog entries, I'll be looking at some of the national climate change impact reports that have been released in the wake of the IPCC summary, including those for Brazil, Chile and Mexico.
Tags: Argentina, Brazil, Buenos Aires, cambio climático, Caribbean, Caribe, Celsias, Central America, Climate Change, Colombia, deforestación, deforestation, desmatamento, Ecuador, flooding, Golfo de México, Gulf of Mexico, IPCC, Mexico, Miami Herald, Montevideo, mudanças climáticas, mudslides, Paraguay, Peru, Rio de la Plata, sea level rise, Uruguay, water shortage
Subscribe to My Comments Feed
Leave a Reply