« Brazil Wants CFCs Out of Inhalers | Home | AmBev Opens Huge Recycling Center »
By Keith R | November 1, 2007
Topics: Environmental Protection, Sanitation, Water Issues | 1 Comment »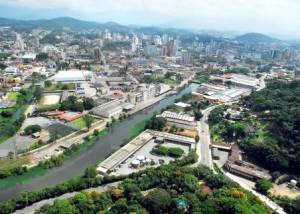 From the Inter-American Development Bank (IDB):
IDB approves US$32.67 million to improve environmental quality in Municipality of Joinville in Brazil

Project to address flooding and watercourse pollution that impact urban environment

The Inter-American Development Bank announced today the approval of a US$32.67 million loan to Brazil for an environmental revitalization program to help address the pollution and flooding problems in Joinville, State of Santa Catarina, the third most populous municipality in Southern Brazil.

The program aims to improve the environmental quality of the city by implementing actions to control flooding and improve water quality. The improvement in sanitary conditions will lead to reductions in the incidence of water-borne diseases and better health indices. Also the construction phase of the program will generate temporary employment opportunities for unskilled workers.

Program measures will include reducing flooding in the Cachoeira River Basin by improving the drainage system; recovering the environmental quality of the Cachoeira, Cubatão and Piraí rivers with activities designed to clean up and preserve their associated watersheds; improving municipal management capability in areas addressed by the program; and improving strategic and planning capabilities of Joinville Water Company (Companhia Aguas de Joinville). It will also help communities in environmentally sensitive areas, such as Jardim Paraíso, Jardim Sofía, and Vila Cubatão in the north, and Vila Nova, Morro do Meio and Piraberaba in the west. Sewer projects will include financing mechanisms for household connections for low-income users

The Municipality of Joinville will carry out the project.

The loan is for a 25-year term, with a five-year grace period and an adjustable interest rate. Local counterpart funds total US$21.78 million.
______________________________
Desde o Banco Interamericano de Desenvolvimento (BID):
BID aprova US$ 32,67 milhões para melhorar a qualidade ambiental do município de Joinville, estado de Santa Catarina, no Brasil

Projeto para enfrentar as enchentes e a poluição fluvial que afetam o ambiente urbano

O Banco Interamericano de Desenvolvimento anunciou hoje a aprovação de um empréstimo de US$32,67 milhões ao Brasil para um programa de revitalização ambiental que visa confrontar problemas de poluição fluvial e enchentes em Joinville, estado de Santa Catarina, o terceiro município mais populoso da região Sul do país.

O programa destina-se a melhorar a qualidade ambiental da cidade mediante a implementação de ações de controle de enchentes e melhoria da qualidade da água. A melhora das condições sanitárias levará a reduções na incidência de doenças transmitidas por água contaminada e a melhores índices de saúde. Além disso, durante a fase de construção o programa gerará oportunidades de emprego temporário para trabalhadores não qualificados.

As medidas compreendidas no programa incluem: redução das enchentes na bacia do rio Cachoeira por meio da melhoria do sistema de drenagem; recuperação da qualidade ambiental dos rios Cachoeira, Cubatão e Piraí com atividades destinadas a limpar e preservar as bacias a eles associadas; melhoria da capacidade de gestão municipal nas áreas incluídas no programa; e melhoria da capacidade estratégica e de planejamento da Companhia Águas de Joinville.

O programa também ajudará as comunidades de áreas ambientalmente sensíveis, como Jardim Paraíso, Jardim Sofía e Vila Cubatão, ao norte, e Vila Nova, Morro do Meio e Pirabeiraba, a oeste. Os projetos de incluirão mecanismos de financiamento de ligações residenciais para usuários de baixa renda.

O programa será executado pela prefeitura de Joinville.

O empréstimo tem prazo de vencimento de 25 anos, com um período de carência de cinco anos e taxa de juros ajustável. Os fundos de contrapartida locais totalizarão US$21,78 milhões.
______________________________
Desde el Banco Interamericano de Desarrollo (BID):
BID aprueba US$32,67 millones para mejorar calidad ambiental del Municipio de Joinville en Brasil

Programa ayudará a controlar inundaciones y mejorar calidad del agua

El Banco Interamericano de Desarrollo anunció hoy la aprobación de un préstamo de US$32,67 millones a Brasil para un programa de revitalización ambiental que ayudará a solucionar los problemas de contaminación e inundaciones que afectan al municipio de Joinville, estado de Santa Catarina, el tercero más poblado del sur de Brasil

El proyecto busca mejorar la calidad ambiental de la ciudad por medio del control de inundaciones y la calidad del agua. El fortalecimiento de las condiciones sanitarias permitirá reducir la incidencia de enfermedades transmitidas por el agua y mejorar los índices de salud. Durante la etapa de construcción el programa creará oportunidades de empleo temporal para trabajadores no calificados.

El programa incluye medidas para reducir las inundaciones en la cuenca del río Cachoeira mediante la red de drenaje, recuperar la calidad ambiental de los ríos Cachoeira, Cubatão y Piraí con actividades para depurar y preservar sus cuencas hidrográficas, apoyar la capacidad de gestión municipal en áreas del programa, y la capacidad estratégica y de planificación de la Compañía de Aguas de Joinville.

También se beneficiarán comunidades ubicadas en zonas ambientalmente vulnerables, tales como Jardim Paraíso, Jardim Sofia y Vila Cubatão en el norte, y Vila Nova, Morro do Meio y Piraberaba en el oeste. Los proyectos de alcantarillado deben incluir mecanismos de financiamiento para la conexión domiciliaria de usuarios de bajos ingresos.

La Municipalidad de Joinville estará a cargo del proyecto.

El préstamo se otorga a un plazo de 25 años, con un período de gracia de cinco años y una tasa de interés variable. Los fondos de contrapartida local totalizan US$21,78 millones.
Tags: basin management, BID, Brasil, Brazil, calidad ambiental, calidad del agua, Companhia Aguas de Joinville, drainage, drenaje, flood control, IADB, IDB, inundaciones, Jardim Paraíso, Joinville, Morro do Meio, Piraberaba, poluição, qualidade ambiental, qualidade da agua, qualidade de agua, Rio Cachoeira, Santa Catarina, urban environment, Vila Cubatão, water quality, water-borne diseases, watersheds
One Response to "Improving Environmental Quality in Joinville"
EcoTrend Says:
August 2nd, 2009 at 23:47

Plastic bag pollution is one reason for flooding and watercourse pollution. It is very deadly and takes hundreds of years to break down. Even if the component is broken done, the deadly chemicals will go into the ground and water system. By reducing the usage of plastic bag, Earth can recuperate. That's why canvas bags should be used world wide to help reduce the pollution.
Leave a Reply