« Protecting Health from Climate Change | Home | Energy Efficiency and Competitiveness in Latin America »
By Keith R | June 4, 2008
Topics: Environmental Protection, Water Issues | No Comments »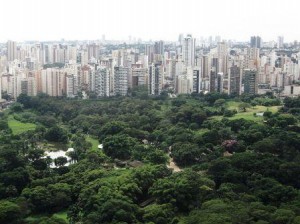 From the Inter-American Development Bank (IDB):
IDB approves US$56.7 million for urban environmental program in Brazil

Funds will support better drainage and land use planning in the Macambira and Anicuns River watersheds

The Inter-American Development Bank announced today the approval of a US$56.7 million loan to the Municipality of Goiânia for an urban environmental program in the Macambira and Anicuns River watersheds. The program will help mitigate the impact of haphazard settlement along riverbanks and promote citizen participation in sustainable development of the city of Goiânia, located in west-central Brazil.

Since 1960, the population of Goiânia has grown from 150,000 residents to more than one million. Rapid urbanization occurred without the necessary infrastructure or planning, resulting in environmental degradation such as flooding, soil erosion and water pollution, particularly in the Macambira and Anicuns River watersheds.

To address these problems, the program will improve environmental conditions in the area through rehabilitation and installation of drainage systems, land-use planning and environmental protection along riverbanks. Living conditions for project area residents will also be improved through urban planning, urban infrastructure, land titling, housing and recreation areas. Municipal institutions will be strengthened to help ensure project sustainability.

"The program will help municipal authorities to get ahead of the environmental problems caused by sprawl around a changing city while improving the quality of life of at-risk settlements along the banks of its rivers," said IDB project team leader Coral Fernández Illescas. "The program will help reduce damage to the public and private infrastructure caused by flooding, and it will finance the improvement of social infrastructure and the construction of recreational areas."

The loan has a five-year grace period, a five-year disbursement period and 25-year amortization period. It is denominated in U.S. dollars under the Single Currency Facility of the IDB's Ordinary Capital. The total project cost is US$94.5 million.
_______________________
Desde o Banco Interamericano de Desenvolvimento (BID):
BID aprova US$56,7 milhões para programa ambiental urbano no Brasil

Os fundos apoiarão a melhoria da drenagem e do planejamento do uso da terra nas bacias Macambira e Anicuns

O Banco Interamericano de Desenvolvimento anunciou hoje a aprovação de um empréstimo de US$56,7 milhões ao município de Goiânia para um programa ambiental urbano nas bacias hidrográficas do córrego Macambira e do ribeirão Anicuns. O programa ajudará a aliviar o impacto de assentamentos irregulares nas margens desses cursos d'água e promoverá a participação dos cidadãos no desenvolvimento sustentável da cidade de Goiânia, localizada na região Centro-Oeste do Brasil.

Desde 1960, a população de Goiânia cresceu de 150.000 habitantes para mais de um milhão. A rápida urbanização ocorreu sem a infra-estrutura ou o planejamento necessários, resultando em degradação ambiental como enchentes, erosão do solo e poluição da água, particularmente nas bacias do Anicuns e do Macambira.

Para lidar com esses problemas, o programa melhorará as condições ambientais da área pela recuperação e instalação de sistemas de drenagem, planejamento do uso da terra e proteção ambiental das margens dos rios. A qualidade de vida das populações residentes na área do projeto também serão melhoradas por meio de planejamento urbano, infra-estrutura urbana, registro de propriedade de terras, programas de moradia e criação de áreas de lazer e recreação. As instituições municipais serão fortalecidas para ajudar a garantir a sustentabilidade do projeto.

"O programa ajudará as autoridades municipais a enfrentar os problemas ambientais causados pela ocupação do entorno de uma cidade em transformação, ao mesmo tempo em que melhorará a qualidade de vida de assentamentos precários ao longo das margens de seus rios", disse Coral Fernández Illescas, líder de equipe do BID. "Ajudará também a reduzir os danos à infra-estrutura pública e privada devidos a enchentes e financiará a melhoria da infra-estrutura social e a construção de áreas de lazer."

O empréstimo tem período de carência de cinco anos, período de desembolso de cinco anos e prazo de 25 anos para amortização. É denominado em dólares norte-americanos, dentro do Mecanismo Unimonetário do Capital Ordinário do BID. O custo total do projeto é de US$94,5 milhões.
________________________
Desde el Banco Interamericano de Desarrollo (BID):
BID aprueba US$56,7 millones para programa ambiental urbano en Brasil

Fondos apoyarán un mejor sistema de drenaje y una mejor planificación del uso de tierras en las cuencas de los arroyos Macambira y Anicuns

El Banco Interamericano de Desarrollo anunció hoy la aprobación de un préstamo de US$56,7 millones al Municipio de Goiânia para financiar un programa ambiental urbano en las cuencas de los arroyos Macambira y Anicuns. El programa ayudará a mitigar el impacto de la ocupación desordenada en las márgenes y a promover la participación ciudadana en el desarrollo sostenible de la ciudad de Goiânia, ubicada en el centro-oeste de Brasil.

Desde 1960, la población de Goiânia ha crecido de 150.000 residentes a más de un millón en la actualidad. El rápido desarrollo urbano se produjo sin que haya habido la infraestructura y planificación necesarias, provocando una degradación ambiental que se expresa en inundaciones, erosión del suelo y polución del agua, especialmente en el área de las cuencas de los arroyos Macambira y Anicuns.

Para enfrentar estos problemas, el programa se propone mejorar las condiciones ambientales de esa área a través de la rehabilitación e instalación de sistemas de drenaje, la planificación del uso de la tierra y la protección ambiental a lo largo de las márgenes de los cursos de agua. Las condiciones de vida de los residentes que viven dentro del ámbito del proyecto también serán mejoradas mediante el planeamiento urbano, la infraestructura urbana, la titulación de tierras, así como la edificación de viviendas y áreas de recreación. Las instituciones municipales serán fortalecidas para ayudar a asegurar la sostenibilidad del proyecto.

"El programa permitirá a las autoridades municipales la superación de los problemas ambientales causados por la expansión descontrolada de una ciudad en constante cambio, y servirá también para mejorar la calidad de vida de los asentamientos humanos que se encuentran en riesgo a lo largo de sus riberas", dijo la jefa del equipo de proyecto del BID Coral Fernández Illescas. "El programa ayudará a reducir los daños de la infraestructura pública y privada causados por las inundaciones, y permitirá además financiar el mejoramiento de la infraestructura social y la edificación de áreas recreativas".

El préstamo tiene un período de gracia de cinco años, un período de desembolso de cinco años, y 25 años de amortización. Está fijado en dólares estadounidenses bajo la Facilidad de Moneda Única (Single Currency Facility) del Capital Ordinario del BID. El costo total del proyecto asciende a la suma de US$94.5 millones.
Tags: Anicuns, bacias hidrográficas, BID, Brasil, Brazil, cursos d'água, drainage, drenagem, environment, erosão, erosion, flooding, Goiânia, Goiás, IDB, land-use planning, Macambira, medio ambiente urbano, meio ambiente, poluição da agua, urban environment, water pollution, watersheds
Subscribe to My Comments Feed
Leave a Reply