« Global Bioenergy Partnership Launches Its Website | Home | Consumer Protection in LAC V – A Sample Panorama of LAC Consumer News »
By Keith R | May 10, 2007
Topics: Biofuels, Energy & the Environment, Environmental Protection | 1 Comment »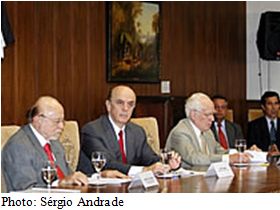 The Governor of São Paulo State (SP), José Serra, recently announced the creation of a high-profile "Special Bioenergy Commission" to map out where the State goes in the production of "clean and renewable energy" in coming years. Within six months (i.e., before the end of October) the Commission is provide the Governor with an action plan, complete with specific goals, to guide the many SP secretariats, agencies, institutes, foundations, enterprises and other entities in which the state has a controlling interest.
Although a chief focus of the action plan will be bioenergy derived from sugarcane (primarily ethanol), the Governor wants the Commission to consider all bioenergy forms for which SP is well-suited for producing without damaging the environment.
Serra thinks such planning is critical if bioenergy development is to be done right. "We need to bring together all the analyses and studies in order for us to have an orientation for São Paulo and even for Brazil," he declared while announcing the panel's creation. Because, he points out, some 75% of all Brazil's sugarcane-based ethanol exports come from SP soil. [He didn't say it outright, but he implied a variation on the old General Motors saying about "where GM goes, so goes the US": where SP decides to go on biofuels, the rest of Brazil must follow.]
The Commission is to be chaired by the ex-State Environment Secretary, former federal Energy Minister and longstanding ethanol supporter (sometimes called "the father of Brazilian ethanol"), José Goldenberg. The Commission members will be:
Alberto Goldman, SP Development Secretary, former Federal Deputy and former federal Transport Minister
Francisco Vidal Luna, SP Secretary of Economy and Planning, economist and former bank president
Dilma Seli Pena, SP Secretary of Sanitation and Energy, former director of Sanitation in the federal Planning Ministry, and former director of the National Water Agency (ANA)
João de Almeida Sampaio Filho, SP Agriculture Secretary, economist, current President of the principal rural producers lobby, the Brazilian Rural Society (Sociedade Rural Brasileira – SRB), and ex-President of the Agriculture Confederation's (CNA) National Rubber Commission
Mauro Arce, current SP Transport Secretary and former SP Secretary for Energy, Water Resources and Sanitation
Francisco Graziano Neto, current SP Environment Secretary
Carlos Henrique de Brito Cruz, scientific director of the Foundation for Aid to Research of the State of São Paulo (Fundação de Amparo à Pesquisa do Estado de São Paulo – Fapesp)
Dr. Marcos Sawaya Jank, economics professor at the University of São Paulo (USP) specializing in agricultural trade
Isaias de Cavalho Macedo, professor/researcher at the Interdisciplinary Energy Planning Nucleus (NIPE) at the State University of Campinas (Unicamp)
Roberto Rodrigues, ex- federal Agriculture Minister, co-founder of the Interamerican Ethanol Commission, current head of the agribusiness council within the São Paulo State Industry Federation, FIESP, and representative of the State University of São Paulo (Universidade Estadual Paulista Júlio de Mesquita Filho – Unesp)
Tags: ANA, biocombustibles, biocombustiveis, bioenergía, bioenergy, Biofuels, Brazil, energía renovable, energia renovável, ethanol, FAPESP, Interamerican Ethanol Commission, José Goldenberg, José Serra, NIPE, renewable energy, São Paulo, SRB, sugarcane, Unesp, Unicamp, USP
One Response to "In Ethanol, as São Paulo Goes, So Goes Brazil?"
Peter Hurrell Says:
June 20th, 2007 at 12:58

Perhaps the comments I made in respect of using the Biomass contained within Municipal Solid and Liquid Waste could be added here.
Leave a Reply