« Eco-certifying Tourism / Eco-certificación de Turismo | Home | Argentina's First Consumer Defense School »
By Keith R | October 8, 2007
Topics: Corporate Social Responsibility, Environmental Education, Environmental Protection, Waste & Recycling | No Comments »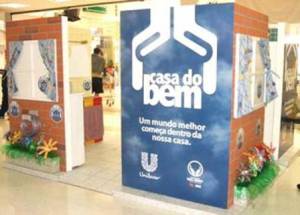 If you enter the Wal-Mart Supercenter hypermarkets in Brazil, and walk the aisles, you may run across an unusual large exhibit — a mock-up of a miniature house that you can enter and explore. It has faux windows and flower boxes, and corners representing the interiors of a kitchen, bathroom and laundry room.
Look closer. Nearly everything in the exhibit is made of recycled material.
The "grass" in the flower box is made of slivers from shredded PET bottles and the flowers from Hellman's mayonnaise jars. The floor consists of tiles made from recycled toothpaste tubes, as do many of the fixtures and decorations. The fabric in the display is made of bamboo fabric (as is the uniform of the female presenter for the exhibit). The laundry pole is bamboo.
Even all the wood in the display is certified by the national environment agency, IBAMA, as from reforestation projects.
Welcome to the "Casa do Bem" ("House of the Good").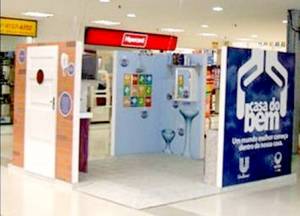 The In-Store Experience
The Casa do Bem is an environmental education project put together by Unilever and hosted by Wal-Mart Brasil. Throughout the exhibit (click on these pictures to enlarge) are signs (most in the word balloons with the words embraced by hands forming a rooftop), audio and visual prompts with environmental tips (dicas) for households, such as:
"take advantage of natural light"
"save used cooking oil in a PET bottle and take it to a recycling center, rather throw it in the sink"
"unplug appliances when not in use"
"don't run the water while brushing your teeth"
"take quick showers and shut the water while lathering"
separate organics and recyclables (paper, plastic, metal, glass) from trash
dry clothes naturally, rather than use a mechanical dryer
As you might readily discern, the majority of the tips involve conserving energy and water or the importance of recycling.
Thousands of visitors to the exhibit also have received two booklets (both about 10 pages long, illustrated, large type), A Água e a Vida ("Water and Life") and A Natureza e as Embalagens ("Nature and Packaging"), and a leaflet with environmental tips.
The exhibit was first displayed in Supercenter stores in Pacaembu, São Bernardo, and Osasco in São Paulo in June, but since has toured other Wal-Mart stores around Brazil. [Temas Observation: has Wal-Mart considered mounting something similar in its stores in Argentina and Mexico, two markets in which it has a substantial presence and the need for environmental education projects is considerable?]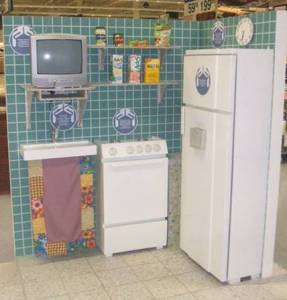 The Virtual Casa do Bem
If you don't live in Brazil or don't frequent Wal-Mart there, you can still visit the Casa do Bem virtually. Yes, Unilever and Wal-Mart have created an online version at http://www.casadobemwmul.com.br/ The last image in this article (see below) is of the opening page of the animation once you get past the introduction screen with the Casa do Bem logo.
It's a slicker, more stylized version without all the recycled materials, but the basic idea is preserved: you tour different parts of the home and get environment tips that you can use in your own home. Click on the doorbell to enter the Casa and start the tour.
It's currently only in Portuguese, though. [Temas Observation: Given the market reach of both Unilever and Wal-Mart throughout Latin America and the Caribbean, however, one wonders how long before they mount something similar in English and Spanish.]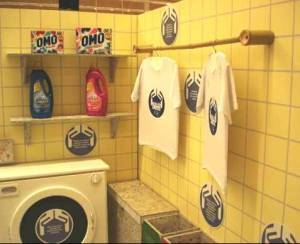 In this interactive flash animation you look for the circles with the Casa do Bem logo (the rooftop formed by two hands) and you point your cursor at one, it spins toward you and opens with a tip.
Also, in the laundry room, when you run your cursor over the brightly colored recycling bins, it will tell what type of objects/packaging you should and shouldn't try to recycle in each category (paper, plastic, glass, metal, organics).
The virtual Casa do Bem has other goodies. There are two interactive games — a "memory game" in which you flip squares to match environmental tips (aided by symbols), and a "recycling game" in which you take a ball marked with a material tag ("paper," "plastic," etc.) and toss it into the proper recycling bin.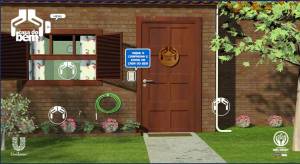 You can access either directly through the main menu (click the little arrow on the upper left-hand side by the flashing "menu" message), or through the individual "room" pages in the animation — laundry room for the recycling game (since that's where the recycling bins are) and the bathroom for the memory game (not sure why).
Yes, both are roughly the intellectual level of a child, but I guess that's a key target audience for Unilever and Wal-Mart (teach the young so that they might change the adults?) and they cannot afford to get too complex and ambitious in this initial thrust at environmental
There's also a download section accessible through the main menu. Here you can a PDF version of the booklet A Água e a Vida, as well as the PDF of another on the importance of preserving Brazil's Atlantic Forest, A Mata Atlântica. [Yes, both are offered only in Portuguese.] No sign of the booklet A Natureza e as Embalagens. Wonder why?
You can also download the PDF of Unilever's 124-page "socio-environmental" corporate report (Relatório Socioambiental – a report on corporate community and environmental responsibility measures) for 2006 [caution: it's a 8 MB file]. Finally, you supposedly can download a zip file containing a Unilever video, although every time I have attempted to download the latter I get an error message when trying to unpack the zip, so I cannot vouch for its contents. [This problem has persisted for weeks.]
Some Observations
First off, let me congratulate Unilever and Wal-Mart for taking the initiative. Any project that can persuade more Brazilians to use water and energy rationally at home, to separate and recycle materials, and to understand the importance of the Atlantic Forest, is certainly welcome. Making both tangible displays (in one of Brazil's most popular stores) and a virtual tour was a stroke of genius.
Second, kudos to the designers of the virtual site. It is slick, visually appealing and relatively easy to use. My guess is that it has received quite a bit of traffic. It would be interesting to see how many downloads of the booklets and corporate responsibility report it prompted.
But (you probably sensed that there was a "but") I have a few suggestions, recommendations, complaints, etc.:
I think Unilever went overboard in placing their products throughout the real and virtual exhibits. Okay, it's their production and they want some marketing mileage out of their investment by touting what they think are the eco-virtues of their products and/or packaging. But c'mon! Eight products in the kitchen (the first "room" you enter) five in the bathroom (the next you enter) and two in the laundry room? Couldn't they have used half as many, and made some of the main points? As it is, they make what is supposed to be an environmental education project appear too much like an extended Unilever promotion.
Isn't it overkill to include Kibon ice cream on the kitchen counter, Hellman's mayonnaise and Doriana margarine on the kitchen table? Would you let your ice cream melt and mayonnaise and margarine spoil that way? Far better to have them in the refrigerator and freezer, invite the visitor to open those, and once opened, provide tips on how to save energy in using refrigerator/freezers (use units rated as efficient, don't open the doors too often or too long, etc.), which are big energy consumers in the average household.
It is a bit too obvious from both the real and virtual exhibits what Unilever's wishes most to influence consumers about: packaging. Heavy emphasis on recycling throughout, focus on packaging reuse/recyclability for every product discussed in an info blurb (I found only one — Maizena — which mentioned that part of its packaging actually contained some recycled material), some of the real exhibit is made with recycled packaging from Unilever products, one of the interactive games focus on recycling packaging materials, and one of the booklets handed out discussing packaging (even the booklet offered online about the Atlantic Forest has a passage discussing the importance of packaging), and all but one of the links provided on the website not directly linked to Unilever or Wal-Mart involves packaging. I understand their preoccupation, but as with the product placement (discussed above), I think it is a bit too heavy-handed.
I also think some of the recycling/packaging information is…well…a bit misleading. For example, they talk about how there is the technology to recycle toothpaste tube. Nice, but how much is that actually employed? [I'm betting the answer is minuscule, but hope I'm wrong.] What is Unilever actually doing to promote collection/recycling of used toothpaste tubes (especially in the Brazilian context)? They mention that the plastic margarine tubs and mayonnaise jars are recyclable — true, theoretically all plastics are recyclable, but not all are recycled. Most municipal selective collection programs do not accept food-contaminated plastics. The website talks about the aseptic packaging of the Ades soy drinks being recyclable, which is technically true, but the reality is that it is not well-recycled yet in Brazil and not accepted by all municipal selective collection programs in Brazil (they neglect to mention this).
That's not only the only slightly misleading information on the website. The blurb for the Rexona deodorant in the bathroom touts the fact that it does not contain ozone-depleting gases. Well true, but it's not as special as it is made to sound: Brazilian law prohibits ALL the personal hygiene products sold there from containing ozone-depleting substances.
The animation's opening page has one useful eco-tip (use of natural light and ventilation) and two facile ones ("it's good to plant trees" "it's good to garden"), missing many useful opportunities for more concrete eco-tips — i.e., don't over-water your lawn and plants, consider simple rainwater capture systems to use to water your plants, consider utilizing a solar water heater, if you use wooden doors and window frames, make certain it is certified as from sustainable sources, etc.).
Curiously the inside rooms in the animation also skip some key eco-tips — use energy-efficient light bulbs (such as compact fluorescents, don't leave the television on, turn off room lights when not in there.
Why were only these three rooms included in both real and virtual exhibits? Because they were the only ones in which Unilever products could be remotely included? I can understand how the real exhibit, because of space limitations in the aisles of Wal-Mart, might not treat the other rooms. But the same consideration does not apply to the virtual site. Aren't there useful eco-tips to make regarding the bedroom or living/family room?
The links section of the website could include more sites that are useful references (Recicloteca, for example) but not directly supported by Unilever, and therefore might be considered more neutral.
Tags: Ades, aseptic packaging, Atlantic Forest, bamboo fabric, Brasil, Brazil, Casa do Bem, compact fluorescents, deodorant, dicas, Doriana, educação ambiental, educación ambiental, embalagem, envase, Environmental Education, garrafas PET, Hellman's, IBAMA, Kibon, margarine tubs, mayonaise, Osasco, ozone depleting substances, Pacaembu, packaging, PET bottles, rainwater harvesting, reciclagem, reciclaje, Recicloteca, recyclables, recycled materials, recycling, residuos, Rexona, São Bernardo, selective collection, soy drink, toothpaste tubes, Unilever, Wal-Mart, waste
Subscribe to My Comments Feed
Leave a Reply