« ISO 14001 Certifications in LAC Nations | Home | Sparking Creative Eco-Thinking »
By Keith R | September 27, 2006
Topics: Environmental Protection, Health Issues, Sanitation, Water Issues | No Comments »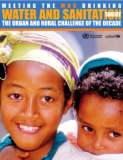 This month the World Health Organization (WHO) released a progress report on meeting the United Nation's Millennium Development Goals (MDGs) as they apply to access to "improved" water and sanitation, using data collected by the WHO/UNICEF joint Monitoring Programme (JMP).
As the WHO report I recently reviewed on the linkage between environmental conditions and health underlined, access to safe drinking water and proper sanitation is key to improving health conditions. Water-related diseases bring diarrhoeal and parasitic diseases, and lack of sanitation increases the risk of outbreaks of cholera, typhoid and dysentery. Usually it's the poor and children most at risk from the health consequences of lack of access to proper drinking water and sanitation.
The report not only provides a good snapshot of where things stand worldwide, but also of where international lending and aid agencies are likely to focus their water/sanitation programs in the next 10-15 years. Furthermore, it has a useful discussion of the difference between access to improved drinking water and sanitation (the basis of the MDG-related work) versus access to safe and healthy water and sanitation, the difficulties in measuring each, and future recommended actions to address these questions. For all of the above, I am adding it to the Temas reading list.
To download the progress report in Adobe PDF in English, click on this link. A Spanish or Portuguese version of the report is not yet available (at least not on the web).
You can access the Monitoring Programme's English-version data tables for LAC nations on water and sanitation directly by following this link and that one, respectively. Unfortunately, the website does not offer the data tables in either Spanish or Portuguese.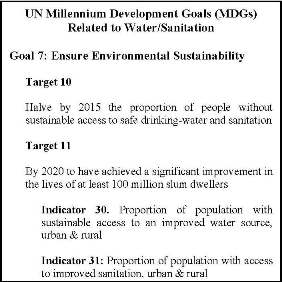 The MDGs and Water/Sanitation
Maybe some of you are scratching your heads and asking what the heck are the MDGs, why do they matter and what is their connection to water and sanitation? To quote the UN Development Programme (UNDP), which I think states it more succinctly than the other sources on the subject:
The Millennium Development Goals (MDGs) are eight goals to be achieved by 2015 that respond to the world's main development challenges. The MDGs are drawn from the actions and targets contained in the Millennium Declaration that was adopted by 189 nations-and signed by 147 heads of state and governments during the UN Millennium Summit in September 2000.
The 7th of the 8 MDGs is "ensure environmental sustainability." Each Goal is broken down into global "targets," two of those relate to drinking water and sanitation (see box). Each country sets its own "realistic" national targets in consultation with the appropriate UN organizations (in the case of water, WHO, UNICEF, UNDP, UN Human Settlements Programme (UN-Habitat) and the UN Educational, Scientific and Cultural Organization (UNESCO). Progress toward targets is measured through agreed indicators.
Although UN organs will have a nicer, more diplomatic way of stating this, the way I like to look at the MDG exercise is (1) it is attempting to apply a business management model (goals, specific time-bound targets, agreed metrics for measuring achievement) to governance; (2) by tying aid to specific targets and constantly measuring progress, both against prior national performance and against that of other nations, the international community is forcing governments to focus resources on things like water/sanitation and offer fewer excuses, more action.
This latest report is part of the UN effort to assess how much progress has been made in the five years since the Summit, and how much more remains to be done.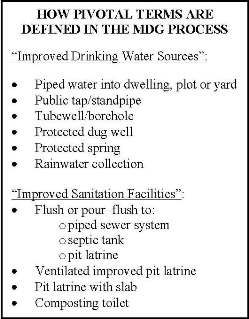 A Word First About What Does and Doesn't Count
The Millennium Project's Task Force on Water and Sanitation defines safe drinking water as "water that is safe to drink and available in sufficient quantities for hygienic purposes." It defines basic sanitation as "the lowest-cost option for securing sustainable access to safe, hygienic and convenient facilities and services for excreta and sullage disposal that provide privacy and dignity while ensuring a clean and healthful living environment both at home and in the neighborhood of users."
The trouble is how to measure these, particularly with the principal tool utilized, household surveys. So instead what is measured and reported upon is "improved" drinking water access and "improved" access to sanitation facilities. [See the box for what each is defined to include.] For example, bottled water — very commonly utilized through LAC nations — is only considered "improved" drinking water access when the households surveyed use improved sources for cooking and personal hygiene. Shared or public facilities are excluded from the definition of "improved" sanitation access.
Looking at the Forest First…
So what does the WHO report tell us?
Looking at LAC in the aggregate and comparing it to the rest of the developing world, the region looks like it is in good shape. Among developing country groupings, LAC is tied with two others for greatest overall drinking water coverage (click on the blue graph taken from the WHO report), at 91%, and has the second highest rate of improvement over 1990 (8%) behind Southern Asia (13%).
For sanitation coverage (click on the green graph from the WHO report), LAC is tied for second place (with Northern Africa) at 77%, behind Western Asia (more commonly known as the Middle East) at 84%. Its rate of improvement in coverage over 1990, however, was low, only beating out Western Asia, Sub-Saharan Africa and Oceania. In other words, as a group LAC nations have long had better sanitation coverage than most developing countries, but have not done enough to improve that record over the past 15 years. Much work remains.
Discerning the Trees
Taking a slightly closer look (see blue regional map below from the JMP website), one sees that the coverage in LAC for both drinking water and sanitation is uneven. While a few nations have 90% or better coverage for "improved" drinking water, several don't: Bolivia (85%), French Guiana (84%), Guyana (83%), Haiti (54%), Honduras (87%), Nicaragua (79%), Paraguay (86%), Peru (83%), Venezuela (83%).
Something worth noting, in part for what it suggests about the MDGs most LAC countries set themselves for drinking water: the region's two most populous nations, Brazil and Mexico, had both set modest goals that each already has easily surpassed — Brazil modestly so (90% instead of its MDG of 88%), Mexico impressively so (97% instead of 87%).
Of concern is the divide between urban and rural coverage for drinking water (click on the bar graph below from the JMP website). Regionally speaking, coverage is good in urban areas, whether we're speaking of actual home connections (90% in 2004) or total urban access (96%). In fact, several LAC countries that have had major increases in their urban populations (20% or more) since 1990 have managed to pull off an absolute decrease in the number of urban dwellers without improved sanitation: Mexico, 8.063 million; Ecuador, 815,000; Dominican Republic, 571,000; Chile, 284,000; Honduras, 30,000.
Rural coverage, measured on a regional basis, is not nearly as good a picture: 73% overall, but only 45% for home connections.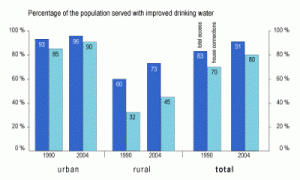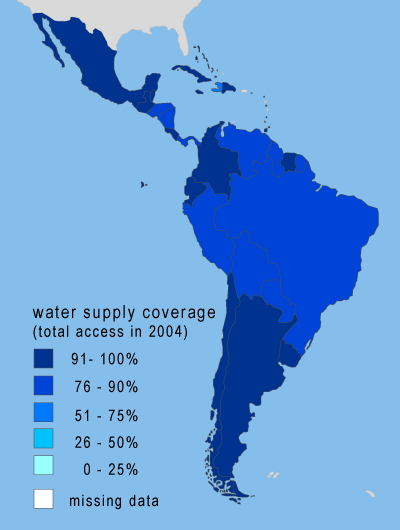 For sanitation coverage (see multi-color map below from the JMP website), the divide among countries and between urban and rural areas is even more noticeable. Coverage is quite low in Belize (47%), Bolivia (46%), Haiti (30%) and Nicaragua (47%), while quite high in Antigua and Barbuda (95%), Argentina (91%), the Bahamas (100%), Barbados (100%), Chile (91%), Costa Rica (92%), Cuba (98%), Grenada (96%), St. Kitts and Nevis (95%), Suriname (94%), Trinidad and Tobago (100%), Turks & Caicos (96%) and Uruguay (100%). The other LAC nations fall somewhere in-between.
Even more stark are the urban/rural and general/house connection divides (click on the bar graph below from the JMP website). In overall terms, "sanitation access" in the region is 77% — 125 million people are not served. But look closer: house connections is only 51%. That's right, only half the houses in the LAC region have connections to the sanitation system. Look closer still: in rural areas, overall coverage falls to 49% (64 million unserved), but actual household connections to 11%!
As I said above, in the sanitation area much work remains to be done in the LAC Region.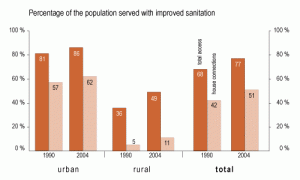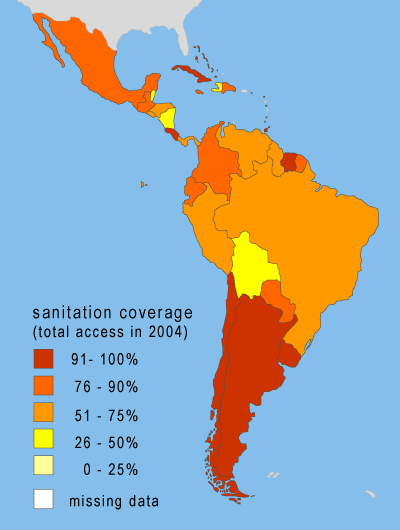 And Now, the Trees Themselves…
There are problems revealed for individual countries, most notably Haiti. It has added drinking water access for 89,000 people since 1990, but in order to meet its MDG by 2015, must triple its rate of improvement — not likely while social chaos continues to reign there. Haiti also has the further dubious distinction to be one of the few countries where drinking water access in urban areas has fallen 8% since 1990, now down to roughly half of urban residents.
Haiti is not the only country with problem, however: drinking water access for Colombia's rural population has actually declined 7% since 1990, now down to 71% coverage.
All (Er, Most) Well and Good, But…
As I noted earlier, in the aggregate and abstract LAC is doing well compared to most groupings of developing nations in terms of providing access to drinking water and basic sanitation, particularly in the urban context. However
Much work remains to be done by LAC nations in rural coverage in both drinking water and sanitation.
Several countries need across-the-board improvement in access to sanitation.
"Improved access" does not necessarily mean (and often doesn't) access in individual homes.
"Improved" drinking water access is not synonymous with safe drinking water.
This last point, it seems to me, is a critical shortcoming of the MDG exercise. For example, the DR claims 95% improved drinking water status, yet most Dominicans will never drink what comes out of the tap. Many will not even cook with tap water. Even in "good" Dominican urban neighborhoods with supposedly "safe" tap water, people come down with diarrhoeal and parasitic diseases from drinking the water. So is it enough to say 95% of Dominicans have access to improved water supply, when they are still forced to buy bottled water daily, or boil their water (using gas they should be using for cooking) or add chlorine to the water?
WHO and UNICEF acknowledge this. They are seeking to find out how actual drinking water quality — how free it is of microbial and chemical contamination — relates to the MDG access data. They have launched a pilot study funded by the UK of six nations, including one from the LAC region, Nicaragua. Testing has already been undertaken at both the source and household levels for thermotolerant coliforms, fecal streptococci, pH, turbidity, appearance, nitrate, fluoride, arsenic, iron, copper, and free and total chlorine.
That's a start, just as the emphasis on access and finding ways to hold governments accountable for providing it are useful starting points. But if the ultimate goal is to improve environmental health associated with water supplies, it has to go further. Governments should be held accountable for providing not just access to water, but rather access to drinkable water.
— Keith R
Tags: alcantarillado, Antigua and Barbuda, Argentina, arsenic, Bahamas, Barbados, basic sanitation, Belize, Bolivia, bottled water, Brazil, Chile, chlorine, cholera, cólera, composting toilet, copper, Costa Rica, Cuba, diarrhoeal disease, Dominican Republic, drinking water, dysentery, Ecuador, fecal streptococci, fluoride, French Guiana, Grenada, Guyana, Haiti, Honduras, iron, JMP, MDGs, Mexico, Millennium Development Goals, Nicaragua, nitrate, OMS, Paraguay, parasitic diseases, Peru, pH, pit latrine, PNUD, rainwater collection, República Dominicana, saneamento, saneamiento, Sanitation, sewer connections, St. Kitts and Nevis, Suriname, thermotolerant coliforms, Trinidad and Tobago, turbidity, Turks and Caicos, typhoid, UN-Habitat, UNDP, UNESCO, UNICEF, Uruguay, Venezuela, water-borne diseases, WHO
Subscribe to My Comments Feed
Leave a Reply