« A Safe, Easy to Use Chagas Treatment for Children / Un tratamiento más seguro y fácil para los niños infectados con la enfermedad de Chagas | Home | Chile contempla terminar incentivos económicos en venta de medicamentos con receta »
By Keith R | August 19, 2008
Topics: Climate Change, Environmental Protection | No Comments »
Recently the Stabroek News carried an article reporting on a series of statements by President Bharrat Jagdeo on the issues of climate change. He was speaking at the People's Progessive Party (PPP) congress.
Jagdeo claimed that adapting to global climate change will cost Guyana "billions." He said that to adapt Guyana must fortify 360 kilometers of "sea defenses" (essentially, sea walls) to protect its coastline, and that the government recently paid US$6.4 million to build a concrete sea wall for just one kilometer, US$4.4 to build a kilometer with the "riff-raff design" [I think either Jagdeo was misquoted, or he meant to say the "riprap" design wherein large rocks are used to form the barrier (see photo)].
These sums, he concluded, can be extrapolated to arrive at the billions figure (around US$2 billion, if you assume much of the wall would be concrete).
He pointed out that that figure does not even address other probable costs, such as changes in Guyana's system of dikes (polders), dams, drainage and irrigation.
Was this all just politician's hyperbole?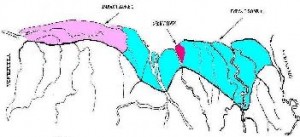 Well, not necessarily. I can't vouch for his cost figures for building one kilometer of concrete or riprap sea defenses in Guyana, but the rest of his statement is not far fetched. Guyana's first national communication to the secretariat of the UN Framework Convention on Climate Change (UNFCCC) does say that one of the country's biggest vulnerabilities is its low-lying coastline, which may be overwhelmed by any sea level rise (SLR) linked to climate change.
In the graphic above you can see the area Guyana considers particularly vulnerable. The blue shaded zone (which includes Georgetown, indicated in red) is considered "protected", the pink tinted zone "unprotected." The 360 km "protected" zone (note that the 360 figures matches the one cited by Jagdeo) only has 110 km with concrete walls (most in need of repair), whereas the rest is only protected by a belt of mangroves backed up by earth embankments.
Most of Guyana's population, most of its limited industry and some of its most important agricultural production (including rice) is in that blue strip.
Furthermore, a paper on SLR impact by the World Bank identified Guyana as one of the developing nations most vulnerable to SLR with regard to population, urban infrastructure (in fact, Guyana is the most vulnerable country in this category, according to the Bank), agriculture and gross domestic product (GDP). According to that paper, just a one-meter rise would adversely impact 6.3% of Guyana's population, 5% of its GDP and 10% of its urban infrastructure. [Click on each of the following images to see larger versions of bar graphs from the Bank paper.]



You might be wondering if it makes sense to spend billions on upgrading existing sea defenses instead of simply moving people and facilities further inland to higher elevations. I don't know Guyana's topography and economy well, but I'm guessing that such a major resettlement would probably cost more.
How to Pay For It All

Question is, how to pay for climate change adaptation, whether it's building and reinforcing sea defenses or moving inland or any other option.
Jagdeo mentioned in his remarks that Guyana must lobby the negotiations for a post-Kyoto regime that would allow countries like Guyana, with substantial forest cover, to get more in carbon credits for avoid deforestation (REDD). It has the potential, he suggested, to bring Guyana more revenue than industries such as bauxite and sugar.
Guyana indeed is a good candidate to benefit from a REDD regime. That's why it was selected by the World Bank as one of the initial batch of countries to benefit from the new Forest Carbon Partnership Facility (FCPF). Just how much carbon financing will bring to Guyana, though, remains to be seen.
A REDD regime under the successor agreement to the Kyoto Protocol, much less a good REDD regime that would fully benefit a country like Guyana, is far from a foregone conclusion. Guyana needs to get into early active and high profile diplomacy on the issue, like Brazil and Colombia are now doing. If not, their issues and concerns may not be as well reflected in the final agreement as of its bigger neighbors.
Tags: agriculture, Banco Mundial, Bharrat Jagdeo, cambio climático, carbon credits, carbon financing, Climate Change, concrete, créditos de carbono, dams, dikes, drainage, environment, FCPF, Georgetown, Guyana, irrigation, Kyoto Protocol, manglares, mangroves, mudanças climáticas, polders, Protocolo de Kyoto, REDD, riprap, sea defenses, sea level rise, sea wall, UNFCCC, urban infrastructure, World Bank
Subscribe to My Comments Feed
Leave a Reply