« Join the Latin America Blogroll! | Home | Brasil estimula melhor aproveitamento do lixo em aterros sanitários »
By Keith R | December 27, 2006
Topics: Energy & the Environment, Environmental Protection, Renewable Sources | No Comments »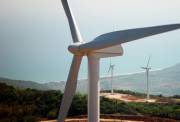 The Petroleum Corporation of Jamaica (PCJ, or sometimes still referred to as "Petrojam") announced yesterday that in 2007 it will privatize the windfarm it owns and manages at Wigton. Wigton currently has 23 wind turbines generating about 20.7 megawatts (Mw) for the electrical grid (the Jamaica Public Service Company is required to buy Wigton's output). PCJ had wanted to double the generating capacity to 41.4 Mw, but now says it will leave that to the buyer of the windfarm — installing new capacity will be a condition of sale.
Wigton is the first commercial windfarm, and the second project of any sort, in the Caribbean to qualify for "carbon credits" under the clean development mechanism (CDM) of the Kyoto Protocol. The Dutch Government has agreed to buy Wigton's carbon credits over nine years for US$3.1 million.
PCJ and the government don't think they'll have any problem in attracting bidders. They report that they have had many purchase inquiries — from both local and foreign investors — since Wigton opened in 2004.
Other Altenative Energy Plans
Jamaica's Energy Minister, Philip Paulwell, also announced the government's other plans for energy diversification in the near term. The test run for E10, the 10% ethanol gasoline (petrol) mixture produced using sugarcane (with technical help from the Brazilians), has proven successful and E10 will be phased in island-wide during 2007. PCJ will also begin testing marketing E15 (a 15% ethanol mixture) during the coming year.
Furthermore, a small (1.2 Mw) hydroelectric power plant is under development for Laughlands, Great River, in St. Ann, and others are planned for Rio Cobre in St. Catherine and Rams Horn and Constant Spring in St. Andrew. The government is also trying to attract foreign manufacturers of photovoltaics to establish a manufacturing facility in Jamaica. [My question — to serve the limited Jamaican market, or to target the whole Caribbean market?]
— Keith R
Tags: carbon credits, clean development mechanism, Constant Spring, ethanol, Great River, Holland, Jamaica, Kyoto Protocol, Laughlands, Netherlands, Petrojam, photovoltaics, Rams Horn, Rio Cobre, St. Andrew, St. Ann, St. Catherine, sugarcane, Wigton, wind farm, wind power, wind turbines
Subscribe to My Comments Feed
Leave a Reply