« Mapping LAC's Solar and Wind Power Potential | Home | Is the Argentine Biofuels Law Already Having an Impact? »
By Keith R | September 20, 2006
Topics: Corporate Social Responsibility, Electronic/Electrical Equipment, Environmental Protection, Hazardous Substances, Waste & Recycling | No Comments »
Since I wrote my prior Temas blog entry on the Greenpeace "report card" on "greener electronics," I have read a number of interesting reviews of the GP report written by other blogs. Two examples I suggest reading: Treehugger's analysis and the debate in Dan Dilger's "Roughly Drafted" blog on all things Apple.
Reading these have gotten me thinking further about the report and the issues it raises. I'd like to put down here a few of the thoughts that have resulted.
In the meantime, however, on Monday (18th Sept.) Greenpeace released a new report, this one on the results of its tests on laptops, looking for hazardous substances. This new report is also problematic — in my view as much for Greenpeace as it is for the five firms covered by the report. I'll offer a few observations about this one as well.
More Reservations/Questions About the "Greener Electronics" Report
Sooner or later a report like this was going to be done by someone; the question is whether Greenpeace was the best one to do it. More so than the group most focused on e-waste issues, the Silicon Valley Toxics Coalition (SVTC), GP has global reach, greater economic muscle and more experience in dealing with the media, and they have been a consistent voice on toxics (but inconsistent on waste) issues for about two decades. However, they have a tendency to often go more for the headlines and whatever provokes — for the right reasons or not — moral outrage, resulting in more support from contributors and activist volunteers. In the electronics industry, hazardous material management and e-waste, they are dealing with complex issues that they wish to boil down to emotive sound bites. In the process they may not be serving, looking at it from a 360 degrees view, the best interests of the environment and public understanding thereof.

But that's all probably moot now, since they say they'll be doing quarterly updates and plan to see this through.

The question then becomes, should everyone else continue to allow Greenpeace to define the issues and set the agenda?

If GP is going to continue producing these reports, they have alot of work to do in improving what is presently a flawed product.

First off

,

they have to rely on inputs beyond what is published on the company websites, but verifiable input

. The attempt to actually field-test laptops for hazardous substances is a start, although not a particularly impressive one (see below). Just because a company website or press release says that they have a recycling program in country X does not mean that the program is readily accessible or even known to consumers in that country.

Second

,

GP needs to be more consistent in their application of their stated criteria.

For example, why talk of penalizing Samsung for providing voluntary take-back in some countries but not all they sell in, when almost every company in the list — including others rated higher — does the same thing, but GP doesn't mention penalizing them? Why rate Sony and Samsung "partially bad" for providing little and incomplete information on their recycling programs, when high-rated Nokia does the same thing but is rated "partially good" for this same item?

Third

, if chemicals/materials management is as important as Greenpeace stress,

why obsess so much on PVC and PBRs, as if heavy metals were not still a problem?

Maybe less so in Europe, but certainly not yet in developing nation markets.

Fourth

, if waste is such a priority for GP,

why focus solely on the management of the end-of-life (EOL) product?

Why not look at the whole picture — waste reduction, lower processing waste, use of less packaging, support for remanufacture and reuse (this mentioned only in passing twice)?

Fifth

, Greenpeace and its report make much ado about this being a global problem (they keep bringing up their visit to China, as if it held the only graveyard for EOL electronics),

but the scope of their report is not global enough.

It talks much about Europe, North America, Japan and China, but little about Latin America, Africa and the rest of the "Third World" Greenpeace professes to be so concerned about. Given its network of offices worldwide, GP can't check on the status of electronics in the marketplace in places like Brazil, Chile, India, Mexico or the Philippines? For example, many jurisdictions in Brazil require take back of WEEE and/or all cell phones batteries — why doesn't GP mention whether or not these 14 companies are complying? Do only European regulations and China's Green Box matter?

Sixth

, if Greenpeace is going to continue focusing solely on the 14 companies covered in the original report,

they need to be totally transparent as to why these companies were chosen.

On what basis were they picked? The companies with the largest market share of electronics (and how does GP define that market, since the universe of electronics is quite vast). The ones with the largest turnover? The ones with the biggest presence in particular markets (European Union (EU)? US? Japan? OECD?), or just the ones in particular market segments of interest to either Greenpeace (PCs, notebooks/laptops and cell phones, for example?) or to most consumers? The ones suspected of representing the largest portion of EOL electronic products (if so, on what statistical basis was this determined?)? The ones with the highest public relations profiles, and thus calculated to be most vulnerable to pressure from adverse publicity? Or just 14 picked because their information was easiest to locate on the internet?

The report itself does not say. Why, for example, was Epson omitted? Canon? Daewoo? Brother? Konica Minolta? Xerox? Kyocera Mita? Olivetti? Ricoh? Sharp?

Seventh

, if the report's stated concerns really are hazardous materials management in the manufacture of electronics and the recovery of EOL electronic products,

why does Greenpeace focus only PCs, notebooks/laptops and cell phones?

Why not televisions? Photocopiers? Computer printers? Scanners? Digital photography? Scientific instruments? Medical devices? Are these really less of an environmental challenge than PCs, cell phones and laptops?

Eighth

,

Greenpeace needs to address its critics' charge that the Greenpeace scoring system too narrowly focuses on materials management and EOL product recovery.

Some of the factors suggested that they take into account when assessing the manufacturers and their product lines are energy consumption/energy efficiency and innovations (such as the I-pod and I-tunes) that significantly change consumer behavior from activities that affect the environment (such as driving to music store to buy overpackaged CDs and DVDs).So far, Greenpeace has brushed aside such suggestions. But if they claim to be defenders of the global environment (as they do), they need to acknowledge and somehow take into account a more holistic view of a product's environmental pluses and minuses. Otherwise the charge that their analysis and focus is superficial will persist, if not grow.

Perhaps Greenpeace can develop a "bonus point" system to award companies that can (verifiably) claim such a significant environmental benefit — for example, a full or partial bonus point given to the manufacturer whose electronic products have an energy efficiency rating significantly than those required for the Energy Star, and are an industry leader in reducing product energy consumption. After all, there are positive climate change impacts to such attributes.

Ninth,

Greenpeace should reconsider its stance on awarding points for global RoHS compliance.

In its letter to Dan Dilger, Greenpeace asserts that"Greenpeace do not rank companies on global RoHS compliance – because we expect global RoHS compliance. It would be perverse to reward companies for not operating double standards!

Indeed some companies will sell non RoHS compliant products while stock remain outside if they intend to comply with RoHS globally."

This stance is, frankly, perplexing. Greenpeace must know all too well of chemicals that have been banned in the European Union, but remain legally on sale in other OECD markets. [Likewise, the US has sometimes banned or severely restricted a chemical but "market exceptions" within the EU have allowed their sale there for years thereafter.] Furthermore, not all EU member states have implementing laws and regulations in force for the RoHS Directive, so companies could, if they wished, legally juggle their inventory within the EU appropriately if they so chose. Why not note favorably the companies that are already full compliance with the Directive throughout Europe (not just the EU), no matter what local law requires?

As for non-OECD countries… Doesn't Greenpeace always say that it wishes to encourage companies to avoid "double standards" and meet standards in all their international markets that are at least as stringent as those in North America and Europe? Then why not reward the companies which do so long before laws and regulations require them to in places such as Argentina, Brazil, India or the Philippines?

This could be done by giving something along the lines of the full or partial "bonus points" I suggested earlier.

It is hard to escape the conclusion that Greenpeace attacked Apple

in its press releases, interviews, etc. instead of the lower rated Acer, Lenovo and Motorola

because Apple makes a better, higher profile PR mark — Greenpeace got more press by doing so, not necessarily because Apple deserved it

. This may boomerang on Greenpeace — indeed, I suspect it already is.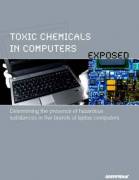 New Greenpeace Report Takes a More Concrete Looks at Toxics in Computers
On Monday, 18 Sept. 2006, Greenpeace released a new report, "Toxic Chemicals in Computers Exposed." You can download and read the report in PDF format at this link.
The report is the result of tests done at Greenpeace's behest on laptops made by five top manufacturers (Acer, Apple, Dell, HP, Sony) bought in Denmark and the UK last March. The laptops were given to a Danish testing lab (Eurofins Environmental A/S), which disassembled them and tested about 40 of the materials and components of each for specific chemicals, namely the chemicals controlled under the EU's RoHS Directive, plus some Greenpeace selected
The heavy metals; lead, mercury, hexavalent chrome (chromium (VI)) and cadmium
Certain brominated flame retardants (BFRs): polybrominated biphenyls (PBBs), polybrominated diphenyl ethers (PBDEs), hexabromocyclododecane (HBCD) and tetrabromobisphenol A (TBBPA)
Polyvinyl chloride (PVC) (used to coat an insulate wiring)
What did they find? Not the sensational discoveries they evidently expected, and contrary to some of their "findings" in the "Greener Electronics" report. Despite the headlines-grabbing report title and press release headers ("Toxic Chemicals in Computers Exposed" "HP and Apple's Toxic Laptops Exposed" "Chemical Lies?" and "Rotten Apples"), the actual findings found little to get excited about:
No cadmium, mercury or hexavalent chrome found in any of the laptops;
Lead was only found in the HP model (Pavilion dv4357EA), and that in relatively low concentrations in solder (surprise, surprise);
No HBCD or PBB identified in any of the samples;
No PBDEs were found in the Dell and Sony models, while Apple (which Greenpeace has savaged in the press) and Acer had only trace (basically negligible and certainly under the levels allowed by EU law) levels of PBDEs. Only HP, a company praised in the "Greener Electronics" report, had significant levels for PBDEs: 1650 mg/kg (or 0.165% by weight) of decaBDE and 2040 mg/kg (0.204% by weight) of nonaBDEs.
No TBBPA (a chemical not banned by the RoHS Directive) was found in the Sony model, and only traces found in the others.
The amount of PVC (also not banned by the RoHS Directive, or by national laws) was also very low: only a single wire in the Acer and Apple (both slammed in the "Greener Electronics" report), and two wires in the HP model.
Perhaps trying to find something to make sensational headlines out of, Greenpeace expressed shock that HP still had decaBDE (a chemical HP claims to have phased out already) and lead solder in its laptop. Although they used the header "Chemical Lies?" in their press release, Greenpeace waffled between giving HP the benefit of the doubt ("Either HP is lying or HP needs to ask its suppliers some tough questions") and choosing to believe the worst — they downgraded HP in their scorecard.
They also tried to play up the presence of bromine compounds in the laptops, even though they could not tie it directly to the brominated fire retardants they have said are of greatest concern. "At the product's end of life, some disposal or recycling operations (e.g incineration, smelting and open burning) can potentially release the bromine in hazardous forms, including hydrogen bromide and brominated dioxins." Possible, yes. A probable and prevalent risk, dubious. Greenpeace seems to be grasping at straws here.
A Start, But a Flawed Start
This analysis was an initial attempt to go beyond simple reliance on official company information (a major vulnerability in the "Greener Electronics" report) and generate some hard, real market conditions data. In that respect, it might be considered a (baby) step forward. And with this report and its reaction (downgrading HP), Greenpeace has demonstrated that it meant what it said previously about penalizing companies if they found that real market data did not match corporate claims. Interesting, however, that they did not reward Acer or Apple for the findings. Hmmmm….
That said, if Greenpeace intends to continue trying to hold the electronics firms accountable and if they care at all about their credibility, they'll have to get their act together and do far better than this toxics report. It is flawed on several counts:
The sampling involves only five units bought in two countries (and why those two — GP doesn't say, of course).

In terms of most sampling and statistical models, this is meaningless.

One wonders what they thought to accomplish with such a tiny sample, and why they did not devote more resources to the testing.

Why not test products bought in more EU member states, or for that matter, why not those from some non-EU states, especially developing nations (such as Latin America) if Greenpeace truly cares about the impact of these chemicals on the Third World countries they are exported to as EOL products?

Why not have their offices across the world go out and buy models from local stores and send them in for testing? They don't want to spend the money, perhaps? If not, then swallow their pride and team up with career consumer product testers with more credibility such as the membership of Consumers International [Consumers Union US (which publishes the monthly Consumer Reports), Australian Consumers Association, UK's Which?, France's UFC, Brazil's IDEC, etc.). After all, Greenpeace says it is doing this to inform and empower consumers, so why not enlist the aid of consumer testing agencies? And CI has expressed strong interest in doing more work on "green consumerism"…
Why only five brands instead of most or all of the 14 they rated in their other report? Were they picked at random? Based on market share data? Some other criterion? Why only notebooks/laptops, and not a sampling of desktops or other electronics? Greenpeace does not say in either its report or the press piece on its website. As in the "Green Electronics" report,

Greenpeace's lack of transparency about its selection criteria harms their credibility and makes them more vulnerable to questioning of their motives

.
The laptops were all bought three months before the EU compliance deadline for the RoHS Directive. Greenpeace acknowledges this in the report, but claims they were not actually testing for RoHS compliance so much as setting a baseline.

If that is truly the case, why not test models bought just after the deadline?

Why pick up models that might be the end of old inventory, and test them for chemicals still allowed when they were manufactured?
This is not the way for Greenpeace to make its case. They cannot continue to do sloppy, poorly conceived or poorly executed reports, be inconsistent in the application of their stated criteria and non-transparent about key criteria and parameters — not if they hope to prevail in either changing industry behavior or prompting regulatory actions that force the same ends. If they continue in this manner they may score media points in the early going, but will lose ground if the Electronics Industry Alliance (EIA) and its industry allies ever mount a well, conceived, well-documented, assertive counter-campaign.
— Keith R
Tags: Acer, Apple, Brazil, brominated dioxins, brominated flame retardants, Brother, Canon, CDs, cell phones, cellular telephones, celulares, chemicals, Chile, China, chumbo, Consumer Reports, Consumers International, Consumers Union, Daewoo, decaBDE, Dell, Denmark, desktops, digital cameras, DVDs, e-lixo, e-scrap, e-waste, end-of-life electronics, Energy Efficiency, Energy Star, Epson, Eurofins, green electronics, Greenpeace, hazardous materials, Hazardous Substances, heavy metals, hexabromocyclododecane, hexavalent chrome, HP, hydrogen bromide, I-pod, IDEC, impresoras, incineration, India, Konica Minolta, Kyocera Mita, laptops, lead, medical devices, mercurio, mercury, metais pesados, metales pesados, Mexico, Nokia, nonaBDEs, notebooks, Olivetti, PBBs, PBDEs, PBRs, Philippines, photocopiers, plomo, polybrominated biphenyls, polybrominated diphenyl ethers, polyvinyl chloride, printers, PVC, químicos, RAEE, Ricoh, RoHS, Samsung, scanners, scientific instruments, Sharp, smelting, solder, Sony, substâncias perigosas, sustancias peligrosas, SVTC, TBBPA, teléfonos celulares, televisions, tetrabromobisphenol A, toxicos, toxics, transparencia, transparency, WEEE, Which?, wire insulation, Xerox
Subscribe to My Comments Feed
Leave a Reply