« IDB Board Approves Climate Change Initiative | Home | The 2007 Caribbean Sustainable Tourism Award »
By Keith R | March 9, 2007
Topics: Climate Change, Environmental Education, Environmental Protection | No Comments »
In a recent entry I noted the surprising findings in an ACNielsen global consumer attitude survey regarding "global warming" — that Latin Americans were among the most aware and most concerned about global climate change.
At that point all I had to go on were press reports. Ever wary about the media "getting it right" — whether about environment issues or about Latin America or both — I decided to contact ACNielsen directly and asked if they could share some of the summary data with The Temas Blog so that I might give you a more complete picture.
It took a few weeks and some virtual bouncing around their organization, but I must say all I corresponded with were gracious about it and they have kindly provided some of the visuals we blog readers all crave. All graphics provided in this entry are courtesy of ACNielsen.
This survey should provide food for thought for many people. For the government and international organization officials, scientists and representatives of civil society working toward a new international agreement on global climate change — and more ambitious country commitments in the meantime — this survey should provide some clues which publics appear ready for such steps. For companies providing goods and/or services that result in greenhouse gas (GHG) emissions, or seek to reduce, stop and/or counteract such emissions, the survey should provide a wake-up call.
And the Survey Says…
As mentioned in the earlier article, the survey 25,408 people in 46 nations.* It focused on three points:
Have you heard or read anything about the issue of global warming? [Possible answers: Yes, No, Don't Know]
Do you think global warming is:

very serious
fairly serious
not serious
not very serious
not at all serious
[respondents could also reply "not sure"]
From what you have heard or read about global warming, what do you think is causing it?

human activities such as driving cars and burning fuels
natural changes in the climate
both
don't know
On the first question, there was no statistically significant difference in responses among the four LAC nations queried: 97% of Argentines, Brazilians and Chileans answering said that they had heard of the issue, while only 96% of the Mexicans said so.
LAC Answers to How Serious an Issue is Global Warming – graphic courtesy of ACNielsen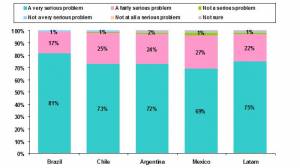 On the second point, all four answered with a strong majority saying that global warming is a "very serious" (or "grave," as the press reports originally phrased it) or "fairly serious" issue [and all four much more so than the US, I might add!]. Taken together ("very" + "fairly"), there is little variance: all but Argentina showed 99% opining that global warming is serious, and the Argentines came in at 98% (click on graph to see a larger version).
The interesting difference comes in the strength levels: far more Brazilians (81%) are convinced that it is "very serious," whereas only 69% of the Mexicans said so (that is still much higher than the low score — held by the US — of 42%). All four countries rated it "very serious" at substantially higher levels than the global average for the survey, 57%.
LAC Answers on Causes of Global Warming – graphic courtesy of ACNielsen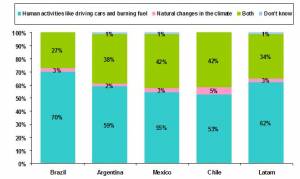 As for what Latin Americans attribute global warming to, all had a majority replying that it was due to human activity (click on graph to see a larger version), but the difference among the four LAC nations is striking: 70% of Brazilians answered unequivocally "man," whereas only 53% of Chileans did so (still far higher than the 32% of Americans!). Even among the less convinced of the Latins the view appears to be that causes are some combination of man and nature. The largest denialist community (those asserting it is only nature) was found in Chile, at 5%.
Regional Awareness Differences – graphic courtesy of ACNielsen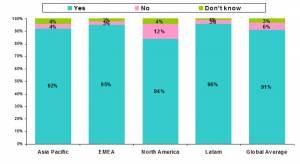 Now, perhaps you're wondering how these figures stack up against the Rest of the World (ROW). In region-to-region comparisons stacked up against the global average (click on graph to see a larger version), LAC scored only slightly better than Europe/Middle East/Africa in terms of awareness of the issue.
The only region noticeably lagging behind the ROW on awareness is North America. [I'm biting my tongue.]
Different Regional Perceptions About Seriousness of the Issue – graphic courtesy of ACNielsen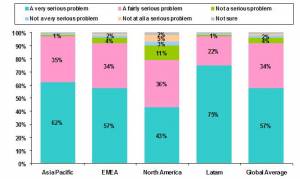 As for how serious the different regions perceive the issue to be, it wasn't even close: as a group (perhaps because of the Brazil figures), LAC took the issue far more seriously than anyone else (click on graph to see a larger version). The next closest region in rating the problem as "very serious" was Asia, but their average was a full thirteen percentage points lower.
Last but not least, to how the regions differ regarding their perceptions of the causes of global warming?
How the Regions Perceive the Cause(s) – graphic courtesy of ACNielsen
LAC was top in attributing it to human activity, followed by Asia, with North America having the most skeptics (12% saying it's nature) and the only region with a majority (54%) attributing it to both man and nature.
Some Temas Thoughts About the Survey
First off, let me confess that I was frankly surprised by the survey results for the four LAC nations. Pleased, but surprised. Less so for Brazil, because climate change has been appearing more and more in the media and public discourse there in recent years. But the numbers for Argentina, Chile and Mexico were much higher than I would have guessed had you asked me beforehand.
This is particularly true of the responses on seriousness of the issue — not only because it is so much higher than the other regions and the global average, but also because (1) it's less equivocal than the other regions; (2) of the way the question was posed — respondents had 3 chances to say it wasn't important, and 2 to say that it was, yet they so firmly answered the latter.
I retain some of my previously stated reservations about the survey, though. Namely:
it was conducted over the internet, so, in the case of LAC at least, you are talking to the most connected, most internationally aware, and probably better-off financially of respondents. If the same questions were given to the average man on the street in those four LAC nations, the results might be substantially different.
ACNeilsen has not provided me a breakdown of the geographic spread of the respondents, so I still suspect that the survey most likely touched respondents in major metropolitan areas in the four LAC nations. Would we find the same awareness and concern even in those countries outside of Mexico City, São Paulo, Rio, Buenos Aires, Santiago?
ACNeilsen picked the four LAC nations with the best developed media markets, the most the outward looking urban middle class, and some of the most developed environment movements. If we asked these questions of people in, say, Barbados, the Dominican Republic, Honduras, Suriname, Trinidad, Bolivia or even Venezuela — even if we asked people via the internet — would the results be in line with those from the four LAC nations? Maybe. Certainly the Globescan survey from last year found a number of LAC nations that rated the issue as "serious." But whether they would rate it as serious as these four did, and as clearly attribute it to human activities as these four did, is questionable.
I also have to wonder what kind of answers might have been forthcoming from LAC respondents if they had been asked which kind of activities or which sectors that they felt were most responsible for global climate change. It would be interesting to see the depth of awareness and understanding among the general public.
I furthermore would have liked to see some exploration of what LAC respondents were willing to do to combat global climate change. Cut electricity consumption? Pay higher fuel prices? Buy certified "climate-friendly" or "carbon neutral" products or services (if there truly are such things, and they could be reliably certified and labeled)? And so forth. I suspect any such survey would find much less understanding and consensus once the questions "hit closer to home" (and the pocketbook).
But as I said before, this survey and its results are a good start. I think broader, deeper public attitude surveys would help even more in identifying the challenges confronting the region's governments in educating their constituents of the issues, tough decisions and trade-offs involved in this complex issue. Public awareness, understanding and concern will be crucial to the success of any climate change strategy LAC governments pursue.
— Keith R
* Argentina, Australia, Austria, Belgium, Brazil, Canada, Chile, China, Czech Republic, Denmark, Estonia, Finland, France, Germany, Greece, Hong Kong, Hungary, India, Indonesia, Ireland, Italy, Japan, Korea, Latvia, Lithuania, Malaysia, Mexico, Netherlands, New Zealand, Norway, Philippines, Poland, Portugal, Russia, Singapore, South Africa, Spain, Sweden, Switzerland, Taiwan, Thailand, Turkey, United Arab Emirates, United Kingdom, United States and Vietnam
Tags: AC Nielsen, aquecimento global, Argentina, Brasil, Brazil, calentamiento global, cambio climático, Chile, Climate Change, efeito estufa, encuesta, global warming, Mexico, mudanças climáticas, sondagem, survey
Subscribe to My Comments Feed
Leave a Reply