« Three Rivers | Home | BNDES Creates R$200 mil. Program to Stimulate Carbon Credits »
By Keith R | June 11, 2007
Topics: Climate Change, Energy Efficiency, Environmental Protection | No Comments »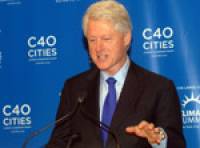 If you track climate change news items in the mainstream media, or if like me you're a fan of EcoIron, Green Options or The Coffee House, you probably have already heard of last month's climate change conference in New York City hosted by the William J. Clinton Foundation, the climate coalition of 40 of the world's largest cities ("C40") Clinton has allied himself with, the program they launched to to reduce their energy use, and the new software being developed with Microsoft to help cities monitor and reduce their greenhouse gas emissions.
But did you understand the role/participation of Latin American cities in all this? Never fret, that's what The Temas Blog is here for!
A New Alliance

Clinton started the foundation's Climate Initiative (CCI) last year — he says to build on his "long-term commitment to preserving the environment," but many wags working on climate change would say it is penance for his lack of concrete action on climate change while still US President. In any case, he certainly has not permitted moss to grow since launching the CCI.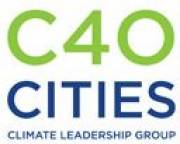 The CCI immediately linked up with the Large Cities Climate Leadership Group — now known as C40, since it comprises 40 of the world's largest cities. C40 had been formed in 2005 at the initiative of the Mayor of London, on the premise that if large cities cooperated and took the lead on reducing greenhouse gases (GHG), they might have a huge impact and achieve it quicker and with greater agility than national initiatives. Together, large cities are estimated to represent some 75% of the world's energy consumption and perhaps as much as much as 80% of its GHG emissions.
The C40 cities include seven of LAC's largest: Bogotá (pop. 7.2 million), Buenos Aires (2.75 million), Caracas (1.84 million), Lima (7.87 million), Mexico City (8.55 million), Rio de Janeiro (6.14 million) and São Paulo (11.02 million).
Mayors Inspiring Each Other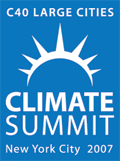 C40 and CCI organized the Second Large Cities Climate Summit in May, hosted by Mayor Michael Blomberg in New York City. The Summit was primarily intended as an exchange of experience and ideas about how cities can best address climate change among C40 leaders. It included input from several LAC cities:
a case study on retooling Fortaleza's (Brazil) (2 million) water utility to increase energy efficiency and reduce water leakage;
a case study on Bogotá's rapid bus transit system;
the Mayor of Curitiba (Brazil) (1.72 million), Beto Richa, discussed his city's innovative public transportation system, including the new "Green Line" (Linha Verde);
Mexico City's mayor, Marcelo Ebrard Casaubon, participated in a panel discussion on how "Cities Can Thrive in a Low Carbon Economy";
São Paulo's mayor, Gilberto Kasab, participated in a panel on "The Business of Climate Change."
The Energy Efficiency Building Retrofit Program
At the end of the NYC Climate Summit, Clinton announced an innovative global program put together by the CCI, with the C40 as its initial (but hopefully not the only) beneficiaries. Initially the Energy Efficiency Building Retrofit program will ally four multinational energy service companies (ESCOs), five global banks, and 15 of the C40 cities. As the Foundation explains it, the program will
provide both cities and their private building owners with access to the necessary funds to retrofit existing buildings with more energy efficient products, typically leading to energy savings between 20 to 50 percent.

Honeywell, Johnson Controls, Inc, Siemens and Trane will conduct energy audits, perform building retrofits, and guarantee the energy savings of the retrofit projects.
ABN AMRO, Citi, Deutsche Bank, JPMorgan Chase, and UBS have committed to arrange $1 billion each to finance cities and private building owners to undertake these retrofits at no net cost, doubling the global market for energy retrofit in buildings.

These banks will work alongside energy efficiency finance specialist Hannon Armstrong and CCI to develop effective mechanisms to deploy this capital globally. Cities and building owners will pay back the loans plus interest with the energy savings generated by the reduced energy costs thanks to the building retrofits.
The initial group of 15 cities participating in the program include Mexico City and São Paulo. Other C40 cities will be brought on later, and as far as I can tell, eventually the program will be available to medium-to-large non-C40 cities (such as Belo Horizonte, Curitiba, Fortaleza, etc.) as well.
As part of the Energy Efficiency Building Retrofit Program, cities have agreed to develop a program to make their municipal buildings more energy efficient and provide incentives for private building owners to retrofit their buildings with energy saving technologies. The retrofit program will be consistent with, and work within, city procurement and tendering rules. Participation in the program will be open to local banks and companies, who will be invited to contribute to the funding pool and to expand the list of green products used in retrofits…

…CCI and its partners will also assist participating cities with their initiation and development of programs to train local workers on the installation and maintenance of energy saving and clean energy products. The U.S. Green Building Council and the American Society of Heating, Refrigerating and Air Conditioning Engineers have agreed to help coordinate these programs.
New Tools to Monitor Cities' GHG Emissions
The other major announcement made by Clinton at the end of the Summit was a new partnership with a consortium of firms leed by Microsoft to offer to the C40 cities, pro bono, a "suite of tools" (software and services) that will enable them to accurately gauge, compare and reduce their GHG emissions.

They will be assisted in designing these tools by the Local Governments for Sustainability (ICLEI), the collection of more than 550 local governments worldwide created in 1990 with help by the UN Environment Programme (UNEP) to try to get local officials more involved in environmental policymaking. ICLEI's knowledge base that it has accumulated on municipal emissions reduction efforts will serve as the foundation for the CCI-Microsoft tool. Also assisting will be the Center for Neighborhood Technology (CNT).
The centerpiece will be an online application that will enable cities to:
Implement a common measurement system for emissions reductions;
Perform analyses of potential projects and estimate their effect on reducing emissions;
Generate structured and custom reports for users based on inventory and measures data;
Access data from around the world and engage other cities in dialogue about best practices in real time.
Although the CCI press releases stress how this tool will be provided to the C40, given ICLEI's track record, I seriously doubt that the tool will be restricted to just the 40 cities. When and on what terms it will be provided to other cities wanting it may be another question, but in all probability this tool will be shared with others.
Another Important Impact of the CCI/C40 Process?
Although the building retrofit and carbon tracking tools are certainly noteworthy and praiseworthy, I would like to suggest that they have led many observers to take their eyes off perhaps the biggest long-term impact of the Summit and the ongoing efforts of CCI and C40: inspiring many other mayors to take the lead on addressing climate change.
I am not just speaking of the measures recently announced by the mayors of NYC and London, important and interesting as they are. And I am not just referring to new climate initiatives announced by those LAC cities already belonging to C40 — such as Mexico City's announcement of its efforts to formulate a comprehensive Climate Change Program (an upcoming Temas Blog post will look at what Mexico City is doing).
No, I'm talking about how it may inspire other LAC mayors. Sure, many will remain deaf to the C40 "call to arms," and others doubtless will dodge the issue saying that mega-cities in Asia, Europe and North America bear more of the blame for GHG emissions. But some are already deciding to join the vanguard. In an online article written for World Environment Day (05 June), Curitiba Mayor Beto Richa declared
Prepare yourself for the great battle. It's already started, much sooner than you expected. It's a battle against climate change, which may compromise our future. Never as now has it been so vital the commitment of local authority with future generations. Mayors, councilmen, municipal secretaries and all the rest of the managers of local power need to govern guided by the dramatic climate change…
Tags: ABN AMRO, Beto Richa, Bogotá, Buenos Aires, C40, cambio climático, Caracas, CCI, Citi, Climate Change, Clinton Foundation, Curitiba, Deutsche Bank, Ecoiron, eficiencia energética, energy audits, Energy Efficiency, Escos, Fortaleza, Fundación Clinton, gases de efecto invernadero, gases de efeito estufa, Green Options, greenhouse gases, Hannon Armstrong, Honeywell, ICLEI, Johnson Controls, JPMorgan Chase, Lima, London, low carbon economy, Mexico City, Michael Blomberg, Microsoft, mudanças climáticas, New York City, rapid bus transit system, Rio de Janeiro, São Paulo, Siemens, Trane, UBS, UNEP
Subscribe to My Comments Feed
Leave a Reply